BAPTIST GOLDEN TRIANGLE DONATES $100K FOR EMCC NURSING SCHOLARSHIPS
News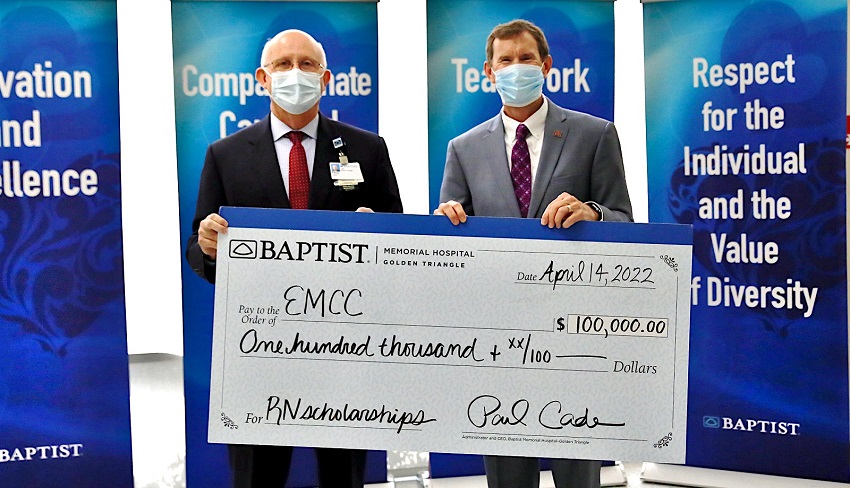 April 22, 2022
Baptist Memorial Health Care Foundation is donating $100,000 to fund scholarships for students enrolled in East Mississippi Community College's Division of Nursing and Allied Health nursing programs who agree to work for Baptist Memorial Hospital-Golden Triangle in Columbus after they graduate.
The period of time a student will be required to work for the hospital will be based on the total amount of the scholarship they receive.
"We appreciate the long-standing relationship we have with EMCC and the emphasis they place on their nursing program. Now more than ever, we depend on our area nursing programs to provide our hospital with graduate nurses who are prepared for the clinical setting and eager to work," Baptist Golden Triangle Administrator Paul Cade said. "We hope this donation from our Baptist Foundation will provide scholarships to help more students achieve their goal of a career in nursing," he added.
"This is a great opportunity for Baptist and EMCC students. Data shows that nursing turnover is 30 percent during the first year of employment and up to 57 percent during the second year," said Baptist Golden Triangle Chief Nursing Officer Alicia Grant.
"One reason for the high turnover rates is due to relationships with peers and leadership. Through this donation, we hope to identify students that want to stay and work in our community and begin building relationships by providing mentorship opportunities that will facilitate their transition from college to career. We want our scholarship recipients to feel they are part of the Baptist family on their first day of employment."
EMCC President Dr. Scott Alsobrooks initially approached Cade to see how EMCC could help serve the hospital's need for additional employees in the medical fields. The idea of scholarships was broached and Cade reached out to Baptist Memorial Health Care Foundation, the nonprofit fundraising arm of Baptist Memorial Health Care.
After meeting with officials at EMCC, the Baptist Foundation agreed to fund a $100,000 scholarship fund, which will be funneled through the EMCC Development Foundation, EMCC's nonprofit arm that benefits students and athletic programs.
"We have always had a great partnership with Baptist Golden Triangle, and we are thankful for the donation to create these scholarships," Alsobrooks said. "This is a win-win situation for everyone. Students awarded these scholarships will work locally in well-paying jobs after they graduate, which will benefit both the students and the community at large. Baptist Golden Triangle will be able to employ additional workers needed to address a shortage of nurses and Allied Health workers and we will continue to grow our programs at EMCC."
"This is a wonderful opportunity to help offset the educational costs for some of our students, while providing them with the opportunity to gain invaluable work experience at Baptist Golden Triangle's excellent medical facilities after they graduate," EMCC Division of Nursing and Allied Health Dr. Tonsha Emerson said.
Students enrolled in nursing programs at EMCC's Golden Triangle and Scooba campuses who are interested in pursuing the scholarships will need to go through an application and interview process with officials at Baptist Golden Triangle, who will select the students to whom they would like to make a scholarship offer.
Scholarship disbursements will be handled through EMCC's Development Foundation.
"These scholarships will make a significant difference in the lives of many of our Division of Nursing and Allied Health students," EMCC Dean of Scooba / College Advancement Tony Montgomery said.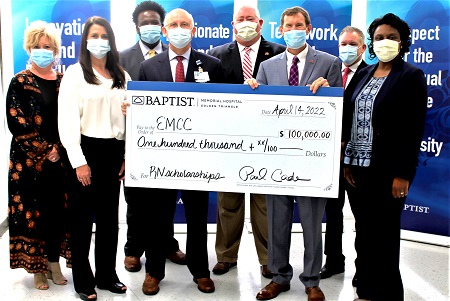 "We are grateful to Baptist Golden Triangle and the Baptist Memorial Health Care Foundation for this tremendous contribution." EMCC Executive Director of Alumni Affairs and Foundation Operations Gina Cotton said.
About Baptist Golden Triangle
With 315 beds, Baptist Golden Triangle is one of the largest regional hospitals affiliated with the Memphis, Tenn.-based Baptist Memorial Health Care system. With physicians and surgeons representing almost every medical specialty practicing at the hospital, Baptist Golden Triangle offers a wide range of comprehensive medical care to patients of all ages.
The hospital offers a variety of services to the community, including the Baptist Cancer Center Golden Triangle with infusion centers in Columbus and Starkville and Baptist Behavioral Health Care for those with behavioral and mental health problems. The hospital recently opened a new wound healing and hypobaric medicine center and started a new rheumatology program. It has an emergency room with 24-hour ambulance service, an extensive rehabilitation department, and offers free monthly educational programs to the public. Baptist Golden Triangle employs more than 1,000 health care professionals.
For more information, please call 662-244-1000 or visit http://goldentriangle.baptistonline.org or follow us on Facebook at www.facebook.com/Baptistgoldentriangle
About East Mississippi Community College
East Mississippi Community College is a public community college serving six counties in East Central Mississippi, offering university-parallel programs, career-technical programs, and workforce programs. EMCC is dedicated to improving the quality of life for our students, our community and our personnel through instructional opportunities, with specific focus on a healthy mind, body and spirit. The fulfillment of our mission is premised on the following values: Leadership built on respect for self and others and demonstrated in our local communities; Excellence in education, service and lifelong learning; Access to instructional opportunities on campus and online; and Freedom in teaching and learning within a supportive, communicative, diverse and caring environment. For more information, visit www.eastms.edu.