MIGHTY LION BAND SENDING TRIO TO NATIONAL COMPETITION
News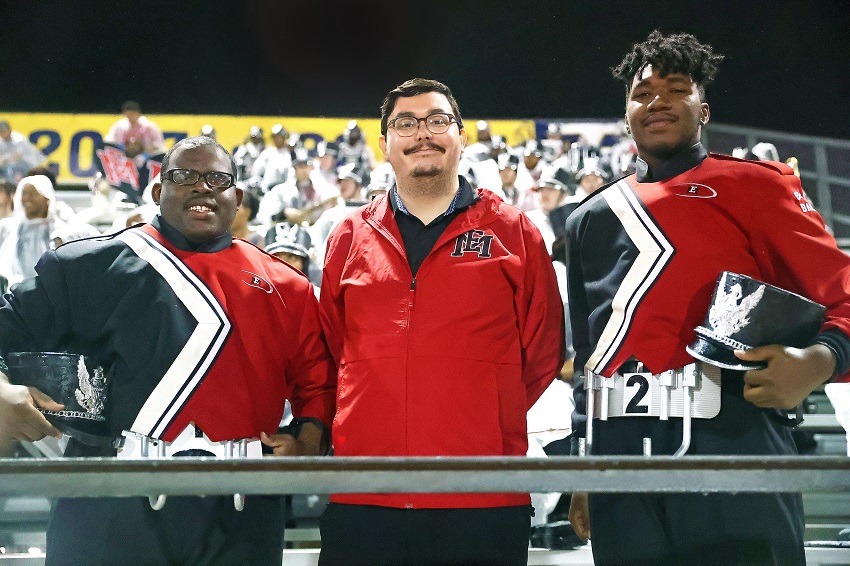 November 7, 2022
A trio from East Mississippi Community College's Mighty Lion Band and the EMCC Drumline will be participating in the world's largest drum and percussion showcases this week in Indianapolis.
EMCC Drumline students Davin Davis and Jerremy Moore and Assistant Director of Bands Benjamin Neal are all headed to the Percussive Arts Society International Convention (PASIC) scheduled for Nov. 9-12 at the Indiana Convention Center in Indianapolis, Ind.
"The entire Mighty Lion Band could not be happier for Davin, Jerremy and Ben," EMCC Director of Bands Chris King said. "This is truly a testament to all of their hard work and we are so excited for this opportunity for them to be recognized on such a big stage.
"It's been an exciting semester already for our EMCC Drumline," King said. "The crowds at their 'Lions in the Lot' performances have been growing. They had an absolute blast doing the Dancing Rabbit Festival in Macon, and I really believe some of our kids are just beginning to scratch the surface of their many talents."
Davis and Moore are believed to be the first Mississippi community college students to compete as individuals at PASIC, which draws more than 5,000 participants each year and has been held annually since 1974.
Neal said other community colleges have taken ensembles, but Mississippi State University Professor of Percussion Dr. Jason Baker believes this will be a first for Mississippi community college students competing as individuals.
"This is a tremendous opportunity for our students," Neal said. "No one's ever done it before and this proves EMCC can take kids from rural Mississippi areas to compete on these world stages and learn about percussion in the single-largest gathering of percussion educators, performers, businesses and students on the planet."
Davis is a third-year music education major from Collinsville and West Lauderdale, while Moore is a second-year electrical engineering major from Meridian and Northeast Lauderdale who is also the drum captain of the Mighty Lion Band's Drumline.
Both will be competing individually on Thursday, Nov. 10: Davis will take part in the University Marimba competition, while Moore will compete in the University Marching Snare category.
Meanwhile, Neal will be featured while presenting "The Opportunities of Teaching at a Community College" during the Presentations on Percussion Pedagogy (POPP) seminar.
"This conference is usually dominated by university instructors and professors," Neal said. "I applied with the hope that I would be able to increase awareness in the tremendous work that can be accomplished while working at a community college."
Davis, Moore and Neal will unfortunately miss the MACCC State Championship football game in Senatobia Saturday as they'll be wrapping up their time in Indianapolis.
"The band will absolutely miss Ben and the boys on Saturday," King said. "But this is a major accomplishment and just an incredible opportunity for them, the Mighty Lion Band and the college as a whole."
The four-day PASIC convention features concerts, clinics, panels and presentations given by the world's finest artists and will showcase all areas of percussion: drumset, marching, keyboard, symphonic, world, recreational, education, music technology, new music, and health and wellness.