'OUTSTANDING' STUDENTS RECOGNIZED DURING EMCC'S GOLDEN TRIANGLE CAMPUS AWARDS DAY
News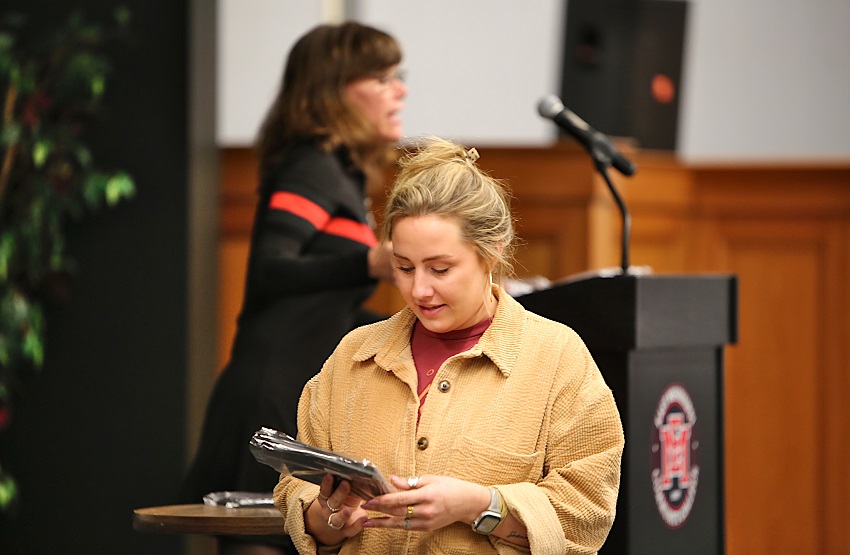 April 13, 2022
East Mississippi Community College instructors in academic, career-technical, Division of Nursing and Allied Health, and Community Workforce Services recognized their outstanding students from the past year during the annual Awards Day program that took place April 13 on the college's Golden Triangle campus.
EMCC President Dr. Scott Alsobrooks welcomed those in attendance.
"I want to congratulate all of these high-achieving students who earned this well-deserved recognition today," Alsobrooks said. "Thanks also to our instructors, who serve as mentors to our students to ensure they are getting the high-quality education that is a hallmark of EMCC."
Awards Day on EMCC's Scooba campus will take place April 27.
Here is a list of the students who received awards during the event at the Golden Triangle campus, the areas for which they were recognized and the cities in which they reside:
Anna Allen, Spanish II / Music Appreciation (West Point); Keelan Armstrong, Marriage and Family (Ackerman); Sarah Banes, Art / Syzygy Drawing (Starkville); Madison Baucom, Western Civilization (Columbus); Paige Bivens, (Columbus); Kaitlyn Bock, Psychology (Starkville); Lauren Bock, Criminal Justice (Starkville); Ella Bowen, Drawing / Syzygy Design (Caledonia); Sarah Bowles, American Literature (Ackerman); Honor Brown, Design / Bill Lauderdale Art Award of Excellence (West Point); Justin Bynum, Automotive Technology (Picayune); Braden Carlisle, Turf Management (Starkville); Gabriel Carpenter, Industrial Electrical (Columbus); Brayden Coleman, Computer Networking Technology, (Starkville); Jairon Cunningham, Art Appreciation (West Point); Lillian Dejean, English Composition I (Columbus); T'Angela Doss, Surgical Technology (Starkville); Parker Easter, Welding Technology (Amory); John Ellis, Landscape Management (Ridgeland); Anna Fisher, Accounting II (Starkville); Scott Fondren, Culinary Arts (Ethelsville, Ala.); Adrianne J. Fondren, Associate Degree Nursing (Columbus); Chassity Fry, World Civilizations (Starkville); Christopher Goodwin, Welding (Macon); Mathew Goulet, Computer Programming (Columbus); Summer Griggs, Barbering (Starkville); Coby Holmes, Economics (Collinsville); Jada Humphries, Accounting I (Columbus); Emily Jennings, Math (Pheba); Destiny Jones, American National Government (Columbus); Tiffany Latham, Database Administration (Steens); Robert Lockhart, Statistics / Anatomy and Physiology / Microbiology (Starkville); Mark McCoy, Business Technology (Columbus); Haylee McCrory, Cosmetology (Eupora); Bryce Miller, Chemistry (Brandon); Isaac Miller, Calculus (Macon); Alexis Phillips, Technical English (Columbus); Mary Redman, American History / Child Psychology (Columbus); Abby Romig, World Literature / Child Psychology (Caledonia); Mallory Sala, Business and Marketing Management (Columbus); Jeffery Standford, Automotive Mechanics (Columbus); Chad Stetson, Electrical Technology (Starkville); Aymelia Stevenson, Public Speaking (Macon); Takayla Tallie, College Study Skills (Pheba); Jada Tate, Network Security Technology (Columbus); Sydney Wiggins, Baking and Pastry (Caledonia); Judy Alexander Wright, Cosmetology (Amory); Lindsey Younger, Sociology / English Composition II
Student ambassadors on our Golden Triangle campus were also recognized, as were Laura MacLellan and Lindsey Younger, members of the Phi Theta Kappa Honor Society who were named to the All-Mississippi Academic Team.