AURORA'S PAV PROTOTYPE ON DISPLAY AT EAST MISSISSIPPI COMMUNITY COLLEGE
News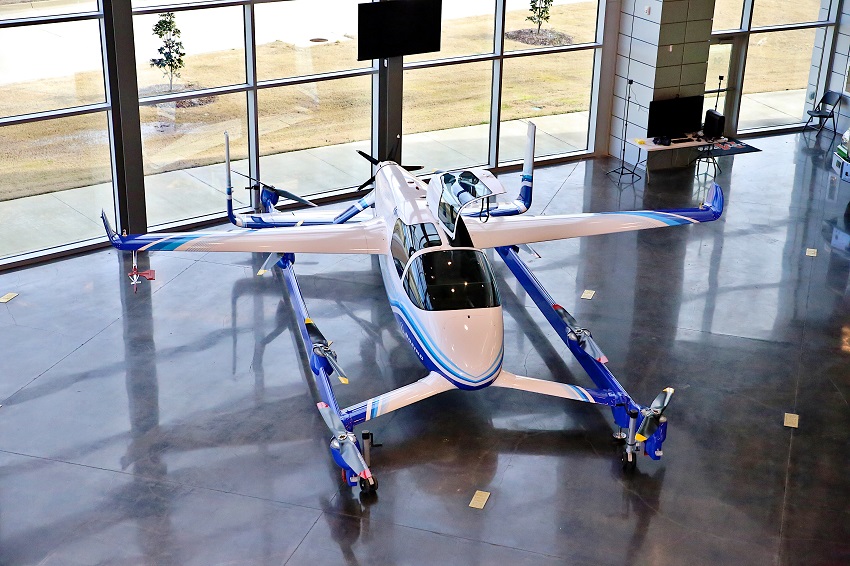 February 17, 2022
Aurora Flight Sciences' passenger air vehicle (PAV) prototype is on display in The Communiversity at East Mississippi Community College.
The 30-foot-long PAV is an electric vertical take-off and landing (eVTOL) prototype with twin booms on each side of the aircraft supporting eight lift rotors and a cruise propeller located in the rear. Designed to carry two passengers but no pilot, PAV provides unique insights into areas such as autonomy, electric propulsion, and flight operations for next-generation air vehicles.
"PAV is carbon fiber construction, which means it is extremely lightweight; every individual component of this aircraft can easily be picked up by hand," said Cody Hardin, manufacturing engineer for Aurora Flight Sciences. "Composite structures are critical in advanced aircraft manufacturing and a big part of what we do at Aurora's facility in Columbus."
Earlier this month, a locally-based team from Aurora Flight Sciences, a Boeing company, assembled PAV inside The Communiversity's Imagination Center, a space dedicated to the display of products made by local manufacturers. Emily Thornberry is an engineering intern at Aurora and led the project to assemble the PAV display. "I think autonomous vehicles are exciting and represent the future," Thornberry said. "The impact something like this can have on young minds is awesome."
EMCC conducts group tours for area K-12 students at the Communiversity, a state-of-the art facility dedicated to training students for careers in advanced manufacturing. The PAV display is intended to pique the interest of tomorrow's engineers and technicians, who may choose a career in the aerospace industry. It is also the most recent addition to a long history of cooperation between EMCC and Aurora Flight Sciences.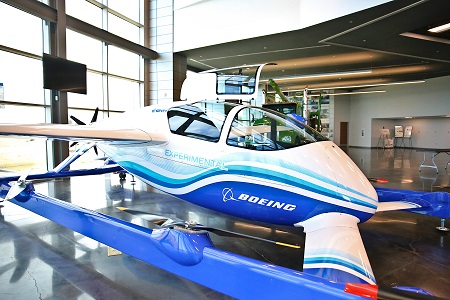 "Aurora innovates, builds, and flies aircraft at the cutting-edge of aerospace technology," says Per Beith, President and CEO of Aurora Flight Sciences. "It's through technical ingenuity and know-how that our team in Mississippi advances the future of flight. Joining with EMCC gives us the valuable opportunity to support the development of modern manufacturing skills and foster STEM education in the local community."
Aurora participates in an EMCC Workforce and Community Services course called Composite Manufacturing & Assembly, taught at The Communiversity. The 12-week course covers basic manufacturing skills, as well as processes related to carbon fiber composite manufacturing similar to what Aurora uses in its production environment. Upon successful course completion, students are given the opportunity to interview for an internship with the company. Many permanent team members have been welcomed through this program, with several continuing to advance their careers within Aurora.
Aurora also supports EMCC's Camp AMP by offering site tours and rocketry classes. Camp AMP introduces junior high and high school students to STEM careers through hands-on experiences. Aurora's rocket camp sessions teach students how to build and fly a small model rocket, introducing them to the basics of flight and hobbyist-level construction skills through an immersive and engaging activity.
"We are very grateful for the support Aurora Flight Sciences has offered EMCC over the years, both in the classroom and through programs such as Camp AMP," EMCC President Dr. Scott Alsobrooks said. "Our partnership with Aurora is invaluable to our institution and to the students we serve."
Students of all ages are encouraged to visit The Communiversity to view PAV on display and learn more about technical training programs that develop the modern manufacturing skills needed for exciting, lasting careers in local industries.
ABOUT EAST MISSISSIPPI COMMUNITY COLLEGE
East Mississippi Community College is committed to partnering with local industries to help develop a highly skilled and knowledgeable workforce required to succeed in today's business climate. As Mississippi continues to establish itself as a national leader in industrial and high-tech economic development, the need for workers trained in STEM-related professions continues to grow. To that end, EMCC is working diligently to ensure the college's training keeps pace with new and emerging technologies. Learn more at www.eastm.edu.
ABOUT AURORA FLIGHT SCIENCES
Aurora Flight Sciences, a Boeing Company, advances the future of flight by developing and applying innovations across aircraft configurations, autonomous systems, propulsion technologies, and manufacturing processes. With a passionate and agile team, Aurora delivers solutions to its customers' toughest challenges while meeting high standards of safety and quality. Learn more at www.aurora.aero.