PINNING CEREMONY HELD FOR ASSOCIATE DEGREE NURSING GRADUATES
News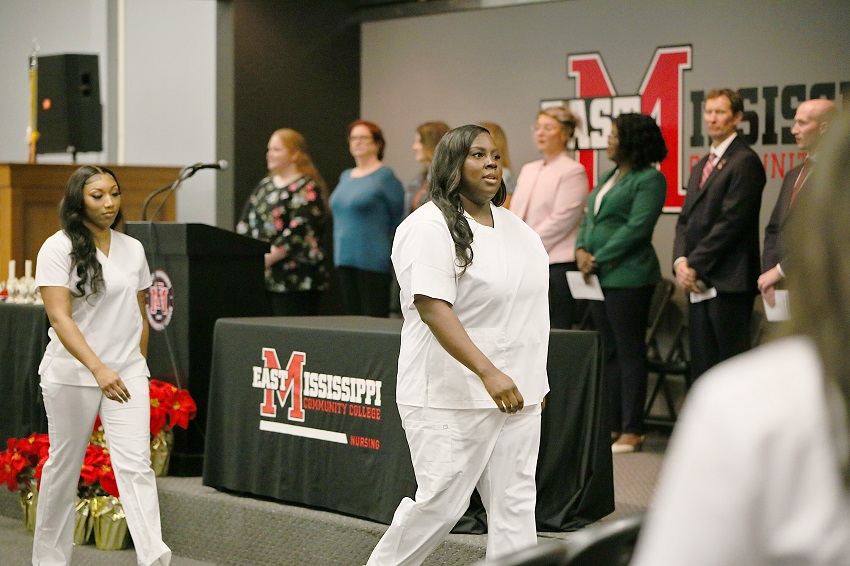 December 9, 2022
Thirty-three graduates of East Mississippi Community College's Associate Degree Nursing program participated in a pinning ceremony Thursday, Dec. 8, in the Lyceum Auditorium on the college's Golden Triangle campus.
EMCC President Scott Alsobrooks provided the welcome. The guest speaker was Sam Ivy, director of the Baptist Student Union at EMCC and the Mississippi University for Women. EMCC Director of Nursing Programs and Associate Dean of Health Sciences Jamonicia Johnson presented the students' lamps and pins during the ceremony.
The class of 2022 Association Degree Nursing graduates are: Kalyn J'Nae Abrams of Columbus; Amanda Mae Allen of Caledonia; Billie R. Brown of Brandon; Alexus Claybone of Columbus; Chris Cliburn of Brandon; Tonia Marie Epps of Columbus; Adrienne James Fondren of Columbus; Elizabeth Fretz of West Point; Haley Fye of Starkville; Stephanie Graham of Wiggins; Alyssa Marie Gully of DeKalb; Jon Hayden Hancock of Starkville; Jessica Hodge of Columbus; Cindy Nora Johnson of Louisville; Madison Alise Lawson of Louisville; Alphonso Vashon Lilley of Ackerman; Mary Alice McClain of Starkville; Rachel Lee McMillian of Caledonia; Mary Lindsay Mims of Greenwood; Tylesha T. Moore of Columbus; Queneisha Shante Morton of Eupora; Kinishua Raishun Pierce of Prairie; Bernesha Tennie Pope of Starkville; Bailey Catherine Powell of Starkville; Destiny Faith Rutledge of Ackerman; Auston Thomas of Starkville; Jennifer June Tomlinson of Columbus; Wendy McGuire Tribble of Columbus; Nicole Walters of Madison; Jondia Shanice Weatherspoon of Starkville; Charles Williams of Moorehead; Paige Winfield of Cedar Bluff; Elizabeth Yates of Columbus
Several awards were presented by Associate Degree Nursing Faculty, with the highest honor going to Fondren who garnered the Florence Nightingale Award, which is awarded to the student who most embodies the spirit of nursing. Allen was presented with the Scholastic Achievement Award.
Pope took both a Leadership and Service Award and a Clinical Excellence Award. Other Clinical Excellence Award recipients were Epps, Fretz, Morton, Powell and Williams.