Students can now register, pay for EMCC Workforce programs online
News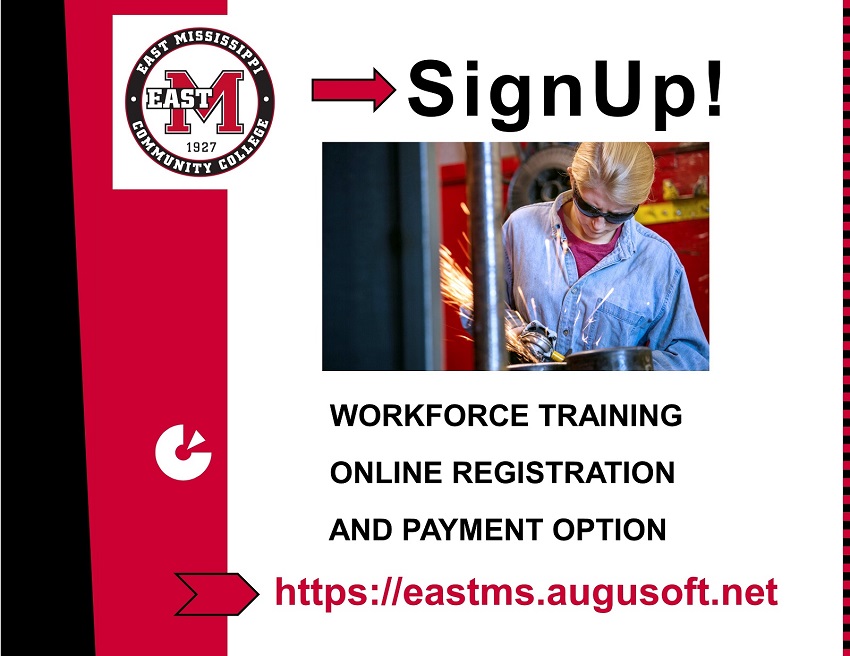 October 29, 2021
East Mississippi Community College's Workforce and Community Services division has launched new software that will allow students to sign up and pay for non-credit workforce classes online.
The Augusoft program, dubbed "SignUp!" by EMCC staff, went live Oct. 19, allowing students to go online and browse available classes, fill out demographic information, select classes and pay class fees by credit or debit card.
Previously, students wishing to take a short-term, non-credit workforce class had to visit one of EMCC's campuses to speak with staff in order to register and find out about class schedules.
The program administrator, Mary Beth Vickers, said the goal in implementing the online option was to simplify the process for those in need of training to improve their skillsets, land a job or move up in the company where they work.
Content for the program has been under development for sometime and will be continually updated as new classes are added, Vickers said.
"Students can create a login, browse and select classes they are interested in and pay for classes remotely from their computer, tablet or phone," Vickers said. "Once they have completed the process, they will receive an automated confirmation email that will provide details about their class, such as needed supplies. They will also receive a reminder by email prior to the first day of class."
Students without internet access can use one of the computer labs at The Communiversity or the Center for Manufacturing Technology Excellence, or CMTE, located on the college's Golden Triangle campus. Students also have the option of visiting with workforce staff in person and paying their fees at the business office.
A wide range of workforce classes are available, such as Heavy Civil Construction, Truck Driving, Pharmacy Technician and Welding, to name a few. Scholarships and financial assistance are available to qualified students.
"We are continually expanding offerings for our students to help meet industry demands," EMCC Dean and Workforce Director of the Manufacturing Technology and Engineering division Joe Cook said. "This new program will make it easier for students to avail themselves of our many workforce training opportunities."
Students can access the site at https://eastms.augusoft.net or through the Signup! link posted on the Workforce Training page at www.eastms.edu.