EMCC CONSTRUCTION SKILLS PROGRAM HELPS INMATES BUILD ON FUTURE
News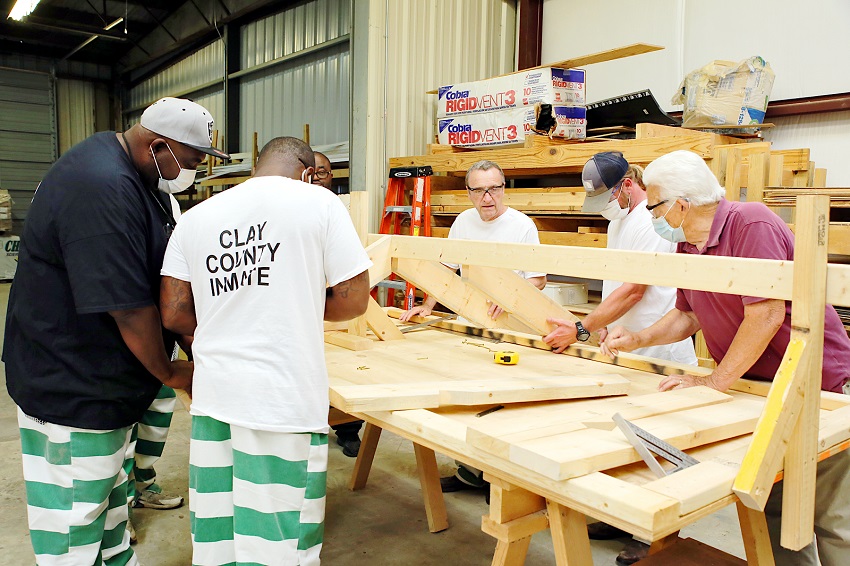 May 26, 2021
The seven inmates of the Clay County Detention Center enrolled in the newly created Construction Skills program at East Mississippi Community College's West Point-Clay County Center are hoping the training will help them land good paying jobs upon their release.
"It is a great opportunity to learn a new trade and make some good, honest money," said Rodderick Walker, a West Point resident who is among the inmates taking the class. "It is a way to break the cycle and teach you something other than what you have been doing."
All of the inmates are trustees at the detention center who are nearing release and were convicted of nonviolent offenses. They attend class three days a week and will graduate June 30.
The classes, which are offered free of charge, are being funded through the Mississippi Workforce Enhancement Training Fund.
EMCC West Point-Clay County Center Director Mitzi Thompson and Clay County Sheriff Eddie Scott, in conjunction with the Mississippi Department of Corrections, began working out the details for the creation of a Trustee Program about a year before the outbreak of the novel coronavirus, which put the program on hold.
They were able to get back on track earlier this year and the inmates attended their first class May 11.
"This will give some of these guys an opportunity they didn't have when they came to us," Scott said. "Many of them were young and had not learned any life skills. Now, they will have a skill that will help them find a job and go to work. There is a high demand for skilled labor right now in Clay County, in the state of Mississippi and across the country."
Prior to enrolling in the class, the inmates had to take the WorkKeys exam, which assesses proficiency in the areas of Applied Math, Workplace Documents and Graphic Literacy. They had to earn at least a silver-level on the exam in order to be accepted into the program.
"They all passed and tested really well," EMCC Information Specialist Tobie Fears said. "Most of them earned a gold level and we even had one who scored a platinum. They really enjoy the class and they all say Mr. Johhny is a good teacher."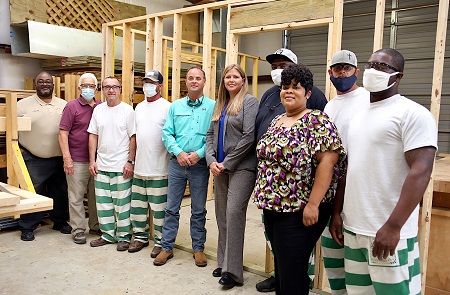 Mr. Johnny is Johhny Duren, a former carpentry instructor at EMCC's West Point facility who has returned to teach the Construction Skills class. The inmates in the 96-hour course are taught how to pour a concrete foundation and frame walls, ceilings and roofs. They also learn the proper use of construction tools.
"We want to teach them the basic skills needed to walk on a construction site and go to work," Duren said.
One of the inmates enrolled in the program, John Murphy of Columbus, said he thinks the Trustee Program "is a wonderful thing."
"It shows that over here in Clay County there is a sheriff who has a genuine concern about the inmates, not only while they are here but long after they are gone," Murphy said.
EMCC Vice President of Workforce & Economic Development Dr. Courtney Taylor said future opportunities for inmate training are possible.
"We are working with several local and state partners to provide more training for incarcerated and recently released individuals," Taylor said. "These training programs allow participants to transition into good jobs where they can actually earn a good living once they are released. We are grateful to Sheriff Scott and the MDOC for allowing the inmates to take the class."
Terrence Cowan, an inmate from Holly Springs, said he is glad he has the opportunity to learn a marketable skill.
"This allows me to put the time to use and learn something new," Cowan said. "It gives me a chance to do something positive out of a negative situation."