EMCC TO HONOR VETERANS AT MAYHEW, SCOOBA CAMPUSES
News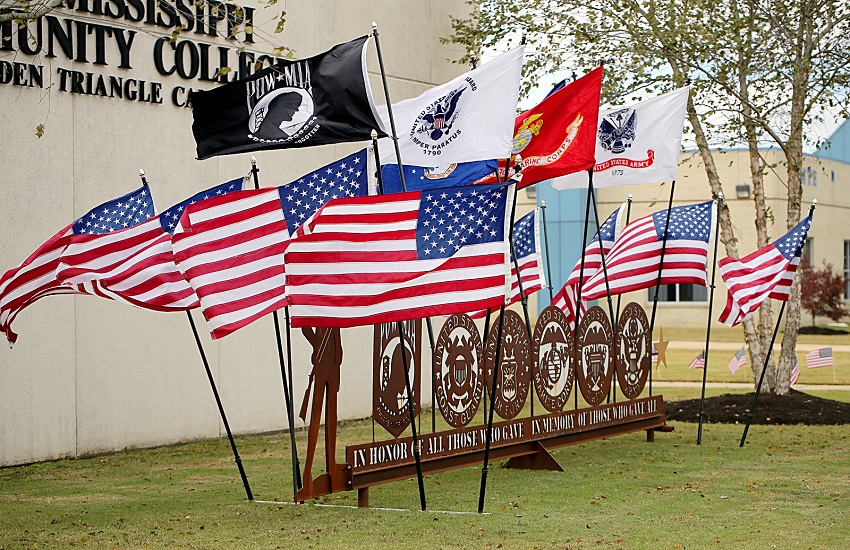 November 1, 2021
The public is invited to join students and faculty at East Mississippi Community College's Golden Triangle and Scooba campuses Nov. 9 in paying tribute to the nation's military.
The Golden Triangle campus will host its event titled "Proud to be an American" beginning at 9 a.m. in the Lyceum Auditorium. "God Bless America Day" on the Scooba campus will begin at 12:15 p.m. in the Chapel in the Pines.
Both events are expected to last about an hour. Former and active duty members of the military are encouraged to attend. Admittance is free.
EMCC President Dr. Scott Alsobrooks will provide the welcome ceremonies at both campuses. The guest speaker for both events will be Nick Clark, a former vice president for Institutional Advancement at EMCC. He is an EMCC alumnus and a recipient of both the college's Distinguished Service Award and Alumnus of the Year award.
The Golden Triangle Choir will perform several selections for the event on the Mayhew campus.
Students on the Scooba campus will participate in the event there. Sky Wilson will serve as emcee, Nathan White is handling the theme of patriotism and Tikera Wilson will sing "The Star Spangled Banner." Jonah Bankston and Ty Ford will march in with flags for the Posting of the Colors and they will lead the reciting of the "Pledge of Allegiance."
Events in the Chapel in the Pines will wrap up with Chuck Luke performing "God Bless America." Lunch will be served afterwards in the Orr Center for Christian Activity.
"We hope to have a good turnout for our annual tribute to military veterans," Dean of Students for the Scooba Campus Tony Montgomery said. "It is our way of thanking them and recognizing the contributions they have made to our nation."