EMCC TURF/LANDSCAPE STUDENTS SCORE INTERNSHIPS NEAR AND FAR
News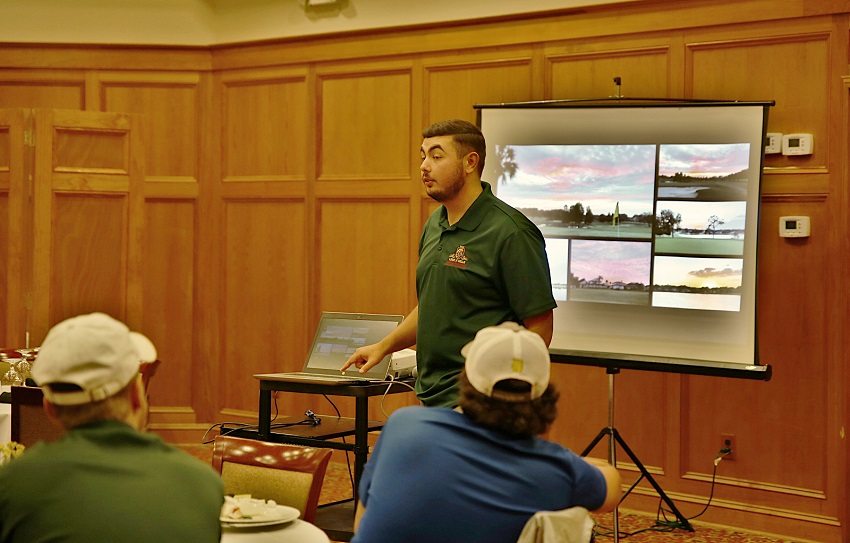 September 22, 2021
Students in the Golf/Recreational Turf Management Technology and Landscape Management Technology programs at East Mississippi Community College's Lion Hills Center are in demand.
Eighteen sophomores enrolled in the two programs landed paid summer internships at golf courses, landscape and turf businesses throughout Mississippi and in other states.
On Sept. 21, the students gave PowerPoint presentations at the Lion Hills Center to their classmates detailing what they learned during their internships.
Memphis, Tennessee resident Jack Porter, who came to the area to enroll in the Turf Management Program, served his internship at Northmoor Country Club in Highland Park, Illinois, which is a suburb of Chicago.
"It was a great learning experience," Porter said of his internship. "They had me doing a little bit of everything on the golf course, from general mowing, to maintaining fairways and greens to spraying."
It is not uncommon for students in the programs to land internships across the country. Former students have interned in places like Montana and Wyoming, with some receiving offers of fulltime employment at the places they interned once their studies were complete.
"The demand for these guys is great," said Danny Smith, who teaches Turf Management and Landscape Management programs along with Director of Golf Operations Will Arnett. "A lot of golf courses are lacking experienced employees and we have become a good feeder program for them."
Students in Landscape Management learn landscape design; selection and care of plants; installation of irrigation and lighting systems; construction; equipment usage and maintenance; and business management, among other things.
Students in Golf and Recreational Turf Management cover many of the same areas, as well as the care of specific grasses, the use of chemical applications and specialized equipment used in turf maintenance.
Madison resident John Ellis is a sophomore in the Landscape Management program who worked as an intern over the summer at Arnold Palmer's Bay Hill Club and Lodge near Orlando, Florida.
"I worked in every department on the golf course," Ellis said. "It was a great opportunity."
Three of the 18 sophomores, Sebastian Bonome, Riley Carrithers and Bryce Colbert, served their internships at the Lion Hills Center and Golf Course.
Here are the remaining students and where they served their internships: Brent Berkemeyer, Lake Village Country Club, Lake Village, Arkansas; Jake Bonds, University of Mississippi campus landscape, Oxford; Braden Carlisle, Superior Property Maintenance, Starkville; Blaine Fulton, Ambiance Landscape Company, Brandon; Thomas Gamble, Southern Properties Landscape, West Point; Dennis Harris, Mississippi State University Golf Course, Starkville; Clanton Malone, Palo Alto Country Club, Palo Alto, California; William Manuel, Shoal Creek Country Club, Birmingham, Alabama; Dre Meaders, U.S. Lawns, Starkville; Guadalupe Morales, Carter and Gardner Landscape, Brandon; Layne Smith, Annandale Golf Club, Madison; Nicholas M. Studdie, Ambiance Landscape Company, Brandon; Douglas Wilson, Tate's Turf, LLC, Sturgis, Mississippi.