EMCC SURGICAL TECHNOLOGY PROGRAM GRADUATES THIRD GROUP OF STUDENTS
News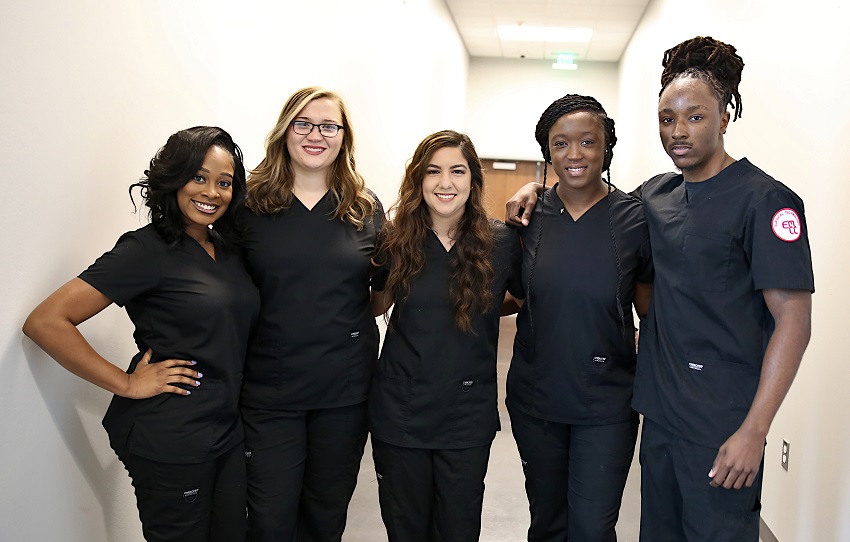 December 10, 2021
A graduation ceremony took place the afternoon of Thursday, Dec. 9, at The Communiversity for East Mississippi Community College students who completed the Surgical Technology program.
The students were awarded an Associate of Applied Science degree in the program that prepared them to serve as members of a surgical team.
Graduates of the program are Kala Gibson of Columbus, Dante Harris of Columbus, Dwana Nash of Columbus, Diana Richardson of Louisville, Bethany Price of Tuscaloosa, Alabama, and Bailey Vandenbranden of Columbus. Richardson was unable to attend.
EMCC President Dr. Scott Alsobrooks delivered the welcome and charge to the students. Surgical Technology Program Director Alicia King and Clinical Coordinator Crystal McMillian presented the graduates. Gibson delivered the invocation and benediction.
This is the third graduating class of students from EMCC's Surgical Technology program, which is the first of its kind in the Golden Triangle area. Janan Rush was hired in 2018 to serve as director and instructor for the program, with the inaugural class meeting for the first time in January of 2019.
Rush passed away in September 2020 and King, an adjunct instructor for the program at the time, was tapped to fill the director position. A photo of Rush was on display during the ceremony.
The guest speaker for the event was Dr. Pamela Lacy, who has worked for Physicians and Surgeons Clinic since 2006, where she is the clinic's first female OBGYN. She is also the medical director of Obstetrics at Baptist Memorial Hospital and is a member of the Baptist System Obstetrics Advisory Group.
Lacy told the students they have a great responsibility as members of the third graduating class of EMCC's Surgical Technology program.
"I don't know if you are aware but all of you are trailblazers and all of us in this room are counting on you," Lacy said. "As each of you go out to embark on your new careers, all eyes will be on you, and not just on you but on this program. You will always represent this school, whether you excel our whether you fail."
She encouraged the students to be advocates for their patients and to strive to excel as vital members of a surgical team.
"I am most impressed by the techs who anticipate what instrument I will use next, or retract in such way I can see and maneuver better without me having to say a word," Lacy said. "That comes with time and experience, but let that be your goal."