EMCC SPRING 2021 GRADUATION CEREMONIES TAKE PLACE
News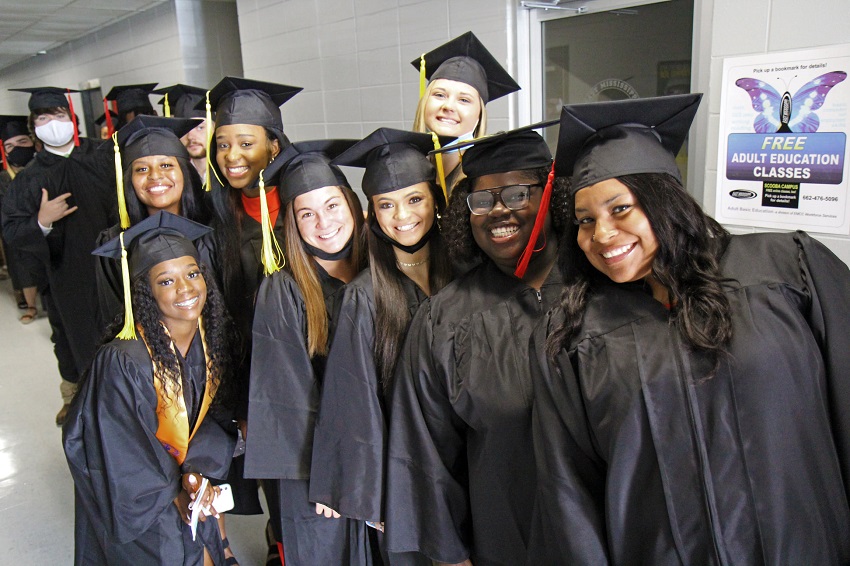 May 21, 2021
East Mississippi Community College held spring 2021 commencement ceremonies for about 600 students Friday, May 7, and Saturday, May 8, at the college's Golden Triangle and Scooba campuses.
Three commencement ceremonies were held in the Lyceum Auditorium on the Golden Triangle campus on May 7. The Scooba campus graduation ceremony took place May 8 in the Keyes T. Currie Coliseum.
EMCC's 2020 graduates were also eligible to participate in commencement ceremonies this year and some did so. In May of last year, the college conducted its first virtual graduation as a result of the novel coronavirus and December graduates were invited to participate in this year's commencement exercises.
While EMCC has since returned to in-class instruction, EMCC President Dr. Scott Alsobrooks praised the students for rising to meet the challenges presented by last year's shift to virtual and online learning in response to the global pandemic.
"Your class, more so than any others, is the embodiment of resiliency," Alsobrooks told the graduates. "Your perseverance during the recent pandemic, your commitment to continuing your studies and your ability to adapt to new modes of instruction are all testaments to your resiliency."
Here is a list of the Class of 2021 students who applied for graduation broken down by the counties and cities in which they reside:
MISSISSIPPI
Alcorn County
Attala County
Kosciusko: Vylishia Roundtree
Carroll County
Carrollton: Samuel Clark, Colby Holly
Coila: James Daves
Chickasaw County
Houston: Aaliyah Browne
Woodland: Tatiana Forshee
Choctaw County
Ackerman: Curtlyn Blake, Ariana Davis, Garrett Hunt, Tucker James, William Jones, Dakota Kent, Andrew Parish, Amelia Pratt, Cassidy Simpson, Mary Strickland
Weir: Payton Busby, Zakkariyya Gladney, Dillon Jones, Jaylin Miller, Kellie Williams
Claiborne County
Clarke County
Quitman: Amanda Carney, Tyshun McLendon
Stonewall: Elizabeth Hammond
Clay County
Cedarbluff: Edward Bush, Sara Dexter, Xavier Eacholes, Johnathan O'Brian, Makela Quinn
Pheba: Quadry Chandler, LaKeena Doss, Sabrina Gable, Kaleb Kellum, Christina Murray
West Point: Jason Barnette, Brittany Bowens, Kalexis Brooks, Tyler Brownlee, Ethan Bryan, Charles Chambless, Quentavious Chandler, Kiara Collins, Danny Crawford, Shalexis Ewing, Jose Garcia, Mikiyla Gardner, Chalantis Harden, Thomas Harris, Jamia Hollings, John Howard, Michelle Jeffers, Jackson Knowles, Brandon Lairy, Nathan Lamkin, Jada Landon, Jessica Lenoir, Temeisha Lenoir, Ernest Leonard, Kameron Martin, Natriun Montgomery, Andrew Mooney, John Pettit, Madalynn Pettit, Devon Price, Madison Pruden, Dylan Scott, X'zayvia Scott, Bruce Seawright, Jeremiah Stanfield, Sara Strickland, Lakenderic Thomas, Marica Vance, Trakwan Webber, McKinsey Wedel, Tristan Williams, Brianne Wofford, Iesha Young
Desoto County
Olive Branch: Shemaar Stapleton, Michael Craig
Forrest County
Hattiesburg: Kylan Carter
George County
Grenada County
Gore Springs: Brent Smith
Grenada: Davione Hull
Harrison County
Biloxi: Ivy Primley
D'Iberville: Trey Trosclair
Gulfport: Richard Pilgrim, Taiwon Stallworth, Bethany Stiglet
Hinds County
Itawamba County
Jackson County
Jasper County
Bay Springs: Stephen Morris
Jones County
Laurel: Ja'von Davis, Hayden Landrum, Autumn McClendon, Brandon Wilson
Soso: Brody Busby, Christopher Coston, James Jones
Kemper County
DeKalb: Carrie Baty, Cyntia Brown, Jakiya Brown, Itianna Grace, Timmedria Houston, Emily Pitts, Senous Williams
Porterville: Ta'mia Brown, Kenya Hopson, Chantel Stringfellow
Preston: De'anthony Bennett, Anna Cumberland, Kendrell Daniels
Scooba: Venus Knox, Inecia Looby, Amanda Shinn, Matthew Watt
Lafayette
Lamar County
Lumberton: Marcus Theriot
Sumrall: Zane Berry, Garrett Robbins, Halen Sanford
Lauderdale County
Bailey: Dustin Marceleno, John Mayatt
Collinsville: Brandon Andreacchio, Hannah Farr
Daleville: Tedeasha Matthews
Lauderdale: Wade Mosley, Lilian Ramsey
Meridian: Joshua Bartlett, Billy Branning, Ethan Brown, MacAyla Collier, Logan Dial, Paxton Duke, Alexander Eaves, Kristian Farmer, Deondray Harris, Stephen Hudson, Kara Irby, De'uante Mason, Nicholas Parker, Tiffany Parker, Dylan Reeves, Zackary Shelton, Yolanda Simmons, Eric Sims, Ashley Walker, Patrick Wall, Jasmine Jackson
Toomsuba: Letasha Miller, Ryan Smith
Lee County
Tupelo: Charles Coggins, Talissia Jones
Shannon: Kayla Jackson
Leake County
Carthage: Tabitha Atkinson, Cameron Brown
Leflore County
Greenwood: Ethan Clark, Riley Williams
Lowndes County
Caledonia: Beau Bates, James Clark, Marlee Courtney, Jacob Crowley, Kristina Desmidt, Leon Ellis, Christopher Fleming, Emilee Forrester, Rebekah Gambal, Steven Gambal, William Glasgow, Marlee Hemphill, Andrew Hill, Abigale Hurt, Taylor Johnson, Jackson Kriley, Mollie Lyons, Brandon McDonald, Jadon O'Neil, Christian Oswalt, Dakota Oswalt, Abigail Parker, Ralie Perkins, Catherine Plummer, Jeffery Plummer, Kelby Price, Amanda Pruitt, James Vernon, Brianna Vickery
Columbus: Dalton Alexander, Elijah Alexander, Colton Baucom, Tyler Beaird, Lauren Beall, Christopher Beard, Beau Beatty, Tara Bergen, Andrew Demontreal Bishop, Andrew Reed Bishop, Brandon Bishop, Kennedy Bowles, Natyia Brooks, Georgia Brown, Chloe Bruce, Genevia Buckhalter, Robin Burnett, Brett Carrico, Mason Cline, Douglas Cockrell, Joseph Cockrell, Madalyn Coleman, Bradley Cunningham, Zyon Cunningham, Kenedi Deans, Andrea Eatman, Shelaina Eckford, Chantal Edwards, Michaela Edwards, Lane Euer, Anna Forrester, Gabrielle Gabrielson, Adira Gammel, Savannah Garrett, Marissa Kaye, Amie Glenn, James Glover, Steven Good, Charles Goodman, Terri Greenlaw, Brandon Hardin, Katrina Harris, Jayden Hayden, Nicole Haynes, Tylan Hinton, Kenzie Hollis, Collin Howard, Jaylon Howard, David Howell, Alijah Hudson, Joshua Humbers, Makali Hunter, Brittany Jackson, Conesha Johnson, Tychicus Johnson, Precious Jones, Dominique Key, Cooper King, Joshua King, Treyveon King, Oliver Latham, Tierra Ledbetter, Czarya Lee Bigbee, Makyah Lee, Jalyn Lofton, Curtis Lowe, Patrick MacLellan, Tylon Malone, Chastity Martin, Brooklyn Martinez, Savannah McCarter, Audrey McCraw, Thomas McCullough, Brandi McDonald, Christopher McGlothin, Madison McGrew, Mary McGuffie, Xavier Miller, Spanyahotta Mitchell, Taylor Mitchell, Jordan Mize, De'Ana Neal, Kahn Nguyen, Minh Nguyen, Laela O'Neal, Balasha Parker, Celia Peal, Antonio Phillips, James Phillips, Amiyah, Summer Porter, Leighann Pounders, Alex Powell, Bobby Ray, Hillary Reeves, Madison Renfroe, Tracey Rice, Raven Richards, Ayden Richardson, Nathan Richardson, Colby Ridgley, Aniya Robinson, Kevin Robinson, Romeo Sanders, Jumarcus Selvie, Jessi Sherrill, Lazavier Sherrod, Jakeim Shinn, Daniel Smith, Katelyn Smith, Britney Spruill, Jeffery Stanford, Thomas Stevens, Mary Stone, Joshua Taylor, Valencia Taylor, Brianna Terry, Gabriel Thomas, Tierra Thomas, Shamya Thompson, Johnata Wade, Jasper Walden, Sharsna Walker, Nicholas Warren, Destiny Wells, Whitney White, Taylee Williams, Jule Willis, Juanita Wilson, Ian Wright
Crawford: Lauren Bell, Bryce Bogan, Kelsey Bolden, Eric Brooks, Erin Fenderson, Antwan Jefferson, Zykia Jefferson, Brooke Perry, Arlana Rice, Sarah Robertson, Kelvin Wilburn
Mayhew: Connor Tidwell
Steens: Jared Adams, Justin Burns, McKensi Cole, Peyton Enger, Orion Kendrick, Micaiah Latham, Coleton Montgomery, Thomas Murray, Patricia Wilson
Madison County
Madison: Madelyn Brown, Allie Fry, Richard Garner, Ashton McKinnon, Ty'tiyana Moody, Zachary Pitts, Ian Richard, Emily Tubertini
Ridgeland: Anna Dearman, Dylan Owens
Monroe County
Aberdeen: Byron Butler, Traventez Evans, Jaheim McMillian, Francis Whitt
Amory: Parker Easter, Justin Farrar, Anastasia Hanrahan, Tobias Williams
Hamilton: Rylee Bourland, Amber Hogan, Madeline Nettles, Steven Savage, Tucker Welch
Prairie: Robert Thompson
Montgomery County
Winona: Tommesha Brown, Macy Johnson
Neshoba County
Philadelphia: Lauren Carter, Kaylee Chunn, Latia Cleveland, Allyson Davis, Briana Huddleston, Jordan Jenkins, Meg Martin, Kristopher McGowan, Cherish McWilliams, Kamryn Moore, Carson Settlemires, Kara Spears, Nichalas Stone, Ashlie Thames, Frankie Watkins
Newton County
Conehatta: Jacob Brooks
Decatur: Chloe Adcock
Hickory: Thomas Williams
Noxubee County
Brooksville: Keyashay Atkinson, Michael Barber, Ebony Brandon, Tera Dora, Kyle Earvin, Karl Mast, Myles Smith, Sherquesha Stewart, Breauna Taylor
Macon: Johne Brandy, Trillo Brown, Isaac Carroll, Kawn Dixon, Adaquis Graham, Jarius Hudgins, Quentin Jamison, Jackson Lejeune, Jamiya Mason, Bobby May, Erin Rigdon, Kadaiesha Robinson, Jessica Ronyak, Kory Scales, Velda Skinner, Tomyah Smith, Zachary Tate, Reagan Williams
Shuqualak: Raven Black, Skyla Hill, Cedric Jones, Zakera Little
Oktibbeha County
Mississippi State: Celeiah Denae
Starkville: Tyler Adair, Lily Adam, Audrey Ala'aldin, Cameron Armstrong, Peyton Arndt, Josh Arnett, Joshua Ashford, Zykeria Bedford, Tekia Bell, Jason Bigham, Jaloni Bishop, Latham Blake, Virginia Boswell, William Buckner, Kazia Bush, Daphne Chandler, Michael Clark, James Cook, Thomas Crawford, Casey Crittenden, Nathaniel Crosby, Alexandra Cross, Janelys Cruz Rodriguez, Alexandria Cunningham, Chandler Cunningham, Jasmine Davis, Darius Doss, Mary Driskill, Kade Etheridge, Keiondra Gandy, Lakyra Garth, Erin Gillespie, Teonica Gillespie, Charles Greene, Aerrick Henderson, Kendis Hickman, Kendall Hightower, Christopher Jackson, Cade Jenkins, Adarian Johnson, Victor Johnson, Alyssa Jones, Laura Jordan, Mallory Kelley, Pauline Kelly, Elainia Krikman, Dillian Lassiter, Peyton Lyons, Hannah Mann, Charles Maulding, Trenten Maulding, James May, Derriyana Mays, Chadsity McCaskill, Mary McClain, Billy McLemore, Kayla McLin, Amanda Miller, William Miller, Tony Minor, Jr., Robert Mitchell, Adler Morgan, Bobby Morgan, Michael Nemeth, Zy'leecia O'Briant, Maria Orr, Antonio Owens, Mysheria Patterson, Maxine Peterson, Camron Petty, Alexis Phillips, Immanuel Powers, Ethan Prather, Acrissa Reese, Trevor Reitz, Desirae Robinson, Joseph Ross, Erin Ruth, Claudia Rybolt, Le'chelsie Skinner, John Smith, Justin Smith, Sheyenne Spruell, Cali Steverson, Amaria Strong, Idalis Suell, Myra Thompson, Mattilyn Thornton, Kaitlin Townsend, Keyana Triplett, Brandon Tucker, Quinton Turner, Zayanna Turnipseed, Kamya Ware, Kami Warren, Jeffrey Welford, Tony White, Christian Wilson, Ryan Wilson, Alexis Young
Sturgis: Micah Foster, Joshua McGinnis, David Morgan
Pearl River County
Carriere: Jordan Berry, Brittin Owen
Prentiss County
Booneville: Julie Jackson
Rankin County
Brandon: James Haydu, Anna Howell, Matthew Kea, Anah Phillips, Frances Reilly, Noah Thweatt, Payten Young
Pearl: Alexis Session
Pelahatchie: Hannah Lawrence
Scott County
Forest: Tyreshia Futch
Morton: Taylor Turman
Simpson County
Tate County
Tippah County
Union County
New Albany: Jackson Herrington
Warren County
Vicksburg: Braxton Chewning, Richard Hanks
Washington County
Greenville: Amiyah Staples
Wayne County
Waynesboro: Jacob Manning
Yalobusha County
Webster County
Eupora: Parker Blaylock, Matthew Burton, Austin Chandler, William Harpole, Haley Mann, Peyton Orr, Areana Windrick
Maben: Christopher Barrow, Kadasha Bryant, Dana Chamblee, Summer Douglas, MacKenzie Hodges, Anna Phelps, Kaitlin Ray, Parker Reed, Nicholas Shurden
Mathiston: Ashley Hodges, Christopher Ballard, Clay Neal, Clyde Perrigin, James Smith, Chelsie Sykes, Austin Wilson
Winston County
Louisville: Kierra Ball, Noah Dempsey, Dawson Eaves, Billy Fulton, Jacey Garrard, Ronald Gibson, Eric Gregory, Trevor Holdiness, Ny'lexia Howell, Gladies Ivy, Alex McDaniel, Alessandra Norton, Johnathan Peterson, Emmalee Reed, Amber Roberson, Nastaaja Roberts, Deshanta Shannon, Nyisha Spivey, Dylan Tabor, Adria Thames, Theresa Thompson, William Toliver, Christopher Vanlandingham, Tracen Wiggington, Blake Young
Noxapater: Wyatt Ball, Hunter Johnson
Yazoo County
Out of State
Silas, Ala.: Joseph Courtlan
Summerdale, Ala.: Nikayla Brill
Millport, Ala.: Cody Sudduth
Demopolis, Ala.: Elizabeth Laduron
Aliceville, Ala.: Quienesha Prude
Ethelsville, Ala.: Lilnesia Barron
Gordo, Ala.: Jason Burt, Colton Tant
Cuba, Ala.: Destiny Wallace
Epes, Ala.: Shakeria Williams
Livingston, Ala.: Breonna Rogers
Northport, Ala.: Samuel Harwood
Millry, Ala.: E'lexus Young
West Sacramento, Calif.: Simone Scott
Pensacola, Fla: Addonise Crews
Felda, Fla.: Blake Crawford
Delray Beach, Fla.: Denasia Mitchell
Pace, Fla.: Trenton Powell
Ellerslie, Ga.: Morgan Massa
Plaquemine, La.: Christopher Murray
Baltimore, Md.: Carlos Davis
Clinton, Md.: Khyree Jackson
Albuquerque, N.M.: Derrick Trujillo
Collierville, Tenn.: Chad Stetson
Madison, Tenn.: Telonquez Newsom
Porter, Texas: William Noble
Simpsonville, S.C.: Abigail Weaver