'OUTSTANDING' STUDENTS ON EMCC'S SCOOBA CAMPUS RECOGNIZED
News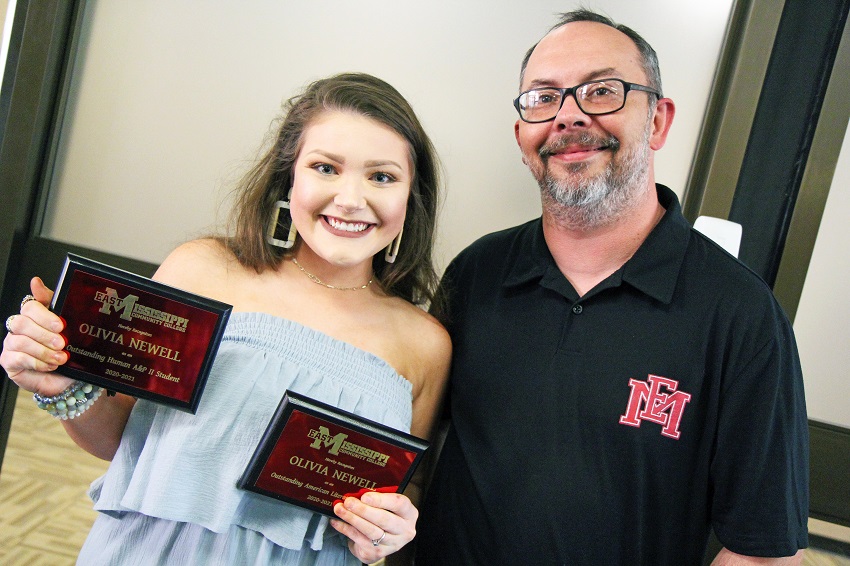 April 22, 2021
Instructors on East Mississippi College's Scooba campus presented their "outstanding" students of the past year with plaques during the annual Awards Day that took place Thursday, April 22.
Students in both academic and career technical programs were recognized during the ceremony that took place inside Stennis Hall Auditorium.
EMCC President Dr. Scott Alsobrooks congratulated the award winners.
"These students are great representatives of our college and of our community," Alsobrooks said. "We are very proud of each and every one of them."
Here is a list of the students who received awards, the areas for which they were recognized and the cities in which they reside:
Joshua Aka, College Algebra with Intermediate Algebra, Public Speaking (Starkville); Autumn Beal, Principles of Biology I; Justin Black, Calculus I & II, General Chemistry II (Caledonia); Aislynn Cochran, Precollege Algebra (Canton); Jenna Coker, Computer Science (Scobey); MacAyla Collier, Mighty Lion Band – Band Member (Meridian); Alyssa Cox, Choir (Nettleton); Kelsey Duckworth, Ceramics "Syzygy" (West Point); Zachary Griffith, American U.S. History II (Mize); Brooke Hailey Painting "Syzygy" (Scooba); Kendis Hickman, Anatomy & Physiology I, Reflections (Starkville); Trevor Holdiness, Welding Technology (Louisville); Millie Holley, American U.S. History I (Philadelphia); Aysia Houston-Smith, Ophthalmic Technology Student -- Freshman (Meridian); Marques Hunt, General Chemistry I (Philadelphia); Kara Irby, Traditional Grammar (Meridian); Isaac Carroll, Marketing (Macon); Shardashia Jackson, General Biology II, Introduction to Sociology I (Crawford); Jalyh Jackson, British Literature (Oxford); Jordan Jenkins, Music Theater – Female Student (Philadelphia); Tykerria Jones, Psychology (Starkville); Darby Kinney, Music Theater – Male Student (Collinsville); Rebecca Mowdy, Photography "Syzygy" (DeKalb); Christina Murray, Ophthalmic Technology Student -- Sophomore (Pheba); Kayla Nelson, English Composition (Macon); Olivia Newell, Human Anatomy & Physiology II, American Literature (Meridian); Emma Pinson, Music Theory, Mighty Lion Band -- Percussion (Jackson); Lilian Ramsey, Statistics (Lauderdale); Parker Reed, Forest Technology (Maben); Bianca Rush, Art Appreciation (Marion); Kory Scales, Voice (Macon); Ashlyn Schmidt, College Algebra (Baton Rouge, Louisiana); William Scoggins, Principles of Biology I (Macon); Celina Sistrunk, Piano (Philadelphia); Jordan Slaughter, General Biology I (Shuqualak); Kara Spears, Human Growth & Development (Philadelphia); Jasmine White, Child Psychology (DeKalb); Megan Williams, Mighty Lion Band – Color Guard (Starkville)