EMCC STUDENTS INDUCTED INTO PHI THETA KAPPA
News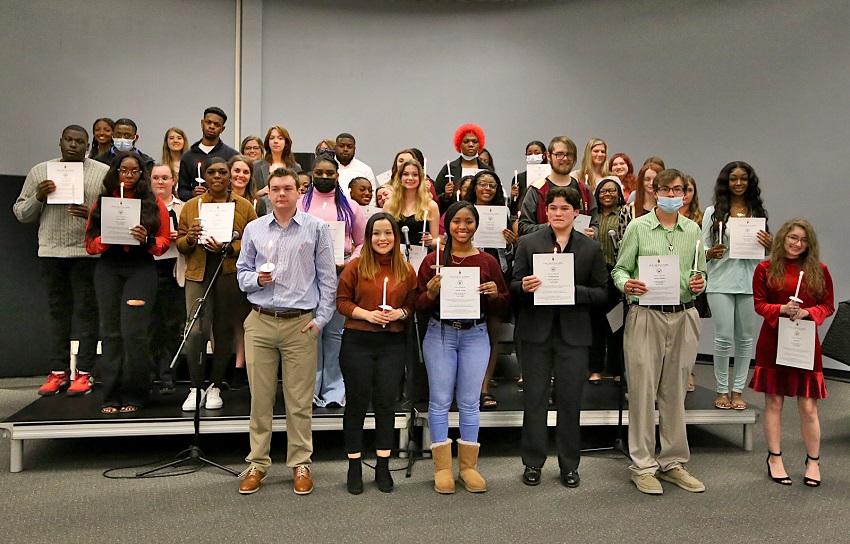 November 10, 2021
Forty-six East Mississippi Community College students were inducted into the Beta Iota Zeta chapter of the Phi Theta Kappa Honor Society the evening of Tuesday, Nov. 9, in a ceremony in the Lyceum Auditorium on the college's Golden Triangle campus.
The opening remarks were provided by Scott Baine, a 5 Star Phi Theta Kappa advisor. He was assisted by PTK Beta Iota Zeta co-advisor Kelly Cantrell. EMCC President Dr. Scott Alsobrooks introduced the event guest speaker, Mississippi State University Provost and Executive Vice President Dr. David Shaw.
A college transfer fair took place after the ceremony. Recruiters from Delta State University, Harding University, Mississippi College, Mississippi State University, Mississippi University for Women, University of Southern Mississippi and William Carey University were on hand to answer questions the students had about available educational programs.
The new inductees are: Keelan Armstrong of Ackerman; Kaylee Bauer of West Point; Samya Brooks of Crawford; Brianna Burrage of Shuqualak; Roslyn Butler of Columbus; Victoria Cooper of Caledonia; Shalarria Crook of Macon; Na'Kerricka Ewing of West Point; Adrianne Fondren of Columbus; Lydia Frisby of Caledonia; Taylor Fulgham of Columbus; Leah McKinley Graham of Madison; Kaitlyn Gray of Columbus; Madison Harris of Starkville; Cameron Hatcher of Rolling Fork; Rod Hogan of Columbus; Emily Jennings of Pheba; Zion Johnson of Columbus; Robert Lockhart of Starkville; Brianna Lopez of Ocean Springs; Jamario Macon of Columbus; Diana Maya of Columbus; Hailey McCool of Sturgis; Bryce Miller of Brandon; Michael Mucha of Columbus; Kayla Oats of Eupora; Mahogany Perry of Columbus; Axyl Petty of Columbus; Marlee-Keeton Pierce of Union; Mary Redman of Columbus; Breanna Roberts of Columbus; Trinity Robertson of West Point; Abby Rutherford of Starkville; Kylen Savors of Columbus; Caleb Schumacher of Columbus; Powell Scates of Greenwood; Hannah Self of Starkville; Leah Shaw of Starkville; Sarah Sonnier-Sudduth of Starkville; Aymelia Stevenson of Macon; Aniyah Stewart of Columbus; Lily Todd of Cedar Bluff; Zachary Whitlock of Childersburg, Ala.; Andrew Woody of Columbus; Aaliyah Young of Columbus; Lindsey Younger of Steens