EMCC REINSTATING LPN PROGRAM ON SCOOBA CAMPUS
News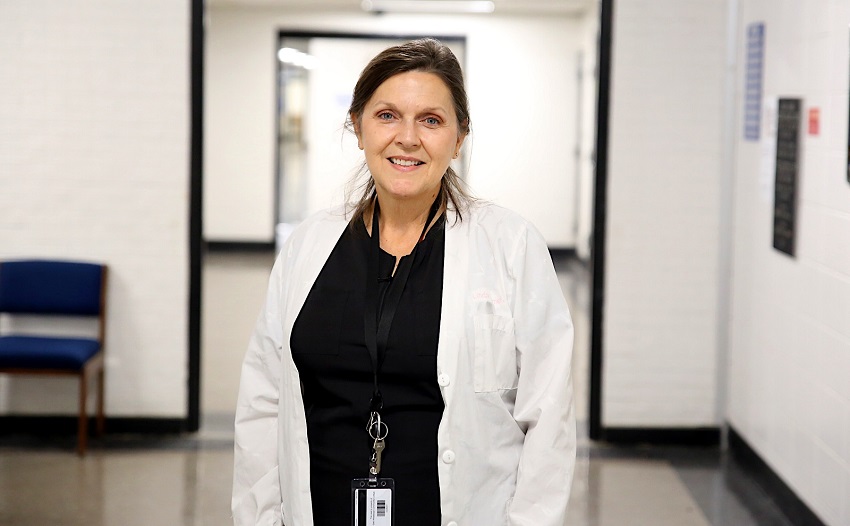 November 17, 2021
East Mississippi Community College's Licensed Practical Nursing program is returning to the Scooba campus after a 19-year hiatus.
"Unfortunately, due to the pandemic there is a nursing shortage in that area," EMCC Division of Nursing and Allied Health Director and Dean of Health Sciences Dr. Tonsha Emerson said. "We've had community members and healthcare facility representatives express the need for a Practical Nursing program on the Scooba campus."
Classes for the LPN program at Scooba begin Jan. 10. The deadline to apply is Dec. 3. Fifteen students will be accepted into the initial class. Students who successfully complete the one-year course will graduate in December. In the program, students are prepared to practice under the supervision of a registered nurse, a physician or a licensed dentist.
Emerson, who was hired by EMCC in 2001, had been working for the college for about a year when the LPN program on the Scooba campus closed in 2002. A lot has changed since that time.
As early as 2012, medical journals began reporting a growing need for additional nurses to treat an aging baby boomer population with increased medical needs to include, in some cases, around-the clock medical care. According to the U.S. Bureau of Labor Statistics, more than 65,000 additional LPNs will be needed in the U.S. by 2029.
Emerson said when her division conducted a needs assessment to determine if the LPN program should be reinstated at the Scooba campus, they received affirmation from the John C. Stennis Memorial Hospital in DeKalb and the Noxubee Medical Complex in Macon, as well as from Kemper County High School and the John C. Stennis Vocational Complex.
"We also we received letters of support from the Mississippi LPN Association expressing the need for LPNs in that particular area, as well as in the state," Emerson said.
Classes will be taught out of Hawkins Hall where the program will have its own dedicated classroom space, instructors' offices and a lab that meets state accreditation requirements. Two instructors have been hired to teach the course.
They are, Linda Farmer, a nurse practitioner from Meridian who has more than four decades experience in the nursing field, and Chiquita Jones of Philadelphia, who earned her LPN certification at EMCC before completing a Bachelor of Science in Nursing at the University of Southern Mississippi.
"I am excited to join the EMCC staff and look forward to this new opportunity," Jones said.
Farmer said she wants students to be proud of what they have accomplished once they complete the LPN program.
"I want each student to know they are equipped to go out and do what they were trained to do," Farmer said. "I also want to encourage them to continue their education and go even higher if that is what they want to do."
EMCC also offers Licensed Practical Nursing, Associate Degree Nursing, Surgical Technology and Emergency Medical Technician programs of study on the college's Golden Triangle campus. The one thing that Scooba has that the Golden Triangle campus does not is residential housing.
EMCC Dean of Students for the Scooba Campus Tony Montgomery said there are dorm rooms available for both men and women, but recommended those who wish to stay on campus act quickly.
He said to qualify, students must apply to EMCC and fill out a housing application found online under the "Admissions" and "Apply Now" tabs at www.eastms.edu. They will also need to pay a $100 housing application fee and submit a class schedule to prove they have been accepted into the college.
"Once they have done all of that we can plug them into a room," Montgomery said.
For more information about the LPN program on the Scooba campus, including how to apply, call Division of Nursing and Allied Health Office Manager Kim Calvert at 662.243.1910. Information about the program, including an admission packet, is also available online here: http://bit.ly/2Ddv75U