GRADUATION CONDUCTED FOR EMCC PRACTICAL NURSING STUDENTS
News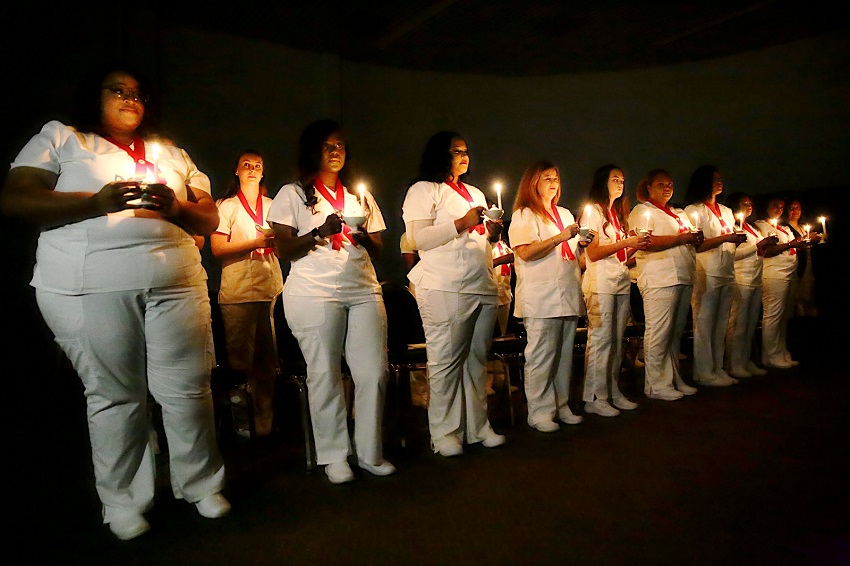 July 30, 2021
Eighteen students graduated from East Mississippi Community College's Practical Nursing program in a pinning ceremony July 30 in the Lyceum Auditorium on the college's Golden Triangle campus.
Graduate Mya Guyness, president of EMCC's chapter of the Student Practical Nurses Association, gave the invocation. Guyness spoke about the difficulties she and her classmates encountered and how they leaned on each other for support.
"When it is all said and done, we were able to push through the obstacles and win the race," Guyness said. "I am thankful for the relationships, memories and experiences we have all shared as a class and I cannot wait to see where we go next."
EMCC Vice President of Operations Dr. Paul Miller talked about his mother, a practical nurse who answered the call to serve the elderly, caring for patients in a convalescence home during her long and successful career.
"I admired her for the work that she did and the service she provided to those folks," Miller said. "I feel the same way about you. I admire you for the long journey you have come through and the hard times you have dealt with to get this far. I admire you for the good work you are going to do from this point forward."
Sam Ivy, director of both the EMCC and the Mississippi University for Women Baptist Student Union, was the guest speaker.
"What you will be doing, no one else can do," Ivy told the graduates. "You will be the nurses who are there in the hospitals when tears are flowing and you are the only hand to hold ... A family member may not even be able to get through the door, but they've got that connection to you."
Several awards were presented next, with Steens resident Daria Latham garnering the Florence Nightingale Award, which is presented to the student who most embodies the spirit of nursing.
Marsha Friesen and McKenzie Ellis tied for the highest-grade point average and were each presented with Scholastic Achievement Awards. Friesen was also named the Outstanding Student Award recipient and was among six students presented with a Clinical Excellence Award, which is granted to those who show outstanding clinical skills and excellence in communication, documentation and patient education.
Ellis and Latham were also presented with Clinical Excellence Awards, as were Shumata Evans, Hartley Files and Deidre Lott. Evans was also presented with the Leadership and Service Award for, among other things, demonstrating leadership qualities throughout the program.
EMCC Director of Nursing and Allied Health Dr. Tonsha Emerson conducted the formal presentation of the graduates.
"Welcome to the most trusted profession in America," Emerson said. "Our faculty and I are so proud of you. Congratulations."
One family member of each graduate was allowed to come on stage and assist with the ceremonial pinning ceremony, which concluded the event.
The Practical Nursing program is a 12-month course of study designed to prepare students to become licensed practical nurses. Students are taught nursing skills, nutrition, anatomy and physiology, human growth and development, pharmacology, maternal child nursing, emotional and mental illness, and medical/surgical nursing.
The 2021 graduates of EMCC's Practical Nursing program are Unisa Bell of West Point, Tyra Blevins of Columbus, Carson Collier of Louisville, Samantha Davis of Prairie, Mattie Edwards of West Point, McKenzie Ellis of Columbus, Shumata Evans of West Point, Hartley Files of Mathiston, Marsha Friesen of Macon, Mya Guyness of Columbus, Alexandria Hunt of Louisville, Kia Jones of Columbus, Daria Latham of Steens, Emilee Latham of Caledonia, Deidre Lott of Mathiston, Diamond Mundy of Columbus, Allison Nichols of Starkville and Breanna Odom of DeKalb.