NEW WELDING PROGRAM AT WEST POINT TAILORED TO MEET COMPANY'S NEEDS
News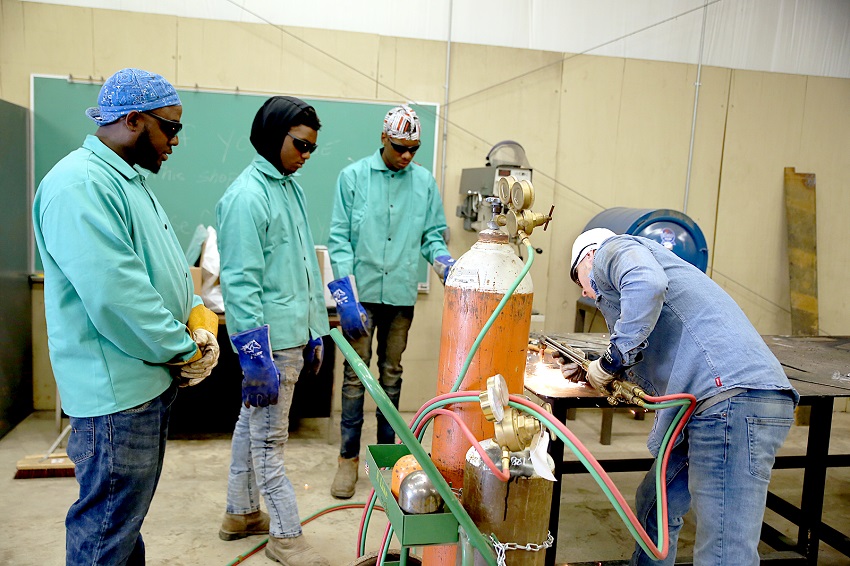 May 12, 2021
When officials with Plum Creek Environmental, a manufacturer and distributor of waste and recycling containers, needed additional welders with specific skills at the company's West Point facility, they turned to East Mississippi Community College's Workforce and Community Services division.
"We sat down with them to find out what their needs are and worked with our Welding Technology department to develop a training program designed to teach students the skillsets they would need to work at Plum Creek," EMCC Workforce and Community Services Technical Training Manager Shawn Kelley said. "In addition to skilled welding, students are also taught about basic measurements, precision measurements and blueprint reading."
Students in the current noncredit, seven-week Gas Metal Arc Welding course offered at the EMCC West Point-Clay County Center are guaranteed an interview with Plum Creek upon successful completion of the course.
"The students are not required to interview with Plum Creek, but they can if they would like to do so," Kelley said. "Their certificate of completion will include a Plum Creek certification that they can bring to the company at a later date."
The class, which began April 16 and ends May 28, is limited to eight students. The inaugural class includes Plum Creek employees Arthur Woodlaw, Kurtis Bradford and Brandon Gandy, who work in fabrication cutting metal for the welders.
"I felt like this was a good opportunity to learn a new skill so I can move up in the company," Gandy said.
Course instructor Levi Linton said the students are being taught specific welding techniques for Plum Creek, such as spray arc transfer, oxyfuel cutting, butt joint welds, and fillet welds, which are used to join two pieces of metal together when they are perpendicular or at an angle.
"These are all skills requested by the company," Linton said. "Everything in this course was designed for Plum Creek."
Starkville resident Mason Smith is enrolled in the course.
"I have been interested in welding for a while so I thought I would go ahead and pursue it," Smith said. "Whether I go to work for Plum Creek or not, these are all skills I can use."
Two new Plum Creek tailored welding classes at the EMCC West Point-Clay County Center will begin May 17 and will run through June 2. Both classes will take place on Mondays, with the first class beginning at 8 a.m. and ending at noon. The second class will run from 12:30 p.m. to 4:30 p.m.
There will be no charge for the classes, which will each be limited to eight students. Scholarships may be available to help pay for personal protective equipment required for the course, which includes closed toed shoes, leather gloves, safety glasses, a long sleeve denim shirt or jacket and a welding hood.
For more information call 662.243.1803 or 662.243.2647 or send an email to workforce@eastms.edu. EMCC also has other credit and noncredit welding programs at its Scooba and Golden Triangle campuses.
Kelley said when Plum Creek reached out to EMCC, they were not aware the college could provide specialized training to meet their specific needs.
"There are so many things EMCC can provide for industries and businesses, but many of them just are not aware of it," Kelley said. "They don't know we can provide forklift training or leadership training, for example, as well as a whole lot of other things."
Area industries or businesses interested in learning more about training opportunities can email Kelley at skelley@eastms.edu or call him at 662.243.1961.