EMCC PARTNERS WITH AREA INDUSTRIES TO OFFER JOB SKILLS TRAINING
News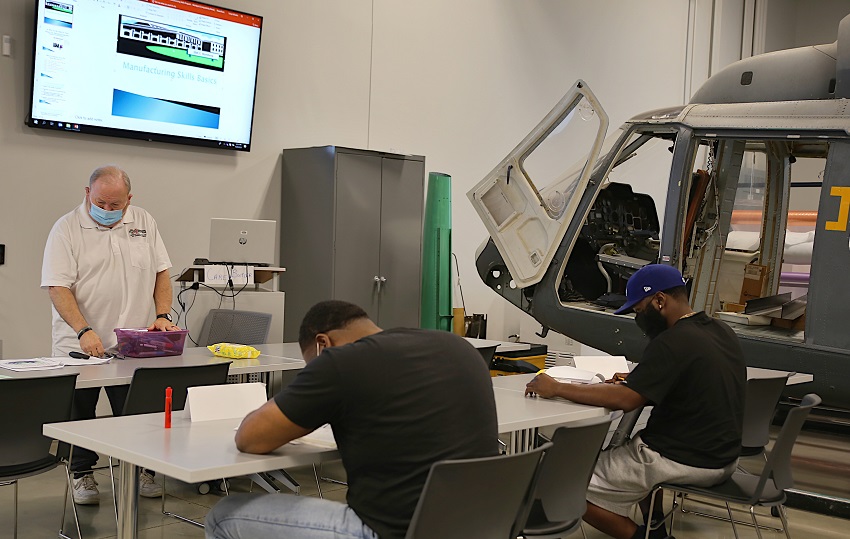 September 21, 2021
East Mississippi Community College's Workforce and Community Services division has partnered with three area businesses to offer short-term training that could lead to a job interview or an internship.
The participating companies are Aurora Flight Sciences, a Boeing Company, International Paper and Plum Creek Environmental. There are three separate training tracks for each of the three companies. Registration is taking place for all three programs.
For the first time, EMCC is offering a two-week Process Manufacturing Bootcamp that offers skills needed by those seeking employment with International Paper. The course begins Sept. 27 and runs through Oct. 7 and meets Mondays through Thursdays from 6 p.m. to 9 p.m.
Information used by International Paper for orientation of new employees has been incorporated into the class in areas such as steam fundamentals, pumps and valves, safety and hazards and conductivity. The training also includes instruction in soft skills, such as teambuilding, problem solving and communication.
Students who complete the course will be guaranteed an opportunity to compete for an internship at International Paper, which produces, among other things, specialty pulp products used in diapers, wipes and feminine hygiene products.
"The course will include a concentrated overview of both the technical and soft skills International Paper is looking for in new employees," EMCC Workforce Trainer Carey Butler said.
EMCC is also offering a 12-week Manufacturing Skills, Composite and Assembly course tailored to provide the skills needed by employees with Aurora Flight Sciences, a Boeing Company.
Classes begin on a rolling basis. There are two components of the course, with the Manufacturing Skills section running Mondays through Thursdays from 5 p.m. to 8 p.m. Once that component is complete, the class will shift to Mondays and Wednesdays from 5 p.m. to 8 p.m. for training in Aurora Flight Sciences composite and assembly processes that will be taught by an employee with the company.
Students who complete the program will earn a Manufacturing Skills Basic certificate, as well as OSHA certification and will be given the opportunity to interview for a position.
Aurora specializes in build-to print and design-build services to a variety of customers. Composites are a type of lightweight synthetic material, such as carbon fiber, that is used in the construction of aircraft.
"Students who complete the course are guaranteed an interview with Aurora Flight Sciences," EMCC Workforce Training Coordinator Paul Bolton said.
Both the Process Manufacturing Bootcamp and the Manufacturing Skills, Composite and Assembly courses are offered at The Communiversity at EMCC.
Plum Creek Environmental, a manufacturer and distributor of waste and recycling containers based out of West Point, is also offering interviews to students who complete the Gas Metal Arc Welding course offered at EMCC's West Point-Clay County Center.
Students in the six-week course are taught specific welding techniques needed by Plum Creek, such as spray arc transfer, oxyfuel cutting, butt joint welds, and fillet welds, which are used to join two pieces of metal together when they are perpendicular or at an angle.
The current class of students graduate Oct. 8, with the next class to be offered sometime shortly afterwards. Students can enroll in the next class now.
"These are three specific training pathways for participants looking to acquire skills needed by local employers," EMCC Vice President of Workforce and Economic Development Dr. Courtney Taylor said. "Working with our local industry partners to develop training that addresses skills gaps they may have is key to providing area residents with the potential for new career opportunities."
Call 662.243.1803 to register for any of the programs.