FAMILY CREATES SCHOLARSHIP IN MEMORY OF SURGICAL TECH INSTRUCTOR
News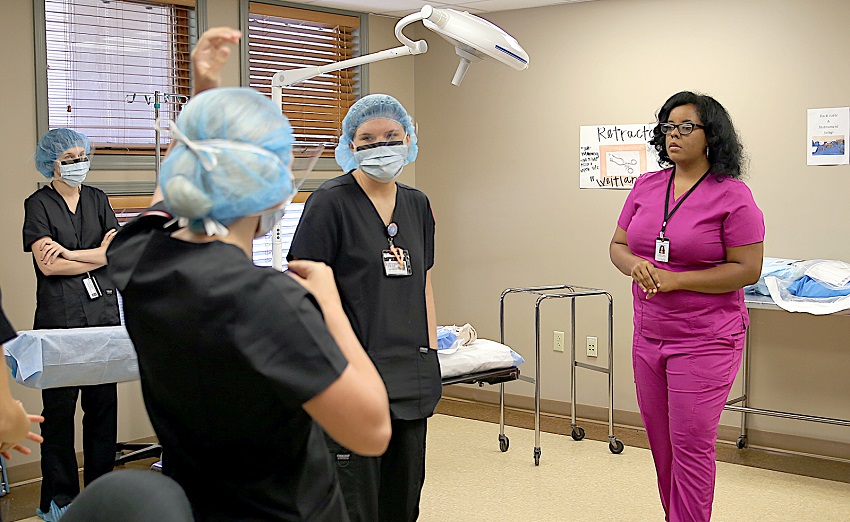 February 1, 2020
The family of a popular instructor who oversaw the Surgical Technology program at East Mississippi Community College has established a scholarship in her memory that will be awarded annually to a student in the program.
The scholarship, which was set up through the EMCC Development Foundation, is dedicated to Janan Rush, who died from injuries she sustained in a September 2020 automobile accident.
Rush was hired in 2018 as director and instructor for the Associate of Applied Science Surgical Technology program, which was the first of its kind in the Golden Triangle area. The inaugural class met for the first time in January 2019.
"Janan was a consummate professional who was instrumental in building the program from the ground up," EMCC Associate Dean of Health Sciences Dr. Tonsha Emerson said. "She was passionate about ensuring the quality of education her students received was second to none. She was not only an instructor to her students, but a mentor as well. She was a joy to work with and we miss her greatly."
The Janan L. Rush Scholarship will be awarded annually to a Surgical Technology sophomore who "exemplifies dedication, resiliency and commitment to growing in the field."
Surgical Technologists work with surgeons, anesthesiologists, certified registered nurse anesthetists, registered nurses and other surgical personnel in delivering patient care and assuming appropriate responsibilities before, during and after surgery.
Rush said during a 2018 interview to announce the new program that most people have seen television shows where a person stands by a surgeon and hands him or her surgical instruments, such as scalpels, forceps or retractors.
"That's us, but we do much more than that," Rush said. "We are responsible for ensuring there are no breaks in sterile techniques, as well as handling specimens, anticipating the surgeons' needs and overall care of the patient before, during and after surgery."
Just as importantly, surgical technologists are patient advocates, she said.
"You are helping people and are there for them in one of the most important moments of their lives," Rush said. "They are helpless but you are their voice. That's the way I see it."
Rush grew up in Preston, Mississippi, residing there until her family moved a few miles away to DeKalb when she was in seventh grade. She is a 2003 graduate of EMCC where she earned an Associate of Arts degree. She then completed the Surgical Technology program at Meridian Community College.
"Since her childhood, Janan always knew she wanted to do something in the medical field," said EMCC Vice President of Instruction Dr. James Rush, who is Janan Rush's brother.
Janan Rush worked for seven years in the field at Rush Hospital in Meridian before accepting a job as a travel surgical technologist, with assignments at Wake Forest Hospital in Winston-Salem, North Carolina and at a hospital in Arlington, Texas. Rush's final travel assignment before accepting the job at EMCC was at Anderson Hospital in Meridian.
Throughout her career, Janan Rush served as a preceptor, a hospital surgical technologist who coaches and mentors students as part of their training.
"She was very excited and honored to be selected as director of the program at EMCC so she could help students become great surgical technologists," James Rush said. "I can't tell you how thrilled she was when her first group of students graduated in July 2020 and the new group of students enrolled."
To contribute to the Janan L. Rush Scholarship fund, call EMCC Executive Director of College Advancement & Athletics Marcus Wood at 662.476.5025 or email him at mwood@eastms.edu.