EMCC ALUMNI HONORED AT HOMECOMING
News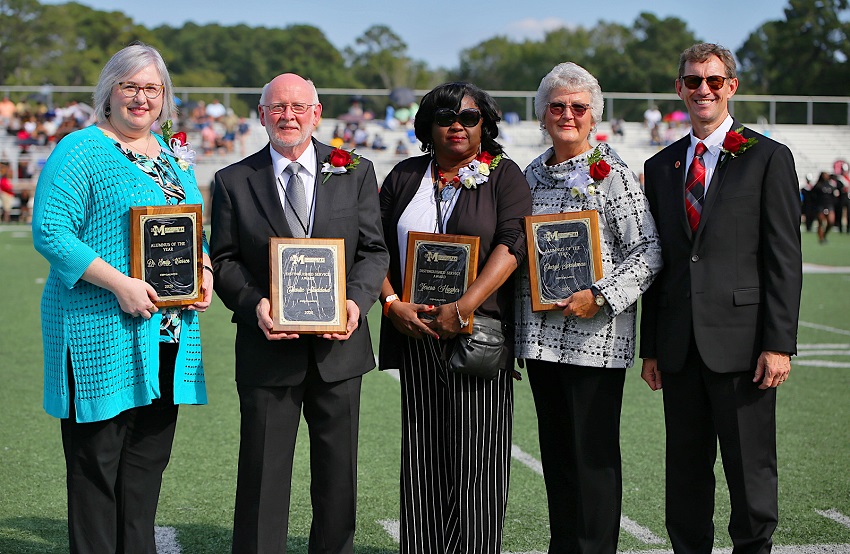 October 12, 2021
Four East Mississippi Community College alumni were honored Saturday, Oct. 9, during Homecoming events on the college's Scooba campus.
Since EMCC's Homecoming activities were canceled last year because of COVID-19, both the 2020 and 2021 recipients of the Alumna of the Year and Distinguished Service Awards were named this year at an alumni banquet in the F.R. Young Student Union prior to the Homecoming football game against Northeast Mississippi Community College.
The recipients were also recognized on Sullivan-Windham Field during halftime of the home football game in which EMCC defeated Northeast 34-19.
Dr. Emily Warren was named the college's 2020 Alumna of the Year and Charlie Studdard received the 2020 Distinguished Service Award. The 2021 Alumna of the Year is Cheryl Sparkman, with 2021 Distinguished Service Award honors going to Teresa Hughes.
"We were excited to be able to resume our time-honored tradition of recognizing those who have made a significant impact here at EMCC and in the communities in which they reside," EMCC Director of Alumni Affairs and Foundation Operations Gina Cotton said.
2020 Alumna of the Year
Warren, a clinical pharmacist specializing in adult medicine at Anderson Regional Medical Center in Meridian, was a freshman in high school when her parents moved from Flomaton, Alabama to Kemper County, where her father was raised.
She graduated from Kemper Academy in 1992 and enrolled at EMCC where she was a member of the Student Christian Fellowship. She had prior ties to EMCC.
Her father was a 1958 graduate of what was then East Mississippi Junior College, who returned later to teach mathematics and physics on the college's Scooba campus before being named academic dean. Warren's father was also named an EMCC Alumnus of the Year and the Virgil G. Warren Hall for Mathematics was dedicated in his honor.
Her mother, Joyce Warren, was a former teacher who later devoted her time to raising her five children, all of whom graduated from EMCC.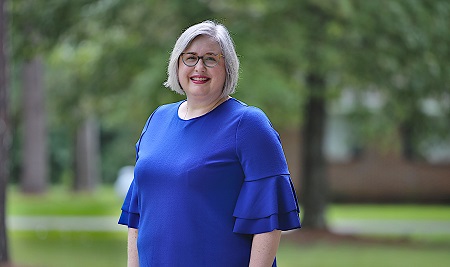 After graduating from EMCC, Emily Warren earned a Doctor of Pharmacy in 1998 from the University of Mississippi and completed her Pharmacy Practice Residency in the Huntsville Hospital System.
Her first job after graduating was as a Clinical Coordinator of Pharmacy Services for the Northeast Alabama Regional Medical Center in Anniston, Alabama. After several years in practice she began precepting pharmacy students from Samford University School of Pharmacy and later taught fulltime.
"Being a teacher was not my initial mission when I graduated from pharmacy school, however, much like my mom and dad, I enjoy teaching and preparing the future generation of pharmacists," Warren said.
Missing her original work, she returned to fulltime practice, working in various roles for St. Vincent's Birmingham as a Clinical Pharmacy Manager and then Clinical Pharmacist in adult medicine / infectious disease. She currently precepts students from both the University of Mississippi School of Pharmacy and the William Carey School of Pharmacy.
"In early 2018 my sweet mom passed away and I decided it was time to move back to God's country, dad's description for Kemper County," Warren said. "After 20 years of practice in Alabama, God opened a door for me to still practice in hospital pharmacy and move back home, for which I am thankful."
On a typical workday at Anderson Regional Medical Center, Warren can be found on one of the medical or surgical floors, likely accompanied by a pharmacy student as she works alongside nurses and practitioners assisting in the care of patients. Among other things, she plays an active role in choosing and monitoring patients' medications. She also educates patients about their medications and serves on hospital committees to assess process improvements.
"Hospital pharmacy practice and precepting students remain my passion," Warren said. "There is nothing more rewarding than to know you made a difference in someone's life when they are the most vulnerable. It all started with the foundational knowledge I learned at EMCC and the people there who invested in my life."
2020 Distinguished Service Award
Charlie Studdard's roots run deep at EMCC. He was a standout baseball and football player at EMCC in 1969-70 who was inducted into the college's Sports Hall of Fame in 2011.
He has been an active member of the EMCC Alumni Association for more than two decades and has served as president of that organization. He is the current president of the EMCC Development Foundation Board of Directors.
"Being involved with EMCC, whether it was through the foundation or the alumni association, has been really special to me," Studdard said. "I have been able to renew acquaintances and friendships and watch the college grow."
His earliest years were spent in Lowndes County, where he attended the former New Hope Consolidated School. His father was a minister who moved his family to Alabama to serve as pastor at churches there before returning to Lowndes County to resume his ministry at the church he had left earlier.
During his senior year in high school Studdard was offered both baseball and football scholarships to attend what was then East Mississippi Junior College. He decided to play baseball his freshmen year and forgo football, but was reluctant to tell football Coach Bob "Bull" Sullivan, a large, imposing man who many said left them feeling intimidated.
"Trembling as I walked toward him, I said, 'Coach Sullivan I have decided I am going to play baseball and am not going to play football this fall,'" Studdard said. "He smiled and said, 'I appreciate you coming down here and telling me.' That was it."
After sitting out football his freshman year, Studdard realized he had made a mistake and asked Sullivan if he could try out to play his sophomore year.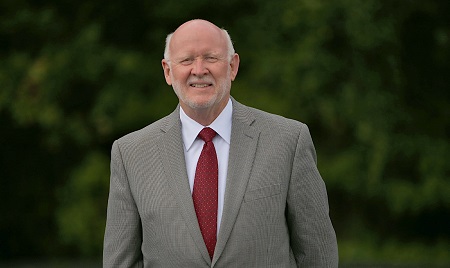 "He looked at me and said, 'You go to the business office and tell them I said to put you on a football scholarship,'" Studdard said.
As a sophomore, Studdard earned All-State North Division First Team honors as a wide receiver in 1969 and then went on to collect All-State baseball accolades during the spring semester. He was voted Mr. EMJC and "Most Friendly" in 1970. He served as vice president of the sophomore class.
During his sophomore year he met Margie Briggs, who was also attending EMJC. He married her in his junior year at Mississippi State University where he earned a bachelor's degree in political science.
Studdard was interested in studying constitutional law, but as a married man with family obligations, he entered the workforce in the home remodeling and construction businesses before becoming a partner in an outdoor motor and marine business in Columbus.
He later went to work with a friend, Don Davis, who had opened Electric Motor Sales & Service in Columbus, working his way up to general manager within a year and later becoming a partner in the company.
They added seven more shops across the South, but in later years closed or sold all but the one in Columbus. Studdard retired at the end of 2020 after 44 years with the company.
Studdard is an elder at Beersheba Cumberland Presbyterian Church and was a lay minister for 30 years, filling in for pastors who were sick or on vacation. He and Margie Studdard have three children and six grandchildren.
2021 Alumna of the Year
Cheryl Sparkman is a lifelong resident of Kemper County who first started attending athletic sporting events at then East Mississippi Junior College when she was still in high school at the DeKalb Attendance Center.
"I have always been interested in athletics and started attending EMJC football games, basketball games and, in particular, baseball games after I got into high school," Sparkman said. "That was probably my first acquaintance with the college."
After graduating from high school in 1968, she enrolled at EMJC and was selected for the cheerleading squad her freshman year. She served as the cheerleading captain during her sophomore year and was named among the "EMJC Beauties."
In those days, transportation was an issue and it was a long commute from DeKalb to Scooba, so Sparkman, who was Cheryl Eldridge at the time, stayed in the dorms on campus.
"That was probably the biggest growing experience of my life," she said. "It was the first time I had been away from home for any length of time."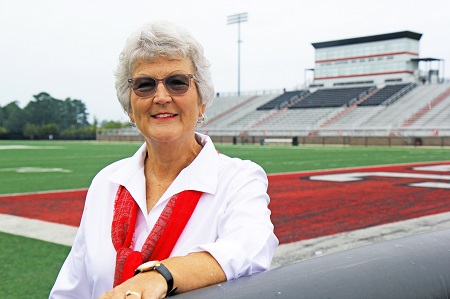 After graduating from EMJC, she enrolled at Mississippi State College for Women where she earned a major in Health, Physical Education and Recreation, with a minor in Biological Science. Her dream was to teach science and coach basketball.
In 1972 she did her teaching practice internship at Northwest Junior High School in Meridian and was promised a fulltime job at Kate Griffin Junior High in Meridian in the fall. Meanwhile, a position for an eligibility worker came open in her hometown of DeKalb with the State Department of Public Welfare, the predecessor of the Mississippi Department of Human Services.
She accepted that job with an eye to segueing into teaching at a later time.
"I found out that I really loved the work," Sparkman said. "Right away I figured out I was in a position to make a difference in the lives of people who really needed a lot of help."
She worked her way up to the position of MDHS state director of economic assistance and retired in 2011 after 38 years of service. She has remained active in the community throughout her career and up to the present day.
She has served on the EMCC Development Foundation Board of Directors since the 1990s, is a past president of that organization and is a member of the EMCC Football Inner Circle for Excellence. The first big project she worked on for the foundation was securing the land for the Chapel in the Pines and helping with fundraising efforts to get it built.
"The foundation has really grown and become a professional organization of which I am very proud," Sparkman said. "The things we have worked on have made a difference for the college in a lot of ways."
She also serves on the Tri-County Advisory Board, is president of the Kemper County Historical Association and is chair of the EMCC Wesley Foundation Board of Directors, to name a few of the many organizations in which she is active.
She is a 2000 recipient of EMCC's Distinguished Service Award, the Kemper County Chamber of Commerce's 2018 Citizen of the Year and was named among the "50 Leading Business Women" in 2007 by the Mississippi Business Journal.
Sparkman and her husband, Eddie Al Sparkman, recently celebrated their 51st wedding anniversary. They have two sons and seven grandchildren.
2021 Distinguished Service Award
Teresa Hughes was still enrolled at Noxubee County High School in the mid-1970s when she first started playing in the EMCC band.
"EMCC had a small band at the time and my band director, Billy Dickson, partnered with the band director at EMCC so we could play with them," Hughes said. "We would travel to the Scooba campus to practice two days a week after school and we performed with the EMCC band during their games."
Hughes, who played flute and piccolo, accepted a band scholarship to attend EMCC, moving into the residential dorms on the Scooba campus in 1977 for her first term. Two weeks after classes began she was diagnosed with diabetes and was told she would have to go on a special diet.
"I met with the manager and the head chef in the cafeteria at EMCC and they prepared my breakfast, lunch and dinner for two years while adhering to my diabetic meal plan," Hughes said. "The people in the cafeteria and were so supportive, as were my teachers and counselors. Those acts of kindness made me want to give back."
Hughes flourished at EMCC. She joined the choir and was awarded a scholarship for New Friends, which is Reflections now. During her sophomore year she was named "Most Original" and her classmates voted her among the "Sophomore Class Favorites."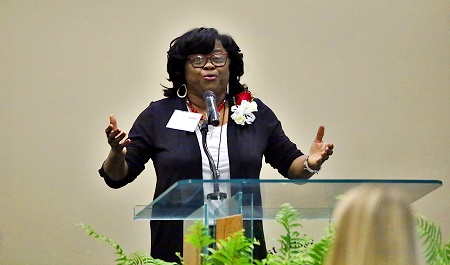 "I became the first minority to hold an office in the Student Government Association," she said. "This position afforded me the opportunity to help make campus life more productive and enjoyable."
After graduation, she earned a bachelor's degree in Elementary Education from the University of Southern Mississippi and later earned professional development education certifications from Mississippi State University and the University of West Alabama.
After a three-year stint as a retail manager, Hughes accepted a job at Earl Nash Elementary School in Macon, where she worked for 27 years. She taught third grade for 10 of those years and served as lead teacher for 15 years. After retiring, she returned to the school and worked two more years teaching gifted students.
Hughes, whose maiden name is Green, married Osborne Hughes, Jr., in 1985. They had two sons, the late Osborne TeeCory, and Michael Hughes. Teresa Hughes also reared a nephew, Dorion McDole.
One of the Hughes' goals while dating was to start more youth programs, which they did.
"My husband and I were part of an organized baseball league that serviced almost 300 kids during the summer," Teresa Hughes said.
The couple opened a business in Macon, Wiz-Oz Videography and Eatery, and were active in organizations to promote cultural awareness.
"We were always involved in events in the community to help others," Teresa Hughes said.
That work continued after her husband passed away. For the past 12 years Hughes has served as director of Ajoy Mentoring Group, LLC, which nurtures and guides girls into adulthood.
She also gave back to her alma mater, serving on the EMCC Board of Trustees from 1998 to 2020. Hughes said she has seen a tremendous amount of academic and workforce progress at EMCC since her early college years.
One of the projects for which she is most proud is the construction of a new 147-bed residence hall at EMCC's Scooba campus that opened to students in January of 2021.
"I tell people I matured quickly at EMCC and I love EMCC," Hughes said. "It has become one of the leading community colleges in Mississippi."