EMCC'S COMMUNIVERSITY TO HOST HEAVY EQUIPMENT OPERATOR 'ROADEO'
News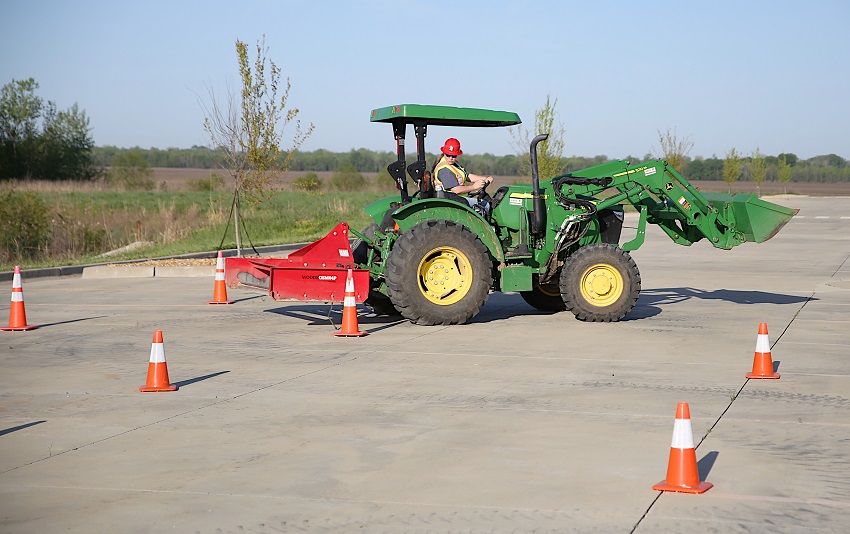 April 19, 2021
The public is invited to attend a heavy equipment operator "Roadeo" at The Communiversity April 21 from 8 a.m. to noon as students enrolled in East Mississippi Community College's Heavy Civil Construction program compete against the college's maintenance staff in timed events that will test their skills on a bulldozer, an excavator and a tractor.
Some heavy equipment operators employed at area businesses may take part in the competition as well.
The event will take place in the parking lot behind The Communiversity, which is located at 7003 South Frontage Road between EMCC's Golden Triangle campus and PACCAR Engine Company.
One event will require competitors to pick up a ball out of a sandbox using a spoon attached to an excavator bucket and drop it into a piece of pipe. In another event, the equipment operators will knock balls off of road construction cones with a piece of PVC pipe attached to a dozer bucket.
"This is a chance for the public, our industry partners and our county supervisors to come out and see the kind of skills our students are learning and how they are applying them," said EMCC Vice President of Workforce & Economic Development Dr. Courtney Taylor, who is also the executive director of The Communiversity. "It should be a fun morning."
The event is patterned after the Mississippi Department of Transportation "roadeos" during which MDOT heavy equipment operators compete for bragging rights.
James Williams, a former deputy executive director and chief engineer for MDOT who now works for APAC-Mississippi, Inc., helped plan the competition and oversaw the layout for obstacle courses to be used. He sits on the Heavy Civil Construction program's advisory committee, which is comprised of professionals in the field who counsel EMCC on needed competencies and course curriculum.
APAC and officials with Burns Dirt Construction, Inc., Murphree Paving, Phillips Contracting Co., Inc., and Thompson Machinery worked closely with EMCC to ensure training offered in the 10-week, noncredit program meets area employers' needs.
"They saw a need for a program like this that will produce students with safety-oriented training on heavy equipment who have a background in basic construction," Williams said. "This program should hopefully give these students a leg-up in the field and could put them on the fast track to become team leaders or foremen."
Students who complete the program earn NCCER certification in heavy equipment operation, complete a 10-hour OSHA safety training course and are certified in forklift operation.
The four students competing in the "Roadeo" comprise the inaugural class of the Heavy Civil Construction program, which debuted at The Communiversity in January. The program's emphasis is on road construction and residential/commercial construction.
Students must first complete the OSHA training and practice on heavy equipment simulators before they are allowed to operate any machinery.
They will complete their studies the week prior to the Roadeo. The class is comprised of two females and two males. They are Allison Adair of Caledonia, Collin Coggins of West Point, Alex Rios of Baldwyn and Tammy Warren of West Point.
"I really like the class so far," Rios said. "The instructors do a good job of explaining everything. I've always liked doing hands-on type work and this sounded like a good fit for me."
Adair was at EMCC inquiring about the Commercial Driving License program when she heard about the Heavy Civil Construction course.
"I wanted to do something outdoors and this sounded interesting so I signed up," Adair said. "This is something I could see myself doing long term."
The next Heavy Civil Construction program will be offered at EMCC's Scooba campus beginning in August. The program there will also include an emphasis on logging to meet a demand for employees in the region.
"We will be alternating the course between The Communiversity and our Scooba campus," Heavy Civil Equipment instructor Mike Duke said. "It will be offered again at The Communiversity in January."
Duke said none of the students in the program had ever operated a piece of heavy equipment before they started the course.
"They are really excited about the competition," he said. "This will showcase what they have learned over the last ten weeks."
For more information about EMCC's Heavy Civil Construction program, email workforce@eastms.edu or call 662.243.1803.