GTECHS CONDUCTS CLASS OF 2021 COMMENCEMENT
News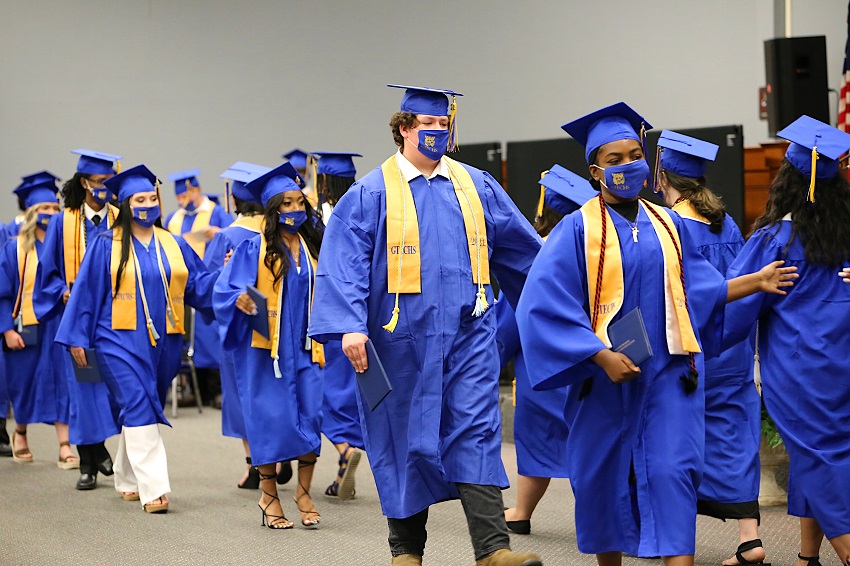 May 15, 2021
A commencement ceremony for graduates of the Golden Triangle Early College High School took place May 15 in the Lyceum Auditorium on East Mississippi Community College's Golden Triangle campus.
Fifty-four seniors received their high school diplomas during the ceremony. Students enrolled in GTECHS also take college classes and 45 of the graduating high school seniors earned enough college credits to graduate from EMCC this semester with either an associate's degree or a technical certificate.
The group of seniors received about $400,000 in scholarships to continue their education.
EMCC President Dr. Scott Alsobrooks delivered the address to the graduates. He congratulated them for their perseverance despite challenges presented last year by the novel coronavirus and a shift to virtual and online learning.
"I am struck by both the challenges you overcame to get here today and by the likelihood that new opportunities will arise from those challenges in ways we do not yet know," Alsobrooks said. "Your class, more so than any others, is the embodiment of resiliency."
GTECHS graduating seniors Dominique Key and Tomyah Smith were among the guest speakers.
"This is a huge accomplishment, but do not let this be your last," Smith told her classmates. "Keep thriving, keep growing and never stop."
GTECHS Principal Jill Savely thanked all of those who have helped make the school a success.
"I often tell our students there are people supporting them whose faces they may never see and whose names they may never know," Savely said. "There are no adequate words to express how thankful we are for our home at GTECHS. We hope to show our gratitude by constantly striving to be the best version of ourselves."
Savely said she knew this group of students was special when they walked in the door four years ago.
"Their work ethic was stronger than we had seen before, the sense of family they quickly created was unique, and the overall vibe of this group has always been upbeat," Savely said. "This group has put their heads down and gone to work – not letting anything stop them – and we are so proud to recognize their many accomplishments tonight."
Here is a list of the GTECHS Class of 2021 broken down by the home school districts they transferred from:
Columbus Municipal School District
Kaely Fenton, Tylan Hinton, Makyah Lee, Jalyn Lofton, Madison McGrew, Jordan Mize, De'Ana Neal, AnTonio Phillips, Ayden Richardson, Kody Rickert, Nicholas Ross
Lowndes County School District
Kelsey Bolden, Natyia Brooks, Bre Desmidt, Marissa Gilmore, Micaiah Latham, Mollie Lyons, Christian Oswalt, Abbigail Poteet, Hannah Shinault, Katelyn Smith, Sara Grace Strickland, Destiny Wells Thomas, Brianna Vickery
Noxubee County School District
Raven Black, Johne Brandy, Kawn Okasa Dixon II, Tera Dora, Jarius Hudgins, Quentin Jamison, Dominique Key, Tomyah Smith, Sherquesha Stewart
Starkville Oktibbeha Consolidated School District
Lily Adam, Joshua Ashford, Ajah Clemons, Mary Driskill, Samya Prater, Acrissa Reese, Wesley Sims, Zayanna Turnipseed, Kami Warren
West Point Consolidated School District
Danny Crawford, Xavier Eacholes, Ismenia Juarez, Kaleb Kellum, Brandi McDonald, Madalynn Pettit, Peyton Price, Makela Quinn, Anthony Ray, Jeremiah Stanfield, Ciara Thomas, Tristan Williams