'OUTSTANDING' STUDENTS RECOGNIZED AT GT CAMPUS CEREMONY
News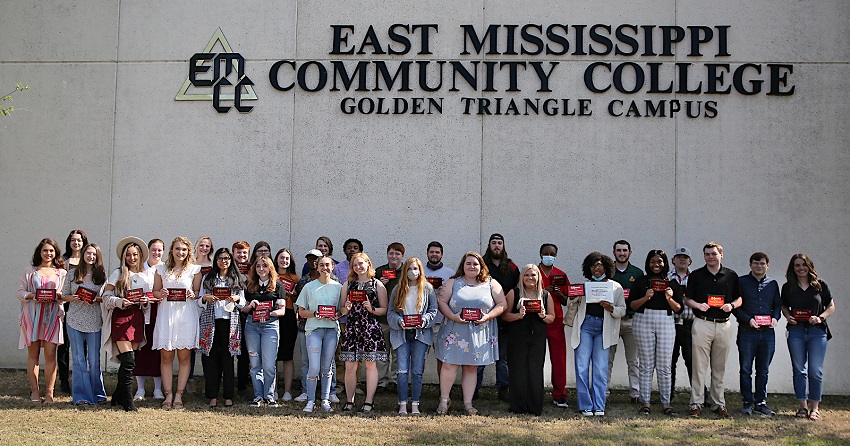 April 15, 2021
East Mississippi Community College's Golden Triangle campus hosted its annual Awards Day Thursday, April 15.
During the program, instructors in academic, career-technical, Division of Allied Health and Community and Workforce Services programs recognized their outstanding students from the past year. Students from the Golden Triangle campus, the Lion Hills Center and the Communiversity were awarded plaques and certificates.
EMCC President Dr. Scott Alsobrooks welcomed the attendees and presented the closing remarks. He commended the students for excelling in their studies despite added difficulties presented by the COVID-19 novel coranavirus.
"These students have persevered and managed their way through what has probably been the most difficult year in the history of modern education," Alsobrooks said. "Whether they are going on to a university or are going to work, I want to thank them for attending EMCC. You will always be a part of the EMCC family and we are very proud of you."
Here is a list of the students who received awards, the areas for which they were recognized and the cities in which they reside:
Tyler Adair, Mechatronics (Starkville); Madison Baucom, Art Appreciation (Columbus); Emily Beall, Choir (Starkville); Lauren Beall, Interpersonal Communication (Columbus); Tyler Beard, Welding (Columbus); Curtlyn Blake, Cosmetology (Ackerman); William Buckner, Industrial Electrical (Starkville); Justin Burns, Industrial Maintenance (Steens); Haley Cassidy, English Composition II / Mathematics (Columbus); Michael Clark, Welding Technology (Starkville); McKensi Cole, Creative Writing (Steens); Hannah Crews, Associate Degree Nursing (Steens); Alexiona Cunningham, Spanish II (Prairie); James Dejean, Welding (Columbus); Charles Dixon, Accounting I; Adrianne Fondren, Anatomy and Physiology II (Columbus); Marsha Friesen, Practical Nursing (Macon); Rebekah Gambal, American Literature (Caledonia); Steven Gambal, Electrical Technology; Charles Goodman, Landscape Management (Columbus); Dantevius Harris, Surgical Technology; Hunter Hicks, Computer Programming (Starkville); John Howard, Marriage and Family (West Point); Emily Jennings, English Composition I (Pheba); Trevor Johns, Economics (Caledonia); Dominique Key, Western Civilization (Columbus); Nyssa King, Sociology (Steens); Rebekah Lane, Mathematics-Calculus; Anna Lucias, Computer Science; Karl Mast, Database Administration (Brooksville); Coarie Matthews, General Psychology (Columbus); Marey McGuffie, Business Technology (Columbus); Nur Aini Memili, Statistics (Starkville); David Middlebrooks, World Geography (Ethelsville, Ala.); Isaac Miller, Chemistry (Macon); Xavier Miller, Networking (Columbus); Matthew Morgan, Cyber Security (Sturgis); Thomas Murray, Automotive Technology (Steens); Camille Nettles, American National Government / World Literature (Hamilton); Christian Oswalt, Microbiology; Celia Peal, Anatomy & Physiology /American History (Columbus); Zachary Pitts, Automotive Technology (Madison); Leighann Pounders, Art (Columbus); Diana Richardson, Surgical Technology; Powell Scates, Theatre Appreciation (Greenwood); Katelyn Smith, World Civilization (Columbus); Colton Tant, Golf/Recreational Turf Management (Gordo, Ala.); Alaina Veazey, Public Speaking (Columbus); Jasper Walden, Criminal Justice (Columbus); Jule Willis, Personal and Community Health (Columbus); Abigail Youngblood, Music Appreciation (Starkville)