CENTENARIAN DIXIE WALKER RECALLS HER TIME AT EMJC FONDLY
News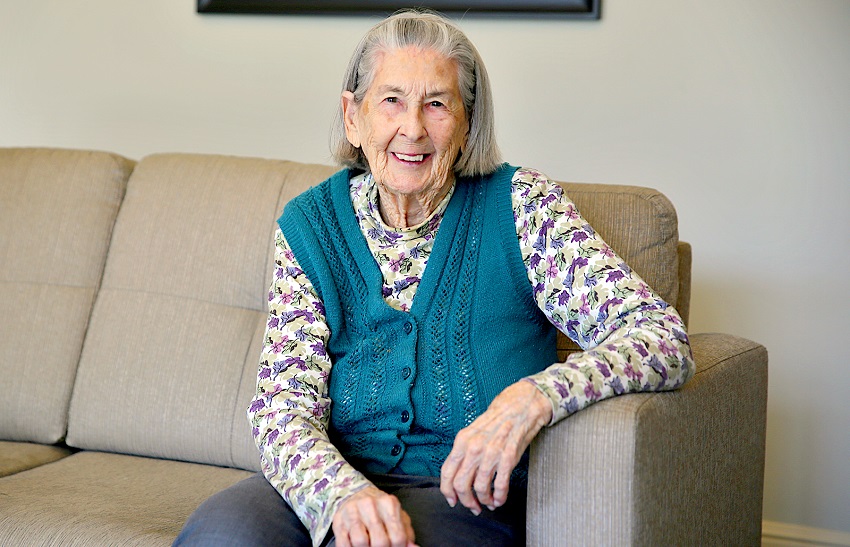 January 8, 2022
Dixie Sparkman was 17 when she enrolled at East Mississippi Junior College as a freshman in 1936. She was named the Freshman Class Reporter that year and chosen by her classmates as "Most Popular Girl."
According to the 1936 issue of "The Lion," the college's annual yearbook, one trait of the perfect EMJC Girl was one with "Dixie Sparkman's personality." In 1937, she was named Miss EMJC.
The Noxubee County native, who goes by her married name of Walker now, attended EMJC on a basketball scholarship.
"I wasn't any good at basketball," Walker said laughing. "I told the coach he should give my scholarship to someone else."
Last July, Walker celebrated her 103rd birthday. Sitting in her Starkville apartment recently, she reminisced about her time at EMJC and the years that followed.
Walker graduated at the age of 16 from Cooksville-Paulette High School near the Alabama state line. After EMJC, she earned a bachelor's degree in accounting from the University of Mississippi and a lifetime teacher's license from the Mississippi University for Women.
She started out teaching shorthand and typing at the Noxubee Agricultural High School in Macon, but later took a position as a third-grade teacher.
She eventually met and married Carroll Walker, who was running a general store at the Circle M Plantation hunting lodge. Dixie went to work with her husband, keeping books at the general store. When Carroll Walker opened a tractor supply dealership in Macon, she went to work with him there as well.
"Farmers would come from all over when they needed something," Dixie Walker said.
Dixie and Carroll Walker have three sons: Carroll Walker, Jr., a dentist of 50 years who retired a couple of years ago; James "Sparky" Walker, who is president of Stokes Distributing Co., in Hattiesburg; and Roderick "Ricky" Walker, who has served as city attorney for Macon and Shuqualak and as a former prosecuting attorney for Noxubee County.
Sports played a big role in the Walker home. Carroll Walker, Jr., was a quarterback for Ole Miss and turned down an offer to play Minor League Baseball in order to attend dental school. Ricky Walker played defensive end for MSU and Sparky Walker was a standout football player for EMCC who was inducted into the college's Sports Hall of Fame in 2001.
Dixie Walker's enthusiasm for sports predates the birth of her sons. Her father used to take his children to the Mississippi State baseball team games back in the days when Dudy Noble was the coach.
Dixie Walker followed suit, taking her children and grandchildren to the MSU baseball games. She began keeping scorebooks when her three sons played baseball and did the same at the MSU games. She was a regular in her seat behind the MSU home plate and was well known among players and fans alike as the "sco' book lady."
On Mother's Day of 2016, at the age of 97, she threw out the opening pitch at Dudy Noble Field, along with her grandson, Walker Havelin, who was 6 at the time.
"I didn't do a very good job with the first pitch so they let me throw it again," Dixie Walker said.
She has maintained ties with EMCC. Her daughter-in-law, Dr. Joyce Walker, was a long-time employee at the college, serving as vice president for former EMCC President Dr. Tommy Davis.
"It seems like I spent my entire childhood at EMCC," said Loraine Walker, who is the daughter of Joyce Walker and granddaughter of Dixie Walker. "Any time there was a homecoming, graduation or other event, me and my sister were there serving punch and cookies at the president's house or helping out wherever we could."
Dixie Walker said she recalls her time at EMCC fondly.
"They were kind of strict at the school though and wouldn't let you off campus, but we found things to do," Dixie Walker said. "I enjoyed my time there."