DANNY SMITH NAMED 'OUTSTANDING TURFGRASS PROFESSIONAL'
News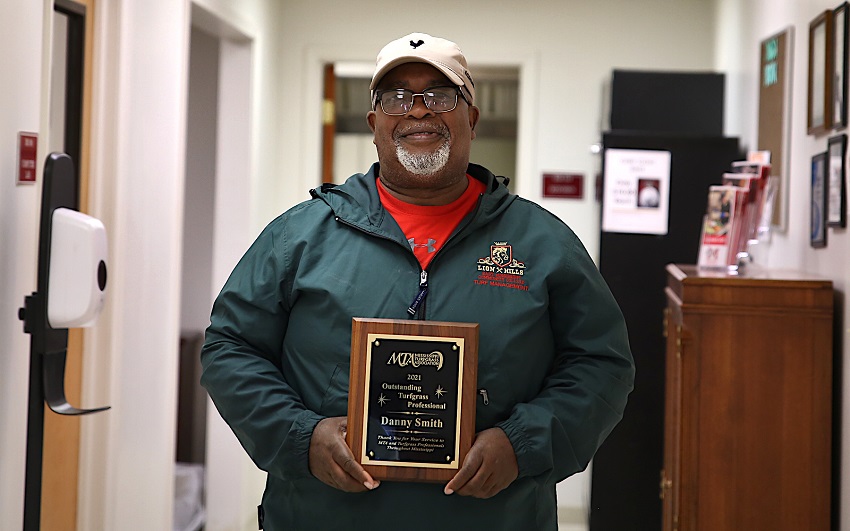 November 11, 2021
East Mississippi Community College turf and landscape instructor Danny Smith is the 2021 recipient of the Outstanding Turfgrass Professional award presented annually by the Mississippi Turfgrass Association.
Smith's selection for the award was announced Nov. 3 during the Mississippi Turfgrass Association's annual meeting at the Mississippi Coast Coliseum & Convention Center in Biloxi, which coincides with the Deep South Turf Expo, a trade show featuring educational breakout sessions attended by hundreds of turfgrass professionals from throughout the region.
Smith, who was tied up with EMCC work duties at the time, was unable to attend the meeting and found out he had been chosen for the award via a text message from EMCC Director of Golf Operations Will Arnett.
"I looked at the text and thought, 'Man, what in the world?'" Smith said. "It was a big surprise. I had no idea I had even been nominated."
Award winners are chosen from a broad range of possible nominees in the turfgrass profession, which includes sod producers, sports turf managers, parks and recreation department officials and industrial turfgrass suppliers, to name a few.
"This is a prestigious award and we are beyond pleased that Danny was selected as this year's recipient," EMCC Dean of Instruction Dr. Michael Busby said. "I can't think of anyone more deserving of the recognition. Danny is not only an expert in the field, he is a phenomenal instructor who is committed to ensuring the success of all of his students."
Smith has taught Landscape Management and Golf/Recreational Turf Management at EMCC's Lion Hills Center since 2013. Both programs are offered as a one-year certificate and as an Associate of Science degree. Smith said all of the students who have come through the program so far have opted for the associate's degree.
The programs are popular and have grown over the years with the addition of Arnett, who serves as an instructor for the landscape classes as well. Students in the programs have served internships at golf resorts across the country and Smith will often pick up the phone to call a golf course superintendent to recommend one of his students for an internship or for a job after they have graduated.
"Our students are in really high demand," Smith said. "I have former students working as far north as Montana, as far south as Bonita Springs, Florida and as far west as California," Smith said. "It is rewarding. We take a lot of personal pride in training these kids."
A 1979 graduate of Noxubee County High School, Smith attended Stillman College in Tuscaloosa, Alabama on a baseball scholarship. After a year, he was offered a scholarship at EMCC to play for Coach Wayne Byrd's baseball team, which he accepted. From 1981 to 1983, he played baseball for Alcorn State University, where he earned a Bachelor of Science in agriculture education, with a minor in horticulture.
Smith accepted a job at EMCC after graduating, teaching horticulture and groundskeeping at the college's Golden Triangle campus, which was a vocational technical school at the time. He later went to work at Mississippi University for Women as the supervisor of landscaping, a position he held for more than 16 years.
Smith then returned to EMCC to work in the maintenance department overseeing landscaping on the college's Golden Triangle campus. In 2013, he was tasked with starting up EMCC's landscape and turfgrass programs at Lion Hills.
"I enjoy teaching," Smith said. "I like seeing students come in, me nurturing them and sending them out and watching them excel. That is what really drives me."
When he isn't working, Smith enjoys working out at Core Fitness in Columbus, where he resides. He has a son, Dantwan Smith, who is an internal medicine physician and cardiologist in Jackson. Danny Smith is also president of the men's group at St. Paul United Methodist Church in Macon, which was his parents' church.