EMCC CHOIRS ACCEPTING STUDENT AUDITIONS
News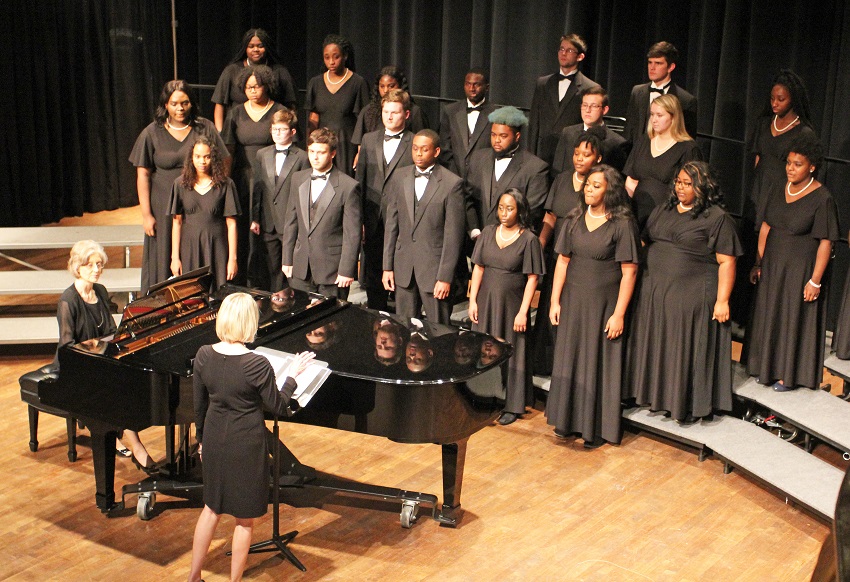 March 10, 2021
Auditions are in progress for students interested in joining choirs on East Mississippi Community College's Scooba and Golden Triangle campuses.
SCOOBA CAMPUS
Students may audition for Concert choir, Reflections, and Music Theater. Auditions for the Scooba campus Choral Department may be scheduled either in person, or online.
Scholarship applications can be filled out online here: https://bit.ly/3boFUbN
No advance preparations for the auditions are required. Participants will be guided through the audition process.
For answers to questions about the choral program, email EMCC Director of Choral Activities, Dr. Lorrie Stringer, at lstringer@eastms.edu
Concert Choir is EMCC's largest ensemble and generally performs at more formal events, such as the college's Homecoming banquet, Christmas Celebration, and the MSU Riley Center's Community College Festival.
Reflections is a smaller, select group that performs contemporary a cappella music in a vocal jazz style. Students in Reflections serve as section leaders in the Concert Choir.
Music Theater takes place in the spring. Students are involved in all aspects of putting together a musical: singing, acting, dancing, costumes, props and set design.
GOLDEN TRIANGLE CAMPUS
Auditions for the Golden Triangle Concert Choir on EMCC's Golden Triangle campus are also taking place.
Students can choose to audition via Zoom or can submit audition tapes to Golden Triangle Choir Director Jamie Taylor by email at jtaylor@eastms.edu
Members perform at various events on the Golden Triangle campus, including the spring and fall choral concerts.
Students can also email Taylor for more information about the auditions or the choir.