EMCC SEEKING STUDENT INPUT ON ENGAGEMENT SURVEY
News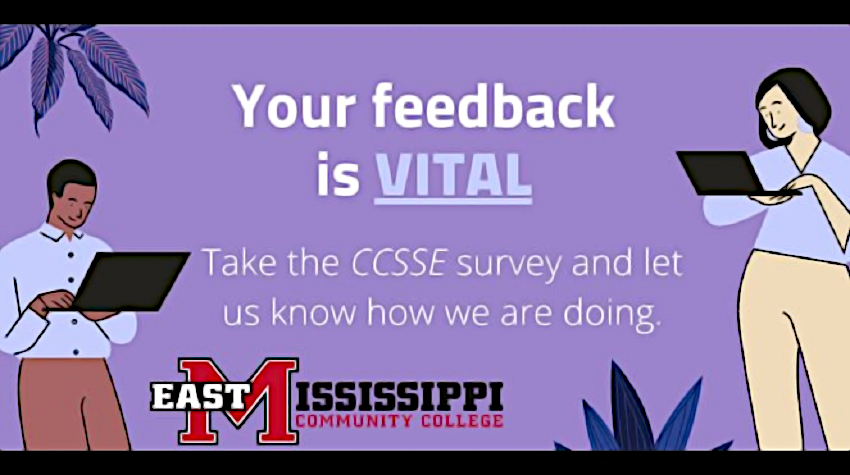 March 2, 2021
This spring, East Mississippi Community College will participate in the Community College Survey of Student Engagement (CCSSE), a national student survey focused on teaching, learning and retention in community colleges. The project is run by the Center for Community College Student Engagement of the Program for Higher Education Leadership at The University of Texas in Austin.
"Research shows that the more actively engaged students are, the more likely they are to persist in their college studies and to achieve academic success," EMCC President Dr. Scott Alsobrooks said. "Identifying what our students do in and out of the classroom, knowing their goals and understanding their external responsibilities can help us create an environment that enhances their academic outcomes."
CCSSE will be administered to students 18 and older who are not dual enrolled. The survey link will be emailed to students and is available through a Canvas CCSSE course. Students are being asked to take part in the online survey that will be available March 2-31.
"CCSSE results will help us better understand our students' experiences so that we can help them be more successful," EMCC QEP Coordinator Laura Damm said. "It also provides documentation and improvement of institutional effectiveness over time. EMCC last participated in the CCSSE in spring 2016. We look forward to seeing how the educational experiences of our students have changed since then."
According to the Center for Community College Student Engagement website, EMCC is among 287 colleges nationwide that will be participating in the survey this year. The CCSSE "is a well-established tool that helps institutions focus on good educational practice and identify areas in which they can improve programs and services for students," the website states.
"Participating in the CCSSE gives us the opportunity to compare our performance at EMCC with national norms for community and technical colleges," Damm said.
The college will also administer the Community College Faculty Survey of Student Engagement (CCFSSE), an online survey which elicits faculty perceptions of student educational experiences and their own teaching practices.
"The ability to view faculty and student survey responses side-by-side can help us identify areas of strength as well as opportunities for improvement," Alsobrooks said.
Established in 2001, CCSSE is supported by grant funds from various organizations, including the Bill & Melinda Gates Foundation, The PEW Charitable Trusts and the Carnegie Foundation for the Advancement of Teaching, to name a few. To learn more about CCSSE visit www.ccsse.org