EMCC BARBERING, COSMETOLOGY STUDENTS GRADUATE
News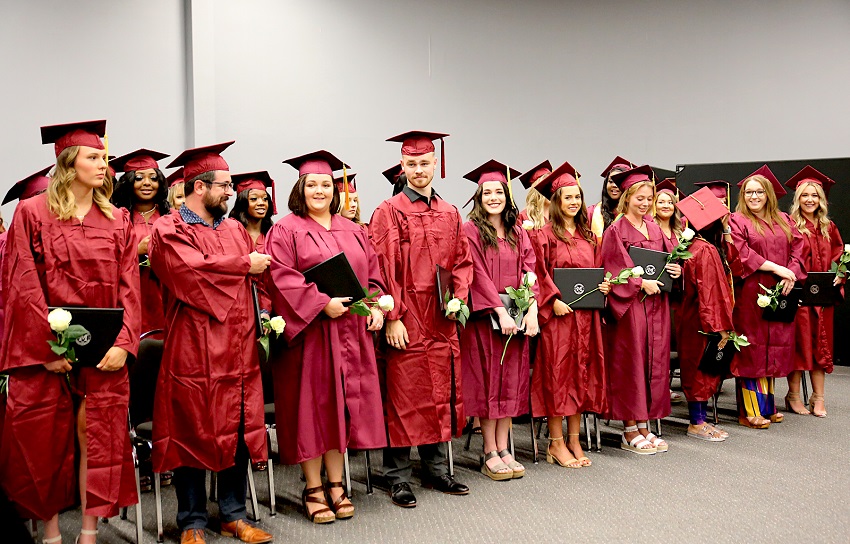 June 18, 2021
A commencement exercise for graduates of East Mississippi Community College's Cosmetology and Barbering/Stylist programs took place June 17 in the Lyceum Auditorium on the college's Golden Triangle campus.
Nineteen students completed the Cosmetology program, while four students graduated from the Barbering/Stylist program.
Speakers for the event included "Outstanding Cosmetology Student" Curtlyn Blake and "Outstanding Barbering/Stylist Student" Jessi Sherrill.
Both spoke about the challenges posed by COVID-19.
"Between CDC guidelines, state regulations, quarantines and sometimes last-minute changes, there were times I'm sure we all wondered, and I know I did, if we would ever get to this day, let alone make it on time, but we did," Blake said.
Sherrill congratulated her classmates for putting their "noses to the grindstone to finish this class during one of the harshest years of our lives."
"COVID-19 put us all to the test," Sherill said. "It turned something as simple as a hug into a luxury and something as mundane as a face-to-face conversation into pure gold."
EMCC Dean of Instruction for the Golden Triangle campus Dr. Michael Busby praised the students, Cosmetology instructor David Long and Barbering/Stylist instructor Erica Turner for adapting to new teaching and learning methods precipitated by the novel coronavirus.
He advised the students to serve others through their work and encouraged them to be lifelong learners.
"Finally, and probably most importantly, always, always believe in yourself," Busby said. "Never give up. Never quit. Have that confidence. You worked so hard during a difficult year in a program that was already rigorous. What you went through made it even more rigorous, but you did it and achieved at high levels."
State law requires students enrolled in both the Cosmetology and Barbering/Stylist programs complete 1,500 hours of training prior to sitting for the state exams. Both are nine-month programs and students are in class 40 hours a week. Students earn a certificate upon completion, but also have the option of taking additional classes needed for an associate's degree.
After the graduation ceremony, EMCC President Dr. Scott Alsobrooks said the challenges these students overcame because of the novel coronavirus were unlike any faced by earlier graduates.
"Cosmetology and Barbering are demanding, hands-on programs that are not easy courses to take under the best of circumstances," Alsobrooks said. "Because of COVID-19, these students had to adapt to new teaching methods while meeting rigorous guidelines needed to complete their required training hours. It took determination and drive for them to make it to this point today and we are extremely proud of them."
More information about the Cosmetology and Barbering/Stylist programs is available at www.eastms.edu under the "Programs" and "Career Technical Education" tabs.
Graduates of the Barbering/Stylist program are Dana Chamblee of Winona, Leon C. Ellis of Caledonia, Jessi L. Sherrill of Columbus and James Vernon of Caledonia.
Cosmetology program graduates are: Tabitha Atkinson of Philadelphia; Curtlyn Blake of Ackerman; Alex Cross of Bruce; Kenedi Deans of Columbus; Anna Dearman of Ridgeland; Sara Dexter of Cedar Bluff; Shelaina Eckford of Columbus; Chelsey Franklin of Brooksville; Keiondra Gandy of Starkville; Jacey Garrard of Louisville; Mackenzie Hodges of Starkville; Hanna Lawrence of Pelahatchie; Meg Martin of Philadelphia; Savannah McCarter of Columbus; Brittin Owen of Columbus; Erin Ruth of Starkville; Claudia Rybolt of Starkville; X'Zayvia Scott of West Point, Myra Thompson of Starkville