ACCREDITATION BENEFITS AUTOMOTIVE TECHNOLOGY STUDENTS
News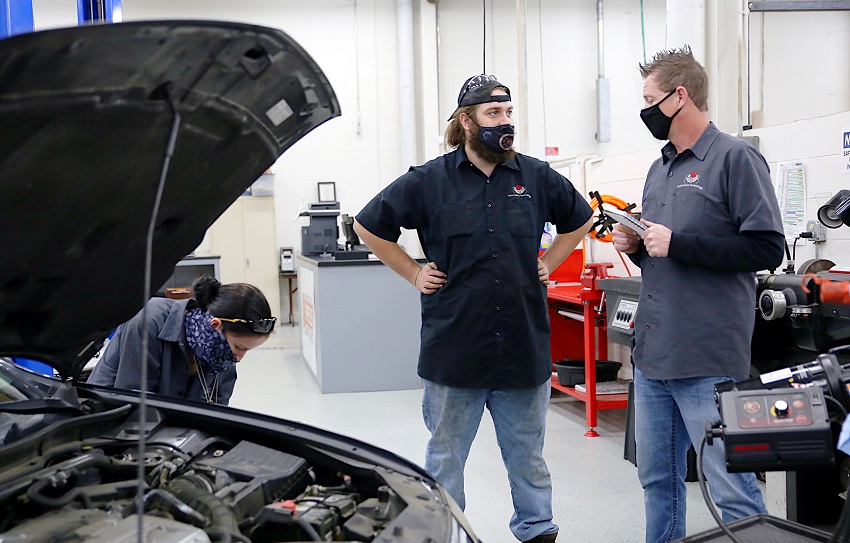 January 20, 2020
On Jan. 11, Dale Henry received notification from the ASE Education Foundation that East Mississippi Community College's Automotive Technology program was approved for reaccreditation, a rigorous process that takes place every five years and requires frequent curriculum adjustments to keep pace with rapid changes in the automobile industry.
"There is a lot more to accreditation than just pulling out a set of books and standards that they look through every five years," said Henry, who is the department head for EMCC's Automotive Technology/Diesel Mechanics Department. "We have to keep everything updated. We have to keep the shop equipped and laid out. We have to justify when we are teaching what. We have to show all of that and prove we are doing all the things that are required."
The accreditation process requires automotive educational institutions' advisory committees perform a self-evaluation of program standards outlined in a 134-page document by ASE, short for the National Institute for Automotive Service Excellence. In-depth reviews are conducted in the following areas: brakes, engine performance, automatic transmissions and transaxles, heating and air conditioning, electrical/electronic systems, suspension and steering, engine repair, and manual drive train and axles.
Program adjustments have to be made in any area that does not meet the national standards before the accreditation application is submitted to the ASE Education Foundation.
If everything is in order, the ASE Education Foundation will conduct an on-site evaluation led by an ASE Certified Master Technician.
"It's a pretty big process," Henry said. "They've got three guys and they come in and in a day's time they go through probably 500 to 600 papers that are in binders. Plus, they conduct a shop audit, a student audit and an equipment audit, among other things, while they are on campus."
ASE then produces a report listing the educational institution's strengths, weaknesses and areas where changes must be made.
"The page that lists things that need to be fixed was blank," Henry said of the college's ASE report. "We were squeaky clean. That is what we are most happy about."
ASE also offers professional training and certification. All instructors at accredited schools must be ASE Certified in the subject areas they teach and have a minimum of entry-level certification in Maintenance and Light Repair. Those who pass multiple tests can earn ASE Master Status, which is required of all EMCC's automotive instructors.
Henry, who conducts ASE accreditation review site visits at other colleges, is also a certified ASE Advanced Level Specialist.
EMCC Automotive Technology students earn ASE Entry-Level Certification in 10 areas before they graduate from the program offered on the college's Golden Triangle campus. After two years of documented work experience in the automotive repair field they can test for certification as an ASE Professional Technician.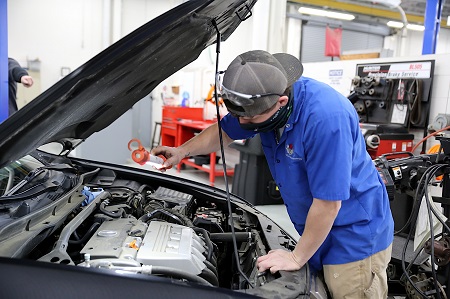 Rapid changes in the auto industry are driving an increasing demand for tech-savvy technicians who are as adept on a laptop as they are under the hood. Technicians today must be well versed in the use of diagnostic computers to work on gasoline, hybrid and electric vehicles equipped with stability and traction control systems and electronic controls for everything from engines to steering and braking systems.
An article in Automotive News titled "Chronic shortage of service techs threatens dealership profits" predicts an industrywide shortage of 20,000 to 25,000 auto technicians in the near term.
That demand is providing new opportunities for graduates of EMCC's Automotive Technology program, who are sought after by employers throughout the region.
Columbus resident Thomas Murray said he was aware there was a growing demand for workers in technical fields when he enrolled in the Automotive Technology program at EMCC.
"That whole industry is growing," Murray said. "I like working on cars and want to make a living doing something I enjoy."
Instructors with the Automotive Technology program at EMCC are also authorized to teach training modules that lead to professional certifications offered through Toyota, Ford, Honda and ACDelco, which is owned by General Motors.
"In order to get access to that training we have to be accredited," Henry said. "The good thing about ASE is that it is the one thing that ties the automotive industry together nationally."
For more information about the program, email Henry at dhenry@eastms.edu.