EMCC CONDUCTS PINNING CEREMONY FOR ASSOCIATE DEGREE NURSING STUDENTS
News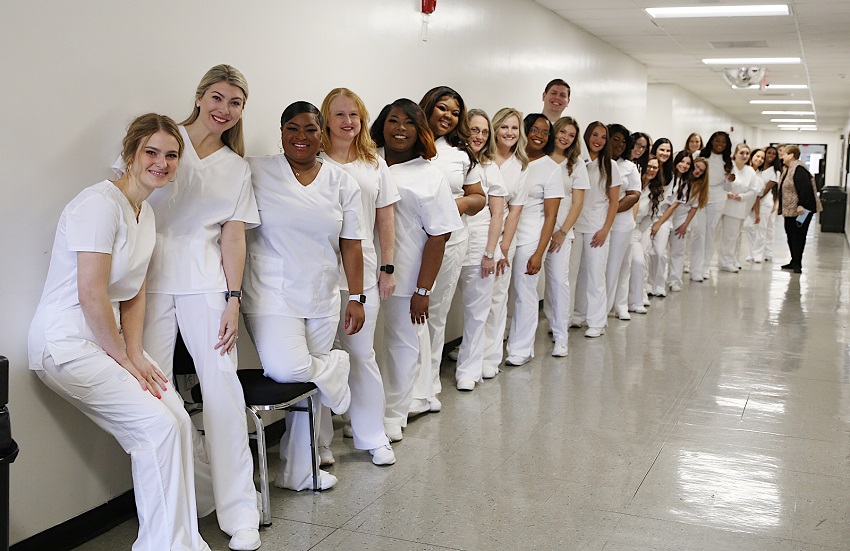 December 9, 2021
Twenty-eight graduates of East Mississippi Community College's Associate Degree Nursing program participated in a pinning ceremony Thursday, Dec. 9, in the Lyceum Auditorium on the college's Golden Triangle campus.
In his welcome, EMCC President Dr. Scott Alsobrooks spoke about the challenges and opportunities the graduates face and encouraged them to use their education to serve.
"You possess a tremendous gift but it is also a responsibility," Alsobrooks said. "It is up to you to make the most of it. I have no doubt you will do exactly that."
The guest speaker was Jason Taylor, who is a graduate of both the Practical Nursing and Associate Degree Nursing programs at EMCC. Taylor, who works at Baptist Memorial Hospital - Golden Triangle, OCH Regional Medical Center and Monroe Regional Hospital, told the graduates they will experience "pieces of unimaginable suffering" that will require they treat not only patients' bodies, but the conditions of their hearts and minds as well.
"You'd be surprised by how much you can help someone's day by just letting a little of the light that's inside of you shine when they feel they are in a dark place," Taylor said. "… What I am trying to get you to realize is that this is not a job, but a calling. This is a golden opportunity for you to make a difference."
A member of the students' families performed the ceremonial pinning during the graduation.
The class of 2021 Association Degree Nursing graduates are: Haley Barthelemy of Heflin, Louisiana; Niyah Brooks of Columbus; Kenya Cistrunk of West Point (Clinical Excellence Award); Hannah Crews of Steens (Clinical Excellence Award); Taneshia Culberson of West Point; Courtney Forrester of Columbus (Nightingale Award); Marlee Freely of Starkville (Clinical Excellence Award); Anna Gregory of Carthage; Alexis Cymone Hawthorne of Roxie; April Humphreys of Columbus; Sara Katherine Kemp of Meridian; Breanna Kislow of Columbus; Alyssa Langley of Starkville; Emily Marsiglia of Southaven; Lauren Morrow of Columbus; Brittany Murphy of Columbus (Clinical Excellence Award); Savannah Murphy of Columbus; Joseph Noll of Starkville ((Clinical Excellence Award); Kristen Danielle Pecanty of Vicksburg; Stacey Perkins; Kayla Poole of Columbus; Theresa Pumphrey of Houston (Clinical Excellence Award); Ashley Robertson of West Point; Ken-Yetta Stallings of Starkville; Nola Stewart of Columbus; Nina Truelock of Caledonia; Montiga Watt of Columbus; Julie Younger of Steens (Scholastic Achievement Award)