EMCC ADDS NEAL AS ASSISTANT DIRECTOR OF BANDS
News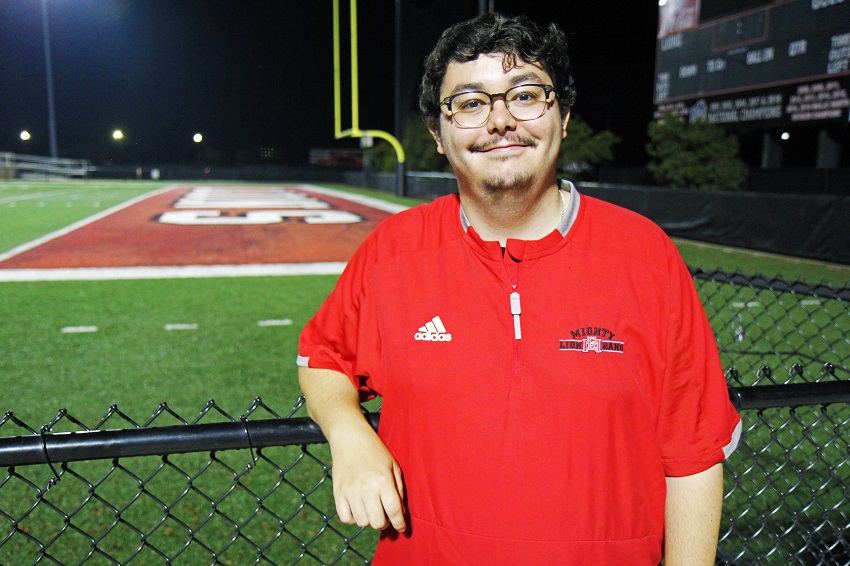 August 27, 2021
Director of Bands Chris King was so excited about the prospect of Ben Neal joining him here at East Mississippi Community College, he reached out for an official interview on Neal's honeymoon.
"In talking to him initially, we seemed to see eye-to-eye on so many different things," King said of Neal, who recently joined EMCC as the Assistant Director of Bands. "He really seemed to have the mindset we were looking for."
Neal has experience spanning three states on the high school, junior college and college level – but was actually working in Las Cruces, N.M., before accepting the position with EMCC in Scooba.
A native of Etta and graduate of West Union Attendance Center in north Mississippi, Neal worked with an alum of New Mexico State University while student teaching at Ripley High School.
"He knew I was looking at grad schools and that's one of the reasons I wound up at New Mexico State," Neal said.
Neal graduated from New Mexico State in May with a master's degree in Percussion Performance. While in Las Cruces, he worked as a Front Ensemble Instructor with Mayfield High School.
His duties within the New Mexico State band program and music department ranged from organizing the NMSU Drumline Club to coaching percussion ensemble groups; and from studying orchestral conducting to assisting with instruction and marching fundamentals for the Pride of New Mexico Marching Band.
"I was looking for a lot of things and at (returning to) Mississippi in particular," Neal said. "Chris knew I was looking and called … that first phone call, we probably talked an hour."
"Even though he was not from this specific area, he understood the dynamics of this area," King said. "The more he talked, the more it became apparent he was familiar with our situation here, the challenges we face, our recruiting strategy. I think we made a connection on that first phone call."
Neal has already been through a band camp with EMCC's Mighty Lion Band prior to the start of the fall semester and is now helping King prepare the band for the upcoming football season. In addition to serving as the Assistant Director of Bands, he is the Director of Percussion, Director of the Mighty Lion Drumline, and also offers private lessons.
After graduating from West Union, Neal earned an Associate of Arts degree from Northeast Mississippi Community College and later a Bachelor of Music in Education from Delta State University.
He has assisted with band programs at Ripley and South Pontotoc high schools; taught individual lessons with instruments including the French horn, flute, trombone, trumpet and clarinet; performed with the Las Cruces (N.M.) Symphony; and is currently a substitute with the North Mississippi Symphony Orchestra.
Neal and his wife, Lina, were married in June and reside in Starkville with their dog, Izzy, and their three cats: Sasha, Viktor and Loki.
"We've really enjoyed being back in Mississippi and are excited about what a new school year at EMCC will bring," Neal said.