EMCC NAMED AMONG TOP 150 COLLEGES IN NATION
News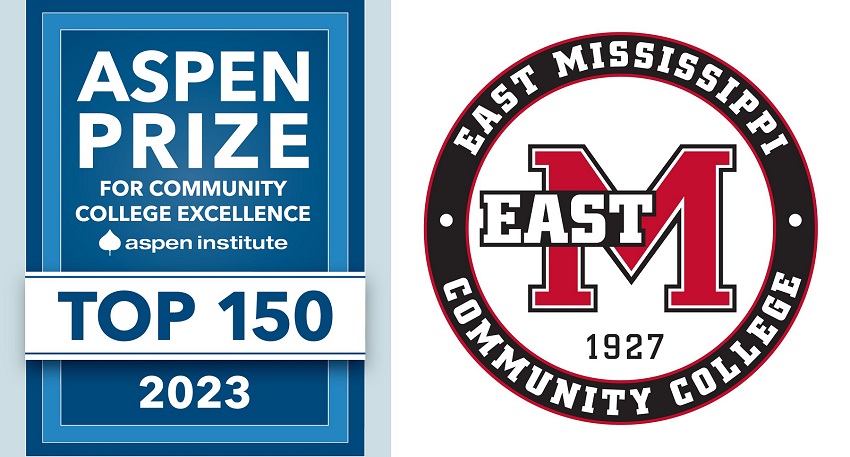 November 2, 2021
East Mississippi Community College has been named to the Aspen Institute College Excellence Program's list of Top 150 Community Colleges in the Nation for the fifth time since 2015.
The colleges were selected from a pool of nearly 1,000 public two-year colleges nationwide, according to a Nov. 2 press release by the Aspen Institute.
The list recognizes institutions for exceptional student outcomes in five areas: teaching and learning, certificate and degree completion, transfer and bachelor's attainment, workforce success, and equity for students of color and students from low-income backgrounds.
"The colleges selected for this honor stand out among more than 1,000 community colleges nationwide as having high and improving levels of student success as well as equitable outcomes for Black and Hispanic students and those from lower-income backgrounds," the press release states.
The designation means EMCC is eligible to compete for the 2023 Aspen Prize for Community College Excellence. A $1 million prize purse will be divided by the winning college and finalists. In past years, the top prize winner typically received $600,000, with four finalists receiving $100,000 each. The prize, awarded every two years, is the nation's signature recognition of high achievement and performance among America's community colleges.
About 15 percent of community colleges nationwide made the list and were invited to apply.
"Leaders of exceptional community colleges understand that achieving excellence requires expanding college access and increasing degree completion, but it doesn't stop there," said Josh Wyner, executive director of the Aspen Institute College Excellence Program. "They are committed to ensuring that all students—including students of color and those from low-income backgrounds—graduate with the skills needed to secure a job with family-sustaining wages or successfully transfer to and graduate from a university. That same commitment that stands at the center of the Aspen Prize: to advance the goals of social mobility and equitable talent development."
The top 10 finalists for the 2023 Aspen Prize will be named in spring/summer of 2022. Representatives for the Aspen Institute will visit each of those 10 colleges to collect additional data prior to naming the grand prize winner in late spring of 2023. EMCC was previously selected for inclusion in the Aspen Institute College Excellence Program's Top 150 Community Colleges in the Nation for contests that concluded this year and in 2015, 2017 and 2019.
"To be included in the Aspen Institute's list of Top 150 Community Colleges in the Nation once is an honor," EMCC President Scott Alsbrooks said. "To make the list for a fifth time is an accomplishment of which I am very proud. EMCC faculty and staff work very hard to ensure our students are getting an exceptional education, while also identifying and addressing potential barriers to their success. Our EMCC team is committed to improving educational outcomes for all of our students. Inclusion in the list once again is validation of those efforts."