EMCC AWARDED $200K GRANT FOR APPRENTICESHIP TRAINING
News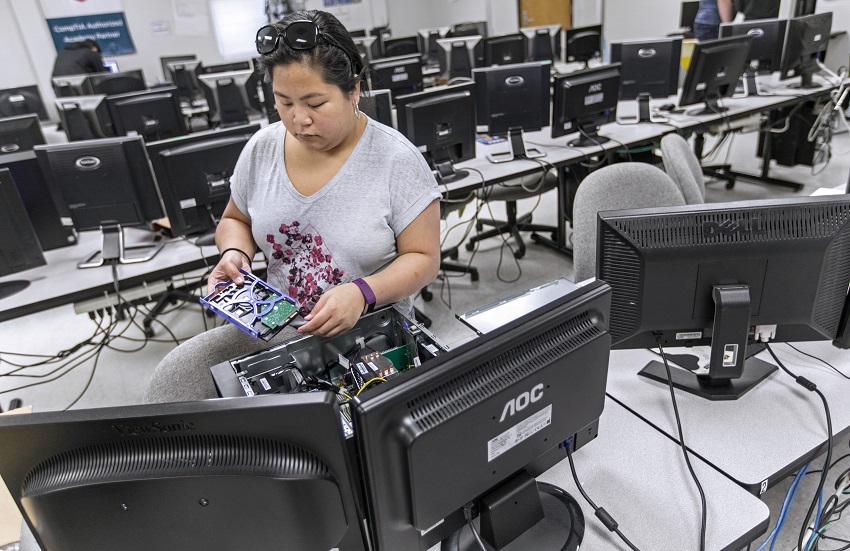 August 24, 2021
The Workforce and Community Services division at East Mississippi Community College has been awarded a $200,000 grant to provide training to area workers through the Mississippi Apprenticeship Program, or MAP, a state apprenticeship program supported by the U.S. Department of Labor.
EMCC will work with area businesses and industries to develop Registered Apprenticeships that will provide employees with both on-the job training and in-class instruction to meet identified needs.
"One of the things that excites us about this is there is a potential to help our small and medium-sized businesses develop talent in a way we haven't been able to do before," EMCC Vice President of Workforce & Economic Development Dr. Courtney Taylor said. "We will be working with those companies to help them develop the talent they need, as well as our large employers."
EMCC was notified Aug. 11 that it had been awarded the grant to establish the apprenticeship program, which will launch Sept. 1. Grant funds will be used to help offset training costs, and provide support services, although those details have not been finalized yet.
"Some of the things we are looking at are reimbursing tuition costs, wage reimbursement for apprenticeships and any pre-training that may be needed before the actual classes begin," Taylor said. "Other funding will be dedicated to support services, such as transportation costs, books, work uniforms, childcare and supplies."
Work has already begun on the next step in the process, which is meeting with officials from local industries and businesses to determine their interest in the apprenticeship program and to identify their training needs.
"After that we will start signing the apprentices up for classes," Taylor said.
Unlike paid internships in which EMCC sends students to participating businesses, in an apprenticeship the employers would send their workers to EMCC to receive training or even work with EMCC to identify new employees that could start the company and apprenticeship simultaneously. There could be exceptions, however.
"The company could send us students to participate in the apprenticeship," Taylor said. "They would pay the student's wages and we may offset the cost of the wages so the student could work while going to school but they would become employees of the company at that time."
In July 2020, the U.S. Department of Labor announced an award of $3.5 million to expand Registered Apprenticeships in Mississippi. Graduates of a Registered Apprenticeship program receive a national industry-recognized credential validated by the U.S. Department of Labor or a statewide apprenticeship agency, according to Apprenticeship.gov, a U.S. Department of Labor website.
Mississippi also has a Skills Training Tax credit for businesses that can be utilized by program sponsors in manufacturing, wholesale, warehousing and other related industries, the website states.
The MAP is administered through the state Office of Apprenticeship in coordination with the Mississippi Department of Employment Security and the Mississippi Community College Board.
"We are grateful to the Mississippi Department of Employment Security and the Mississippi Community College Board for the opportunity to expand services to the communities we serve," EMCC President Dr. Scott Alsobrooks said. "These apprenticeships will provide residents who are working an opportunity they might not otherwise have to attend school while continuing to earn a living, while also addressing any skills gaps faced by area businesses and industries."
There were 1,529 apprentices who participated in the Mississippi Apprenticeship Program from the program's inception in 2016 to Sept. 30, 2019, according to a Mississippi Department of Employment Security abstract.
EMCC already works with area industries to provide specialized training to meet specific needs and Taylor said the apprenticeship program is one more tool her department can use to ensure area employers have access to a skilled workforce.
"The reality is we have a lot of options for those businesses and industries who are facing a talent shortage," Taylor said. "They just need to give us a call."
Businesses interested in learning more about the apprenticeship program can email EMCC Workforce Innovation and Opportunity Act Career Services Director Greta Miller at gmiller@eastms.edu or call her at 662.243.2659.