EMCC OFFICE OF ADULT EDUCATION STUDENTS GRADUATE
News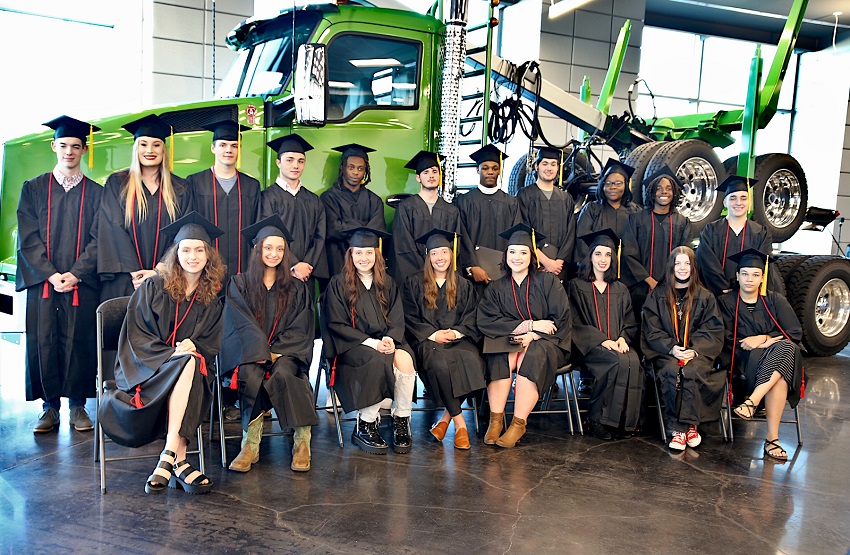 December 14, 2021
Twenty of the 32 students who earned their high school equivalency diplomas this fall through East Mississippi Community College's Office of Adult Education Launch Pad participated in a graduation ceremony Monday, Dec. 13, at The Communiversity.
Among the graduates was McKay Bartlett of Columbus, who told her classmates and their friends and family in attendance that she made a last-minute decision to enroll in Adult Education classes at EMCC.
"I was honestly going in without really knowing what I was doing or what was going to happen," Bartlett said. "It was a little nerve-racking, but now that it is all said and done I am extremely grateful I made that decision and that they made it such an easy and smooth process."
Bartlett credited the instructors and staff in the Office of Adult Education with helping her to succeed.
"I don't know what I would have done without their support and encouragement," she said. "They believed in me and all the rest of us. I honestly think I would not have made it without all of them."
It was a common theme. Graduate Noah McMullen of Cedarbluff told the instructors they were the best teachers he ever had.
"Thanks for encouraging me every step of the way even when I thought I couldn't do it," he said. "Everybody here thought that I could. I should have believed it from the start."
In addition to earning their high school equivalency diplomas, the graduates also completed the Smart Start program, in which they learned soft skills such as good work habits and effective communication. The students also earned an ACT WorkKeys National Career Readiness Certificate, which tests students' skill levels in areas such as reading, writing and math.
"All of these great achievements required a tremendous amount of hard work and a high level of motivation and dedication," said lead EMCC Adult Education and Smart Start instructor Geneva Atkins, who was the guest speaker. "No obstacle or barrier could hold you back."
EMCC President Dr. Scott Alsobrooks told the students the high school equivalency diploma and other credentials are in demand by local manufacturers.
"You are wanted," Alsobrooks said. "There are many, many opportunities this high school diploma will afford you if you decide to carry on and continue your education. Right here, in this Communiversity, there are several degree and nondegree programs that you can enter. Right down the road at our Golden Triangle campus, there are so many good programs that you can go through. If you want to earn a baccalaureate degree and go that route, you can do that too."
State Director of Adult Education and High School Equivalency Beth Little also attended the graduation and spoke to the students. She told them to recognize who it is that believes in them.
"Some of you may not always know who believes in you," Little said. "You may have to look into the mirror to find that person and that's OK because you can do great things when you set your mind to it."
She also encouraged the students to seek a career rather than a job.
"Find that career where you wake up each day and look forward to going to do it, one that you can continue to do for the rest of your life," Little said.
Isabella Sullivan said she never thought she would have the opportunity to attend her own graduation.
"I am very proud of myself and everyone else here today," Sullivan said.
The fall 2021 Adult Education graduates are: A'Johnah Alise Baker of Starkville; McKay Marie Bartlett of Columbus; Christopher Branham of Starkville; Teion Brown of Columbus; Holly Rachel Burkis of Starkville; Cameron Blake Chandler of Columbus; Kobe Clayton of Starkville; Caleb Cloringer; James Richard Denton of Aberdeen; Tymon Willis Felton of Crawford; Andrew Lane Fulgham of Mathiston; Sari Morgan Hardy of West Point; Izabella Hill of Columbus; Ariel Jinks of Eupora; Nicole Johnson of Macon; Sarah Elizabeth Jones of Preston; Andrew Kim of Columbus; Zoe Lovelace of Starkville; Christina Martinez of Macon; Noah Wade McMullen of Cedarbluff; Jacob Hunter Morton of Columbus; Marvin Murray of Columbus; Jaimie Parker of Eupora; Ariel Destani Partain of Caledonia; Harlee Ann Salmon of West Point; Lee Ashley Singleton; Eva Sisson of Columbus; Hugh Everett Stone of Tupelo; Isabella Rose Sullivan of West Point; Evan Williams of Starkville; Emily Marie Winger of Starkville; Vanessa Yaquelin Ugalde of Shuqualak