EMCC ADULT EDUCATION LAUNCH PAD CONDUCTS GRADUATION
News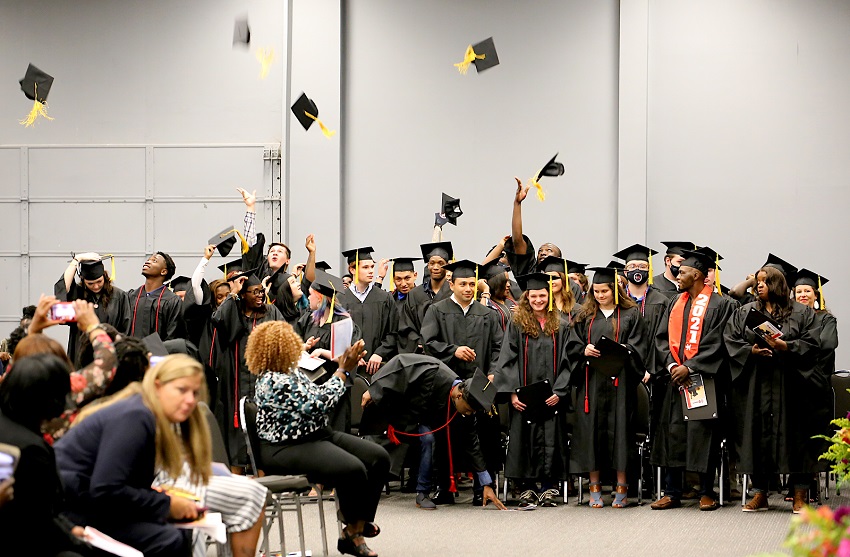 June 9, 2021
About 35 students enrolled in East Mississippi Community College's Adult Education Launch Pad received their high school equivalency diplomas Wednesday, June 9, during a ceremony in the Lyceum Auditorium on the college's Golden Triangle campus.
EMCC Vice President of Workforce & Economic Development Dr. Courtney Taylor encouraged the students to set a new goal and work to make it a reality.
"I hope whatever your next step is you embrace it and seize the opportunity to make a difference in your community," Taylor said.
EMCC Adult Education Director Tshurah Dismuke congratulated the students for persevering despite difficulties they encountered.
"You were able to overcome the obstacles before you prior to the COVID 19 pandemic to now," Dismuke said. "As a result, you have all proved yourselves to be strong individuals whom others will view as an inspiration."
Carla Causey, Mississippi Community College Board assistant director of Adult Education for Assessment and Program Quality, was the guest speaker. She encouraged the students to live their lives with transparency, to discover their passion and purpose in life and to make sound choices.
"You have to do what makes your heart smile and you have to do it every day without force," Causey said. "When you do that you know that you are on purpose."
Adult Education graduate Tremae Merritt of Columbus said earning a high school equivalency diploma was not an easy task.
"When you look over here at these graduates and at me, you are looking at some determination," Merritt told the audience. "You are looking at God saying, 'Yes you can.' You are looking at, 'I can't give up.' You are looking at, 'I've got a purpose.' You are looking at 'I'm going to do this.' Guess what? We did it."
Since the Adult Education was unable to conduct a graduation ceremony last year because of the novel coronavirus, those students were eligible to participate in the ceremony as well. The following list of graduates includes those who earned their high school equivalency diplomas during the period that began January 1, 2020, and ended June 8, 2021.
Those students with an asterisk before their names participated in the graduation ceremony.
The graduates are: * Hannah Smith of Columbus, * Ismael Martinez of Columbus, * Abraham Calvillo of Macon, * Mallory Williams of Columbus, Isaac Boden of Starkville, * Ian Bradford of Starkville, Chelsea Goodwin of Macon, Mason Griggs of Crawford, Alexis Lane of Columbus, Joshua Lucas of Columbus, * Gabrielle Chism of Sturgis, Joseph Paone of Columbus, Marilyn Younce of West Point, Michael Bridges of Cedar Bluff, * Kaleia Lee of Corinth, Christopher Goodwin of Macon, Ravean Wilson of Macon, * Neely Andrews of Columbus, JaQualan Weatherspoon of Columbus, * Allison Bostick of Preston, Mark Young of Norman, * Sierra Winston of Columbus, * Tremae Merritt of Columbus, Mason Smith of Starkville, * Matthew Beam of Ackerman, * Matthew Crawford of Starkville, * Jacob Rye of Columbus, * DaShonna Glenn of Columbus, * Carly Langley of West Point, Ethan Camp of Columbus, * Waya Hartfield of Sturgis, * J.R. Edwards of Columbus, Daniel Hammett of Columbus, Travis Vail of Columbus, * Michael Osagie Momoh of Columbus, * Halleigh Faulkner of Eupora, * Olivia Halverson of Columbus, * Shonesty Lucious of Columbus, Michael Lewis of Columbus, Deaundra Harris of West Point, * Joseph Lee of Amory, * Zachary White of Macon, * Kenneth Hunt of Mathiston, Gracie Levister of Caledonia, Lydia Anderson of Louisville, Caleb King of Sturgis, Marissa Reed of Mathiston, Jared Martin of Starkville, Matthew Gray of Ackerman, Dana Vadalabene of Starkville, Izabel Morgan-Bell of Starkville, * Destiny Herron-Monroe of Columbus, * Lisa Jaromack of Caledonia, * Dacey Coleman of Shuqualak, Micah Swain of Columbus, Kade Peaster of Brooksville, Austin Clark of Macon, * Juanita Bluitt of Columbus, Nathan Winger of Starkville, Breanna Gunnoe of Steens, Jared Saul of Macon, Jasmine Cooley of Starkville, Shadarrius Lucious of West Point, Natasha Mast of Crawford, Frederick Washington of Columbus, Tyler Griffin of DeKalb, Phillip Partridge of Sturgis, * Norman Rias, Jr., of Winona, Gabriella Hall of Columbus, * Tyler Gardner of Columbus, Kenny Harris of Columbus, LaDarius Moore of Columbus, Holly Phillips of Columbus, Katelynn Blaylock of Fulton, Thomas Crawford of Starkville, Jaya Davis of Starkville, * Shelaina Eckford of Ackerman, * Lela Evans of Ackerman, * Nathaniel Fearn of Starkville, * Andrew Reeves of Starkville, Fabian Ryan of Caledonia, * Rogelio Santos of Maben, Jasmine White of DeKalb, * Destiny Brooke Snider of Columbus, * Davon Thompson of Columbus