STUDENTS, INSTRUCTORS TOUT BENEFITS OF EMCC WRITING CENTER
News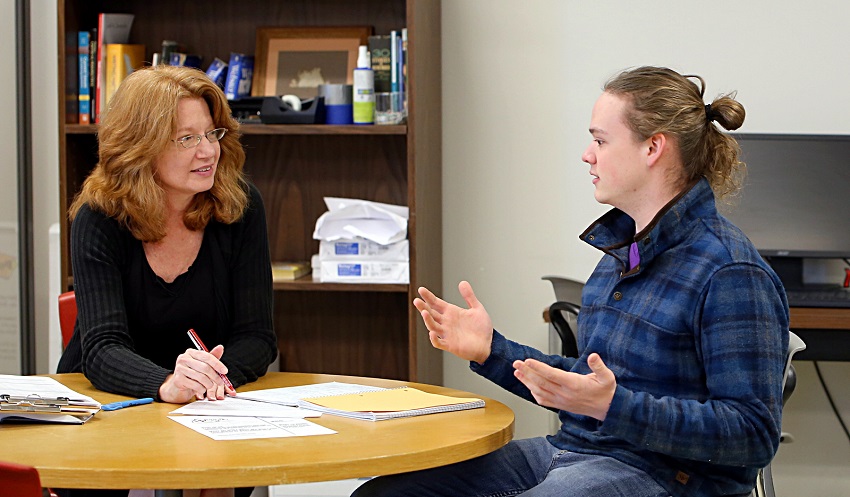 January 30, 2020
The number of students utilizing the Writing Center on East Mississippi Community College's Golden Triangle campus has grown steadily since its humble beginnings in 2014 in a tiny room in the back of the college's library.
While the Writing Center has experienced a surge in popularity among students, campus officials say they want to encourage even more use at the center and plans are in the works to launch a campaign to increase awareness about services available there.
"This semester we're excited to continue providing the Writing Center's free resources to students who already use the center, but we are especially excited about pushing forward," Writing Center Director Ginny Leonard said. "Our mission this semester is focused primarily on marketing our valuable services to students across the campus and across the disciplines so that we can more effectively live up to our mission statement, which includes assisting students from any class on any written project at any skill level and at any stage in the writing process."
The original Writing Center consisted of a nook at the back of the library that could accommodate one student and a tutor.
The Writing Center was relocated to room 605 on the second floor of the student union building after that facility opened in the fall of 2016. The new location can now accommodate several students at once and boasts work tables, student computers, study areas and lounge chairs.
"About 80 percent of the time we still work with students one-on-one," writing consultant Laura Beth Berry said. "There are times though when we get really busy and students are stacked up waiting to be helped. Sometimes we work with three or four students at one time, bouncing from one student to the next. If the students are working on the same project, we can sometimes help them as a group."
Berry is one of two writing consultants at the center. The other is Cynthia Sanders. Berry and Sanders alternate days working at the Writing Center, which is open Mondays through Thursdays from 8 a.m. to 3 p.m.
The bulk of their time is spent helping students with writing assignments, particularly essays. While they won't correct papers, Berry and Sanders will work with students to help them identify problem areas.
"We are trying to help them become better self-editors," Sanders said.
Sophomore Allen Lewis of Columbus struggled with writing essays during his freshman year. When he heard about the Writing Center, he decided to give it a try. Now, he is a regular.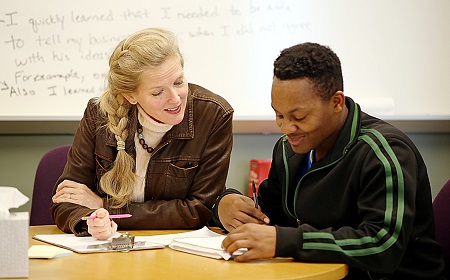 "Ms. Berry and Ms. Sanders have been a really big help to me and my writing has improved so much," Lewis said. "Before, I was making simple mistakes and they showed me how to reword things to make my paragraphs better. Now when I am writing an essay or assignment I know when I am about to do something wrong."
Most of the students who seek out the services at the Writing Center are enrolled in English Composition classes, but a growing number of instructors from other disciplines are referring their students to the center.
"The Writing Center is the greatest undiscovered treasure on campus," art instructor Scott Baine said. "It makes my students' writings go from zero to hero."
Baine often assigns students analysis essays using Feldman's Model of Art Criticism. For the assignment, he requires his students visit the Writing Center to have Berry or Sanders look over their outlines, their first drafts and their final drafts.
In addition to art, Berry and Sanders said students enrolled in psychology, history and sociology classes have also brought writing assignments to the Writing Center for review.
Caledonia resident Tre Beezley has been a regular at the Writing Center ever since the day he stopped by to have someone look over an essay he had written for English Composition II.
"I figured, 'Hey, it's free help,'" Beezley said. "It has definitely paid off. I made A's on all of my papers."
EMCC Associate Dean of Instruction Cedric Gathings said a student in his Marriage and Family class who was struggling with an essay for a final exam returned to class after visiting the Writing Center with a well-written paper he presented to the class.
"Within a week he had done a complete 180 with the paper," Gathings said. "I am hoping we can get the word out about the Writing Center so students can see that this is a service they can utilize not only for final exams but throughout the semester."
Students are encouraged to schedule an appointment at the Writing Center online at www.emccwritingcenter.setmore.com. Contact the Writing Center by email at writingcenter@eastms.edu.
Students who want help with a written assignment will need to bring to the Writing Center a paper copy, typed or hand-written, of what they have completed so far. They will also need a copy of any instructions provided by the instructor for the assignment.