EMCC'S WORKFORCE DIVISION OFFERS DIVERSE TRAINING OPPORTUNITIES
News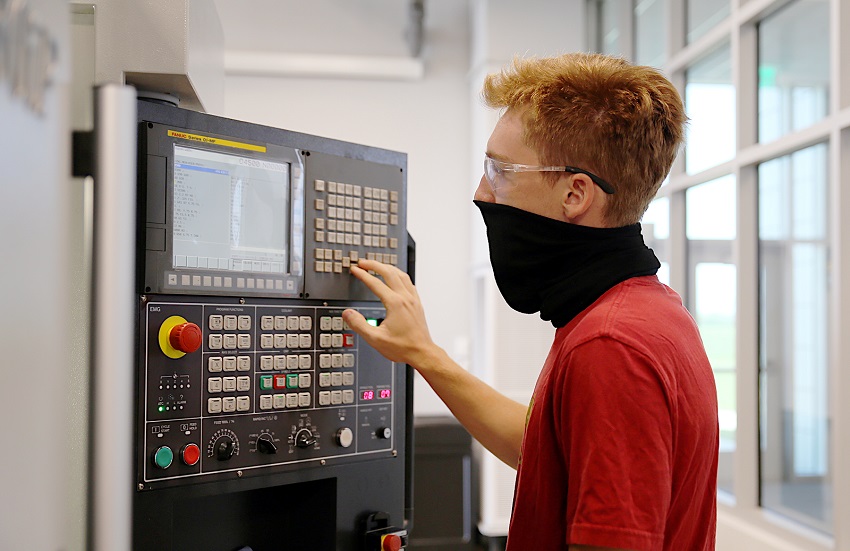 December 15, 2020
East Mississippi Community College's Workforce and Community Services division offers numerous training programs leading to in-demand occupations in the East Mississippi region. Programs range from a short, six-week, skill-specific course to a one-year certificate or to a two-year Associate of Applied Science degree and are available at The Communiversity and at the college's Golden Triangle and Scooba campuses.
Registration for the spring term that begins in January is underway. Students can also apply now for the fall 2021 term.
Advanced manufacturing programs available at The Communiversity include: Precision Machining & Manufacturing; Engineering Drafting & Design; Electrical Technology; Mechatronics Technology; Industrial Maintenance; and Systems Based Automation.
Automotive Technology, Computer Networking, Computer Programming, Cybersecurity, Database Administration, and Diesel Mechanics are offered at the Golden Triangle campus. Welding Technology is taught at both the Scooba and Golden Triangle campuses.
Registration is also taking place for Heavy Civil Construction, a new non-degree program that will be offered at The Communiversity beginning in January. Students who enroll in the 12-week program will attend classes 32 hours a week and learn how to operate heavy machinery, such as bulldozers, excavators, motor graders and more.
"The construction industry is hungry for new training programs that will provide them with skilled workers and we are grateful to those industry reps for partnering with us to make this happen," EMCC Executive Director of The Communiversity and Workforce Development Dr. Courtney Taylor said.
In the fall of 2021, Electrical Technology and Computer Networking programs will be offered at the Scooba campus.
"Electrical Technology is one of those programs that provides a lot of opportunities, especially for residents in rural communities," Taylor said. "It is broad enough that it can be utilized in a lot of different areas. Computer Networking is one of those fields that isn't industry specific in which jobs are in high demand."
The division also offers numerous short-term noncredit programs designed to help people upgrade their skills or obtain new ones. Noncredit programs of study include Certified Medical Coding, Certified Nursing Assistant, Pharmacy Technician, Phlebotomy, HVAC, Pipefitting and Welding, to name a few. These courses enroll monthly.
The 96-hour Manufacturing Skills Basic class available at the Golden Triangle, Scooba and West Point campuses prepares students to "shop floor" employees and covers topics such as blueprint reading, precision measurements and manufacturing improvement methods, among other things.
Plans are in the works to offer additional noncredit training programs on the Scooba campus once industry needs are determined.
For more information about any of the programs, email workforce@eastms.edu or call 662.243.2686. For registration information, visit www.eastms.edu and click on the "Admissions" tab.