EMCC WILD GAME DINNER & AUCTION HELD AT LION HILLS CENTER
News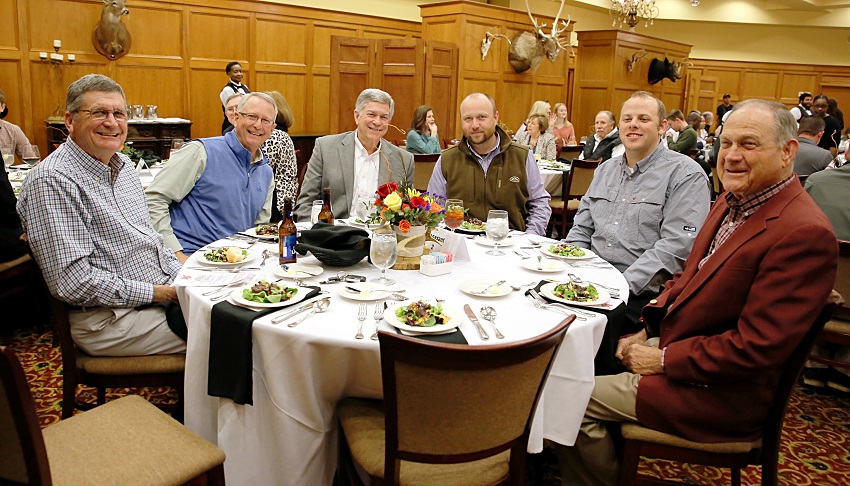 March 7, 2018
The 17th Annual Billy Joe Cross Wild Game Dinner & Auction took place at East Mississippi Community College's Lion Hills Center the evening of Friday, March 6.
The annual event hosted each year by the EMCC Development Foundation's "Bull" Sullivan Memorial Division is a fundraiser that benefits EMCC's athletic and instructional programs.
"These funds support student activities and events, scholarships and a host of other things," EMCC President Dr. Scott Alsobrooks said. "This event would not be possible without the generous support of our sponsors, those who donated auction items, the people who purchased tickets to attend and all of those who bid during the auction. We are grateful for their support."
The Wild Game Dinner & Auction is among the largest annual fundraisers of the EMCC Development Foundation, along with the Sporting Clays Challenge that takes place each year at Burnt Oak Lodge in Crawford and the EMCC-Old Waverly Golf Classic.
The event features wild game cuisine and auction items donated by EMCC alumni and supporters. The event included both a silent auction and items that were up for bid during a live auction. Among other things, auction items included vacation packages, collectibles and sports memorabilia, such as a signed football and photograph of NFL Hall of Fame member Willie Roaf.
"Our supporters have been great to us by donating items for the auction each year," EMCC Executive Director of College Advancement & Athletics Marcus Wood said. "We have been able to get some neat items through relationships we have developed individually and as a college. Because of them, it is a great event each year."
Wood credited the event's success in large part to sponsors like Renasant Bank, a long-time supporter of EMCC that has served as the presenting sponsor for the Wild Game Dinner & Auction since 2016.
"Renasant Bank has been great and has helped us in a lot of ways outside the auction," Wood said.
Renasant Bank Market President Bill West said the bank first became involved in the event at the request of former EMCC Vice President of Institutional Advancement Nick Clark, who retired in 2017 but is still active in supporting the college.
"Nick is a dear old friend and we were delighted to help," West said. "We understand how valuable EMCC is to our community, both from an economic standpoint and from a cultural standpoint."
One of the signature hallmarks of the event each year is the wild game cuisine. Butlered items, wrapped individually and offered to guests prior to dinner, included venison sausage balls, alligator rumaki, and Southwestern bison tartlet.
There was a Brunswick stew and a wild elk salad served with blueberry vinaigrette. The entrée consisted of oven roasted quail with a wild rice and cranberry stuffing and venison steak with biscuit and gravy. Side dishes included roasted vegetables and duchess potatoes.
Dessert consisted of a white chocolate bread pudding with a bourbon sauce that was served warm.
EMCC Director of Food, Beverage and Culinary/Hospitality Education at Lion Hills Shannon Lindell and Culinary Arts instructor Doan Truong served as co-executive chefs for the event.
Lindell oversees EMCC's Culinary Arts, Baking and Pastry Arts, Hotel and Restaurant Management, and Travel and Tourism educational programs offered at EMCC's training facility located on Lion Hills Center grounds. She recently assumed additional food and beverage management duties at the Lion Hills Center, where she will be working with students to provide training in the kitchen as part of their lab assignments.
Students in the programs Lindell oversees assisted with the Wild Game Dinner & Auction.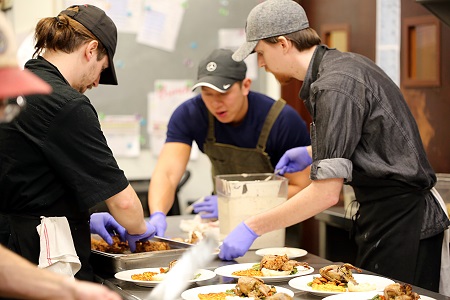 "This is our biggest event each year and the students are really excited to be able to take part in it," Lindell said. "This is hands-on experience that goes above and beyond anything I could ever teach them in a lab."
Students in the Culinary Arts and Baking and Pastry Arts program helped prepare the dishes for the wild game dinner, while students in Lindell's other programs helped out as servers and bartenders.
Landscape Management Technology and Golf/Recreational Turf Management Technology students at Lion Hills cleared dishes and helped rearrange the room after the event was over for a wedding to be held there the next day.
EMCC student ambassadors helped with the auction and served coffee, tea and other drinks. In addition, employees in all departments at Lion Hills, as well as employees from other EMCC campuses, lent a hand.
"It is all hands on deck for this event," EMCC Director of Alumni Affairs and Foundation Operations Gina Cotton said. "It is a team effort and one of the main reasons it is such a great event is because of all of their help."
Highest bidder auction items were donated by: Circle M Plantation; Clark Beverage; Sullivan Committee; Sporting Adventures; EMCC Welding Department, Scooba campus; Tommy Johnson; Greg Flannagan; Jim Huerkamp; Marcus Wood; Gary's Pawn and Gun; Burnt Oak Lodge; Robert Luke; Tem's Food Market, Macon; Phillip's Hardware; and Jacob Wallace.
Silent Auction items were provided courtesy of: Busy Bee Nursery; City Drug Store; EMCC Athletic Department; Grassroots; Huck's; Kademi; Lion Hills Center; Lowndes Farm Supply; Robert Luke; Maroon & Company; Meridian Coca-Cola; Mark McPhail; Mitchell Distributing; Noxubee Farm Supply; Occasions; Oktibbeha County Co-op; Red Roof Spirits; Lisa Spinks; Sassy Designs; Eddie Sciple and Sciple's Mill; Senter's Hardware and Gifts; Steve's on the Square; The Grapevine; and The Purple Elephant.