EMCC WELDING STUDENTS RESTORE CANNON CARRIAGE
News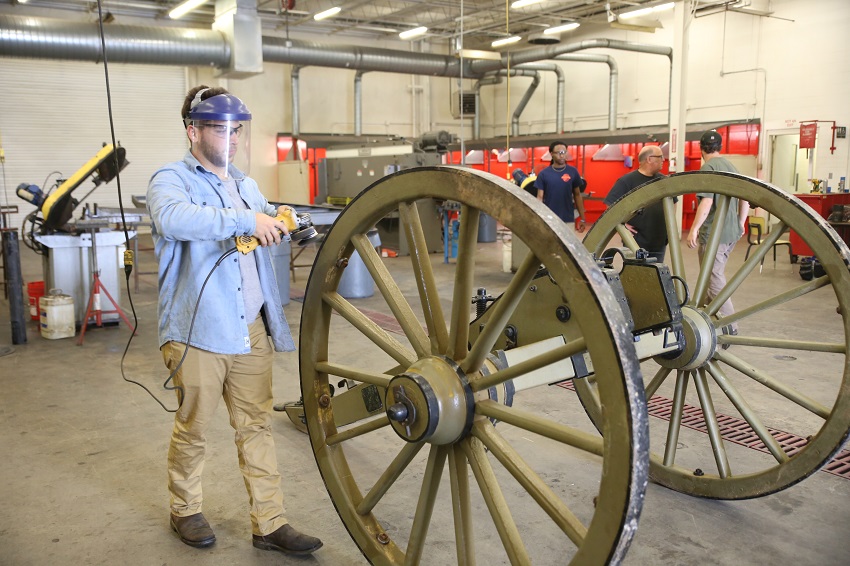 February 10, 2020
Last fall, Welding Technology students on East Mississippi Community College's Golden Triangle campus helped restore a reproduction cannon carriage likely built in 1901 that is on display at Mississippi State University's Ulysses S. Grant Presidential Library.
The cannon carriage was donated to MSU by the U.S. National Park Service and was picked up at Shiloh National Military Park, where it is believed to have been on display for more than 100 years.
After the donation, officials at MSU approached instructors with EMCC's Welding Technology program and asked if their students would be interested in helping with repairs needed to restore the cannon carriage to its original condition.
"This served as not only a welding exercise for our students but also as a history lesson," EMCC Welding Technology instructor Gary Gammill said. "Cannon carriages like this are something you just don't get to work on. They are usually in museums or at national parks where professionals work on them. It is an honor that they thought enough of our welding program to allow us to work on it."
The cannon carriage is being used to display a 173-year-old, 6-pound cannon commissioned in 1846 that was likely used in the Mexican-American War and the American Civil War. The cannon, which was loaned to MSU by the Mississippi Department of Archives and History in Jackson, greets visitors to the Ulysses S. Grant Presidential Library at MSU.
Duffy Neubauer, owner and curator of The Starkville Civil War Arsenal, is a Civil War artillery expert who retired from Mississippi State University after having worked 36 years in operations for Humphrey Coliseum. Neubauer picked up the cannon carriage from Shiloh National Military Park and painted it once EMCC students completed the repairs.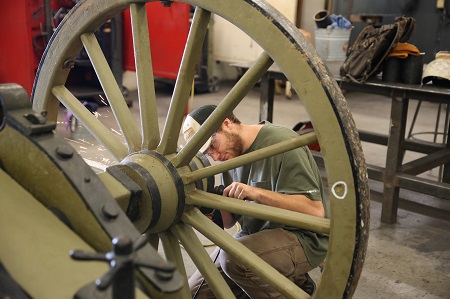 In the late 1800s, Congress established the first military parks in the U.S. and eventually created 25 battle sites preserved for their national importance. Many of the original cannons and horse-drawn, wooden cannon carriages used during the battles were displayed at the parks and battlefields.
The wooden cannon carriages were rotting away, however, and in the late 1800s and early 1900s, the War Department began replacing the wooden cannon carriages with reproductions, most of which were made from cast iron. In 1993, the parks were transferred to the National Park Service.
Neubauer said the cannon carriage EMCC students worked on was likely cast at a foundry in Chattanooga, Tenn., in 1901.
"The carriage is actually in great shape considering that it is 119 years old," Neubauer said.
EMCC students welded a spot on one wagon wheel where water had penetrated a joint, replaced square nuts on the wheels and fabricated a missing thumb screw before buffing the whole carriage down to ready it for paint.
Welding student Douglas Glenn of Columbus was excited about working on the project.
"I have never seen anything like this outside of a museum," Glenn said. "It is really neat to work on because you are preserving a piece of history. This is something I will never get the opportunity to work on again."