JOIN THE CONVERSATION: WEARABLE TECHNOLOGY AND THE FUTURE OF SMART PPE
News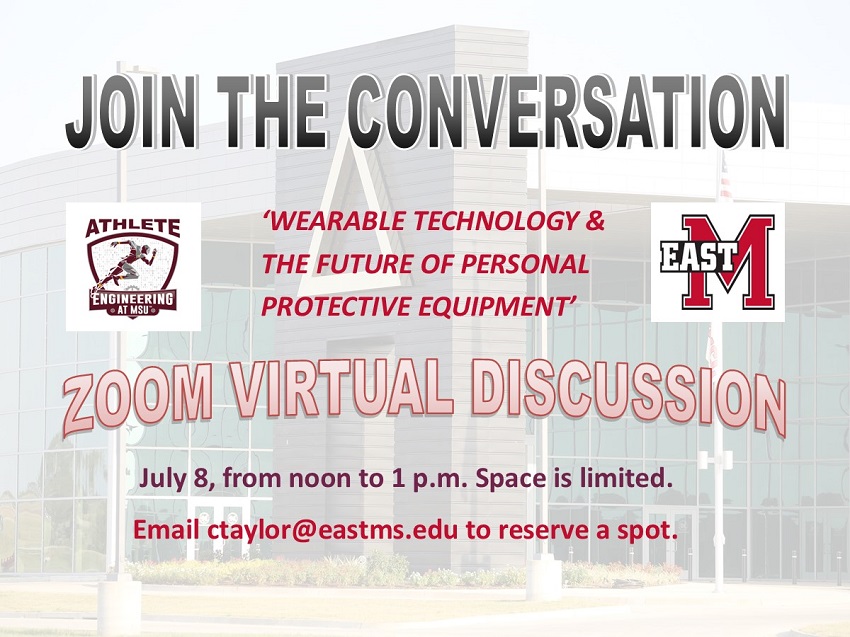 July 1, 2020
Athlete Engineering at Mississippi State University and The Communiversity at East Mississippi Community College are hosting an online Zoom discussion to examine how wearable technology widely used in sports can benefit industry.
The public is invited to join the virtual discussion, which will take place Wednesday, July 8, from noon to 1 p.m. Space is limited. To register, email The Communiversity Executive Director Dr. Courtney Taylor at ctaylor@eastms.edu.
Wearable technology use for sports athletes has increased over the past decade and can measure heart rate and core body temperature, as well as track movements, jump heights and speed, to name just a few things. Nearly every NCAA Division 1 university and professional sports team employs this technology.
Wearables assist in tracking player performance and movement while also aiding in critical health and safety decisions. Given the ongoing novel coronavirus pandemic and increasing concerns over manufacturing and collaborative worker safety, as well as mitigating the spread of communicable diseases in these environments, now is the time to discuss how the use of wearables for sports athletes applies to the manufacturing workforce and the industrial athlete, event organizers said.
"Implementing wearables in any environment is challenging, however, the manufacturing community may benefit from lessons learned by athletic teams," according to a statement released by Athlete Engineering at MSU.
The purpose of this discussion is to share insights from the implementation of wearables in sports athletes in the NFL and MSU Athletics to assist other industries, such as manufacturing, in understanding potential adoption strategies.
Sports wearable manufacturers for the NFL and NBA have repurposed their products to allow wearable technology to be used in manufacturing settings for proximity detection and contact tracing. Personal Protective Equipment (PPE) is currently used to protect the wearer, but in the near future, PPE may also be used to assist in the protecting those around the wearer as well.
Combining wearables and PPE may lead to "Smart PPE," a solution that provides immediate protection while providing long-term mitigation of in-facility infection by monitoring employee health and safety, event organizers said.
In an effort to connect interested organizations, Athlete Engineering at MSU and The Communiversity at EMCC are interested in furthering the dialog surrounding this technology, its potential applications and its impact on workforce safety. Additionally, wearable companies such as Kinexon, Zebra, and Strive have partnered with MSU's Athlete Engineering to expand the availability of this technology to interested organizations, according to event organizers.