EMCC STUDENT AWARDED TVA STEM SCHOLARSHIP
News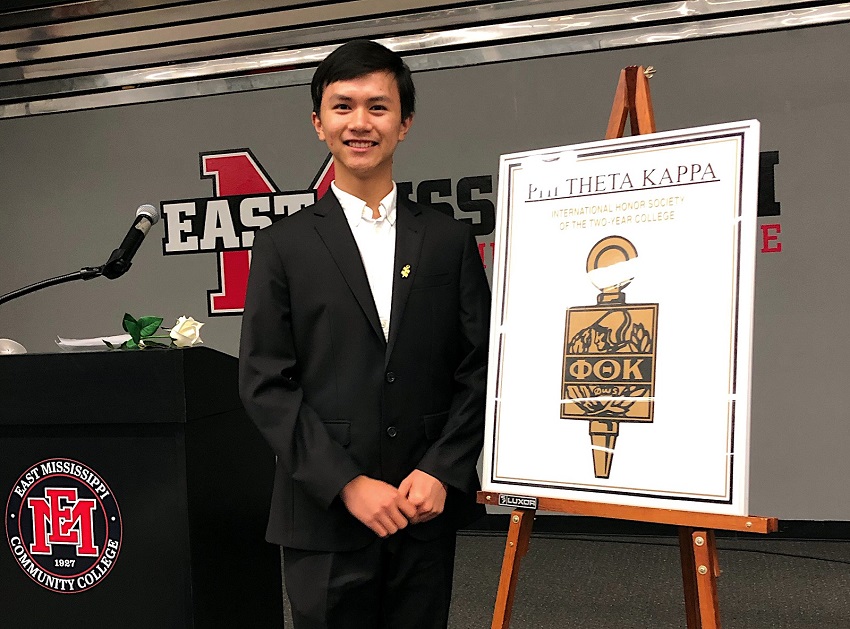 March 24, 2020
East Mississippi Community College sophomore Quyen "Peter" Tran is one of two students awarded a Tennessee Valley Authority (TVA) STEM scholarship.
Tran will receive $2,250 for the scholarship offered in conjunction with Phi Theta Kappa (PTK) Honor Society. The scholarship is awarded to PTK members in Mississippi who plan to enter a field in science, technology, engineering or math.
The students were selected based on academic achievement, leadership, faculty assessments and campus and community service, according to a PTK press release. TVA will also provide mentorship opportunities for the scholars. The scholarships will be presented at a luncheon honoring the All-Mississippi Academic Team.
Tran, a Vietnam native who moved to the U.S. to study, resides in Starkville and is enrolled at EMCC's Golden Triangle campus. After he graduates from EMCC in May, Tran plans to attend Mississippi State University to earn a Master of Science degree in Chemical Engineering.
"Chemical engineering touches on all aspects of the modern human life – energy, water, recyclables, food and clothes," Tran said. "Basically everything around you is either developed or advanced by chemical engineers."
EMCC biology instructor and PTK advisor Eric Ford described Tran as "absolutely one of the best students the Golden Triangle campus has to offer."
"One day, he is going to make a substantial positive impact on the world we live in," Ford said. "He is an absolute pleasure to work with and I could not be more proud for him."
Tran is an officer with the Beta Iota Zeta chapter of PTK on EMCC's Golden Triangle campus, where he also serves as a chemistry lab assistant and a science tutor.
After he graduates from MSU, Tran wants to work in the U.S. for a few years to garner experience and earn a Professional Engineer, or PE, license. According to the National Society of Professional Engineers, requirements for obtaining a PE license include working for four years under a Professional Engineer and passing two intensive exams.
His goal is to obtain the professional expertise needed to address some of the issues faced by Vietnam, where rapid industrialization over the past three decades has transformed the country into one of world's fastest growing economies, according to a 2019 report by Moody's Analytics.
According to The World Bank, industrialization is causing pollution challenges for Vietnam, as well as an increase in water use while water production remains low.
Among other things, Tran is interested in working in his home country to optimize water use in industrial environments.
"Many of the industries are using 30-year-old systems that waste resources like water and raw materials," Tran said. "They also release toxins into the environment. There is a lot of opportunity to improve those systems."
Tran said he chose to attend EMCC as a means to reduce tuition costs for the first two years of his higher education.
"Classes at EMCC are also a lot smaller and I can get in touch with my professors easier than I would be able to at a university," Tran said.
When he isn't studying, Tran enjoys playing tennis, ping pong and board games with his friends.
"I love the U.S.," he said. "Mississippians are so hospitable and friendly."