EMCC STUDENT SCORES INTERNSHIP WITH KANSAS CITY CHIEFS
News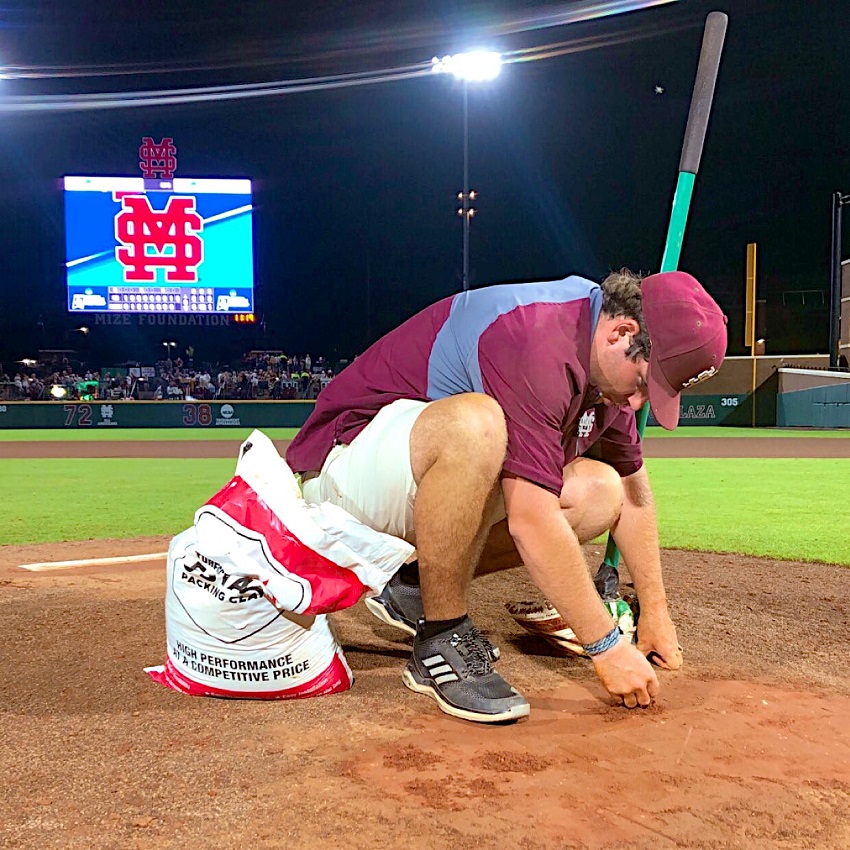 May 27, 2020
East Mississippi Community College Golf and Recreational Turf Management student Payton Smith landed a paid summer internship working at the training camp for the Kansas City Chiefs, the reigning Super Bowl champions.
Smith is helping care for the football field at Missouri Western State University where the Chiefs have conducted summer training camps since 2010. He arrived at the training camp in St. Joseph, Missouri on May 9 and will work there through the middle of August.
If speculation that NFL summer training camps will take place beginning in July hold true, Smith will be staying in dorms at Missouri Western State University alongside players for the Chiefs, who defeated the San Francisco 49ers 31-20 during Super Bowl LIV on Feb. 2.
Smith, who resides in Starkville, is a native of Houston, Mississippi, where he attended Houston High School along with Chiefs defensive tackle Christopher Deshun "Chris" Jones, who played for Mississippi State University before he was picked up by the Chiefs in the second round of the 2016 NFL draft.
"I was in fifth grade during his senior year and I remember watching him play on Friday nights," Smith said of Jones. "Now he is playing for the Chiefs and I am up here working for his team."
Smith's job so far has consisted of prepping the field, which involves using various types of mowers to cut the grass so low that the field appears as if it consists mainly of dirt. When it grows back in a couple of weeks, the grass will be greener and thicker than normal, Smith said.
He is also replacing sprinkler heads as needed and the process to aerate the turf will soon begin. The grass will then be compacted with a ride-on roller and sprayed with a growth regulator.
"Once the field it is ready, the grass will be real thick and tight," Smith said. "It's crazy. It will feel like you are walking on a pillow."
Smith, who will graduate from EMCC with an associate's degree in December, is an avid sports fan. He initially thought about obtaining an education that would allow him to pursue a career as a coach.
He spent much of his youth on his grandfather's farm though and really enjoyed being outdoors. He finally chose EMCC's Golf and Recreational Turf Management program.
"I like working on sports turf and I like being around the game," Smith said. "This allows me to do both. I can see myself doing that as a career."
In fact, Smith has worked the last two years for the ground crew at Mississippi State University, where he alternates between working on the baseball field and the football field, depending upon the season. It was Smith's boss at MSU that tipped him off about the internship with the Kansas City Chiefs.
Smith already had a summer internship lined up to work at Fenway Park for the Boston Red Sox, a Major League Baseball franchise, when his boss at MSU told him about the opportunity with the Chiefs.
"My boss told me, 'I know you are going to Boston but there is a really good opportunity with the Chiefs if you want it, but I need to know by tomorrow,'" Smith said. "I thought about it all night and told him, 'You know what? I am going to take it. I am going to go to Kansas City.'"
Smith isn't the only EMCC student to intern for a professional ball club. One former student interned for both the Florida Marlins, now the Miami Marlins, and the St. Louis Cardinals, said Danny Smith, an instructor with EMCC's Golf and Recreational Turf Management program.
"Our students are in demand all across the country," Danny Smith said.
Students in the both the Golf and Recreational Turf Management and the Landscape Management programs often find internships, and work after they graduate, at golf courses, athletics facilities or municipal parks as turf specialists, assistant golf superintendents, greens keepers, maintenance workers or irrigation specialists, Danny Smith said.
For the third year in a row, an EMCC Turf Management student is working a paid internship at a golf course in Big Sky, Montana, where a former graduate of the program is now employed fulltime.
Another student is serving an internship at Willow Point Golf & Country Club in Alexander City, Alabama.
As for Payton Smith, he said he is enjoying his internship. The Chiefs' training camp is located about an hour north of Kansas City and he is looking forward to spending a weekend there when the opportunity arises.
Most of all, he is eager for the start of training camp.
"I am excited about that," Payton Smith said. "There will be a lot of action around here then."
For information about the Golf and Recreational Turf Management or Landscape Management programs email instructors Danny Smith at dsmith@eastms.edu or Will Arnett at warnett@eastms.edu.