MORE THAN 130 EMCC STUDENTS QUALIFIED TO GRADUATE OVER SUMMER
News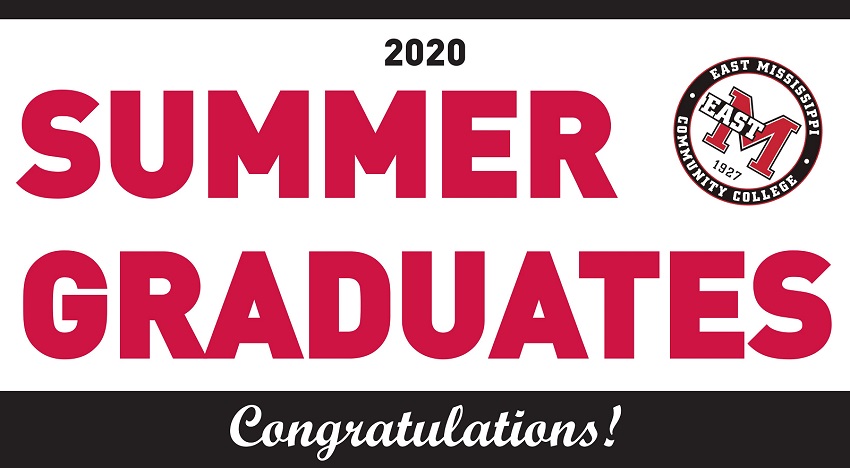 August 19, 2020
A total of 139 East Mississippi Community College academic and career-technical students completed their coursework over the summer and qualified to graduate.
Some students completed one-year certificates, while others earned associate degrees in courses offered through EMCC's Scooba, Golden Triangle, Columbus Air Force Base, Macon, Lion Hills, West Point Center, The Communiversity and online/eLearning campuses.
East Mississippi Community College conducts graduation ceremonies in May and December and the students are eligible to participate in the December graduation.
In March, EMCC transitioned from in-class instruction to online and virtual instruction mid-term as a result of the novel coronavirus. While most of the summer classes were offered virtually or online, some students who needed to complete lab work on campus were allowed to do so following Centers for Disease Control and Prevention safety guidelines.
"I am proud of these students," EMCC President Dr. Scott Alsobrooks said. "They overcame unanticipated challenges that arose because of the novel coronavirus, stayed the course and finished their studies. That takes character and determination."
Here is the list of students who qualified to graduate broken down by the counties and cities in which they reside:
MISSISSIPPI
ADAMS COUNTY
Natchez: Juliana Galbreath
BOLIVAR COUNTY
CHICKASAW COUNTY
Houston: Jordyn Moore, Raymond Parker, Brylee Poteete
Okolona: Kiara Foster, Duwanda Singleton
CHOCTAW COUNTY
CLAY COUNTY
Cedar Bluff: Shatondra Johnson, Hope Smith, Edward Bush
Pheba: Shumata Evans
West Point: Taylor Allen, Destiny Jefferson-White, Brittney Johnstone, Destiny Matthews, Deaisha Strong, Deoshia Strong, Mary Sullivan, Christopher Wallace
DESOTO COUNTY
Southaven: Tyeniesha Metcalf
KEMPER COUNTY
LAFAYETTE COUNTY
LAUDERDALE COUNTY
Lauderdale: Jemiah Cole, Dalexis Williams
Meridian: Robert Thomas
LEAKE COUNTY
Carthage: William Watkins
Lena: William Langford
LOWNDES COUNTY
Caledonia: Caitlyn Bell, Kaylee Bowen, Robert Hamilton, Jessica Sliger
Columbus: Kalyn Abrams, Tedarrious Barr, Sydney Bishop, Bryce Braddock, Jayla Calmes, Gregory Caston, Joseph Clark, Stacy Clayton, Stephen Cornwall, Sh'kaitlin Dickerson, Carolyn Dixon, Lamontrail Dupree, Taylor Ellis, Austin Faris, Christin Ferguson, Hannah Follins, Carmen Giles, Jasamine Harris, Preston Kinard, Lakiya Lash, Emilee Latham, Takiara Malone, Macy McGairty, Hunter McMurphey, Jada Moore, Yulquayla Mosley, Parker Pitts, Kiara Sanders, Makayla Sledge, Cody Smith, Jayvious Sparks, Monique Spohn, Timothy Sikes, Hannah Thomas, Elizabeth White, Farron Whitt, Demaricies Williams, Nathaniel Williams
Crawford: Roquavin Harris, Ty'kerria Taylor
Steins: Melissa Reeves
MADISON COUNTY
MONROE COUNTY
Aberdeen: Steve Collins, Courtney Davis
Greenwood Springs: Micah Gill
Hamilton: Jordyn Jackson, Bailey Lawrence
Prairie: Roger Randle
MONTGOMERY COUNTY
NESHOBA COUNTY
NOXUBEE COUNTY
Brooksville: Shakaiya Campbell, Kaylyn Liddell, Jadan Tate
Macon: Demarcus Henley, Justice Lee, Tyler Sanders, Shmeka Verdell, Dyamond Wells
OKTIBBEHA COUNTY
Starkville: Kaisha Baker, Jada Bean, Jerlisa Bell, Travis Clanton, Katherine Davis, Cassie Elmore, Brianna Evans, Carly Evans, George Jones, Chantel Makamson, Lindsey Malone, Kinsey Profice, Anna Rooke, Andrew Schwartz, Hanna Scott, Davontae Smith, Fredijha Smith, Chi'tia Spencer, Litasha Tate, Ayasha Welch, Samuel Whittington, Trakala Williams, Derica Wilson, Mallorie Wilson
PONTOTOC COUNTY
RANKIN COUNTY
Brandon: Reid Blakely, Summer Blanton, Brooklyn Turnage
SMITH COUNTY
Taylorsville: Morgan Parker
UNION COUNTY
WARREN COUNTY
WEBSTER COUNTY
Bellefontaine: Sydney Simmons
Eupora: Michelle Mason
Maben: Atoya Banks, Mikeria Clark, Byron Guyton
Mathiston: Dennisia Batts
Mantee: Madison Davis
Walthall: Carolyn Henderson
WINSTON COUNTY
Louisville: Layla Cockrell, Michael Frazier, Porcha Jones, Dalton Mayo
YAZOO COUNTY
Yazoo City: Hayden Middleton
OUT OF STATE
Carrollton, AL: Kristen Lowe
Cuba, AL: Markeous McGraw
Montgomery, AL: Kevontae Ruggs
Reform, AL: Breanna Fulgham
Westwego, LA: Renee Sanders