EMCC HIRES SCHOOL NURSE TO COORDINATE COVID-19 RESPONSE
News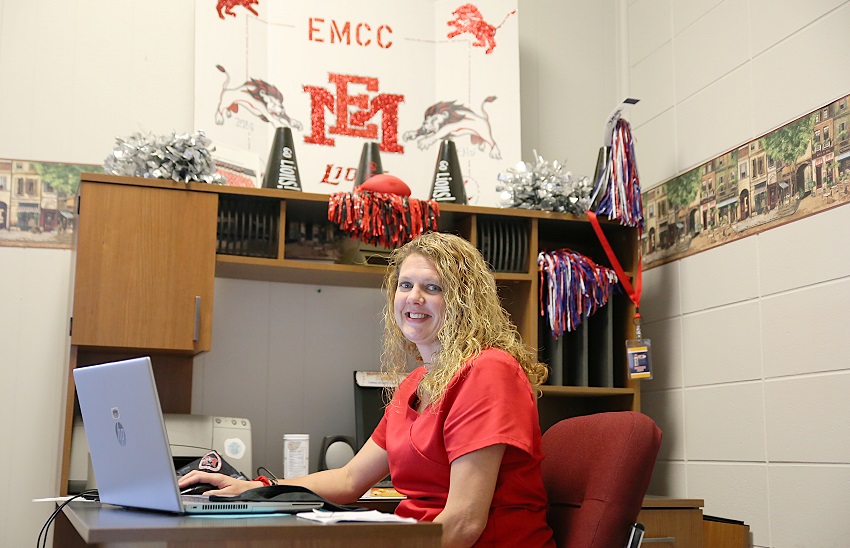 August 28, 2020
East Mississippi Community College has hired Meridian resident Amy Ivy to serve as the college's school nurse and to oversee infection control procedures to minimize the potential spread of the COVID-19 virus.
Ivy was hired with federal Coronavirus Aid, Relief, and Economic Security (CARES Act) funds. Her first day on the job was Aug. 25.
Ivy will work out of an office on EMCC's residential campus in Scooba. She is a Kemper County native who resided in the community of Preston until her 9th grade year in high school when she moved to Meridian.
"I am absolutely passionate about nursing and am excited about working with the students at EMCC," Ivy said. "I went to school with many of their parents or know their parents or other family members."
Among other things, Ivy will coordinate efforts to quarantine students who exhibit COVID-19 symptoms and ensure they are tested for the coronavirus.
She will be working with Dr. Cameron Huxford, a Starkville-based pulmonologist who, in conjunction with OCH Regional Medical Center, is providing onsite COVID-19 testing to students. Huxford and OCH have tested students on the Scooba and Golden Triangle campuses at no charge and plans are in the works for future tests.
EMCC is paying the cost to have the tests processed at independent labs with CARES Act funds.
"Dr. Huxford has graciously offered to work directly with Amy to allow us to perform on-site COVID-19 tests and submit them for processing through his clinic as the need arrives," EMCC President Dr. Scott Alsobrooks said. "This wonderful partnership with Dr. Huxford's clinic will allow us to test any students who are symptomatic, those who have had close contact exposure and those who are participating in activities such as athletics and band that are deemed higher risk by the CDC."
Although classes at EMCC classes began Monday, Aug. 17, the decision was made to conduct most classes virtually at first given rising COVID-19 cases in the state.
Some classes requiring hands-on instruction are meeting on campus and students, faculty and staff are being asked to follow recommended Centers for Disease Control and Prevention guidelines, such as wearing face masks, maintaining a minimum distance of six feet from others, washing hands frequently and self-monitoring for COVID-19 symptoms. Other measures, such as the installation of hand sanitizer stations and plexiglass shields in high-traffic areas, have been implemented.
Ivy resides in Meridian with her two daughters, Payton, 7, and Laykin, 3. She graduated from Meridian Community College's Surgical Technology and Associate Degree Nursing programs.
"If a student has a medical need that isn't related to COVID-19 or just needs to talk, I will be available," Ivy said. "I went into nursing because I wanted to give back and I am really excited about being able to help these students."
Ivy's office is located in room No. 28 in the Hawkins Building. She can be reached by phone at 662.476.5103 or by email at aivy@eastms.edu. Students who are feeling ill, are running a fever or exhibiting other possible COVID-19 symptoms are asked to stay home and inform their instructors and the dean on their respective campuses. Students can contact Ivy to inquire about testing if it is warranted.