EMCC DONATING SAFETY MASK COMFORT STRAPS TO AREA INDUSTRIES
News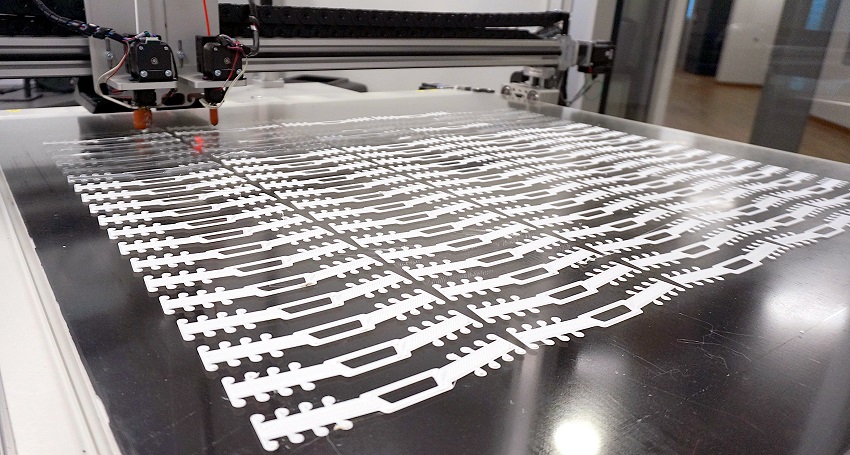 May 7, 2020
East Mississippi Community College is using a 3D printer to mass produce straps designed to make it more comfortable to wear surgical masks for long periods of time. The comfort straps will be donated to local industries for use by their employees.
The Engineering, Drafting & Design program at East Mississippi Community College's Communiversity has produced several hundred of the comfort straps so far, with the first 600 earmarked for use by production team employees at PACCAR's plant in Mayhew.
"This is something we can do to help out our local industry partners as their employees return to work," said Dr. Courtney Taylor, the executive director of the Communiversity who also oversees the college's Workforce and Community Services Division. "We wanted to do something to support our community during the pandemic and this was one way in which we could do that."
Officials at PACCAR collaborated with EMCC on the comfort straps for the company's employees.
"These 3D-printed straps are a big hit with our associates," PACCAR Communication and Training Manager Mike Arzamendi said. "One of them recently told us, 'No one enjoys wearing these masks, but these ear savers are a big help.' We appreciate EMCC providing us with these straps."
Elastic bands on facemasks can cause blisters or abrasions on the ears after prolonged use. The elastic bands on the masks are attached to the comfort straps, which cradle the back of the wearer's head and eliminate the need to hook the elastic bands over the ears.
The initial goal is to produce 1,000 of the comfort straps.
"I am reaching out to our other industry partners now and we will continue to make them as long as there is a need," Taylor said. "We will make some for in-house use as well once our faculty and staff begin to transition back to in-class instruction."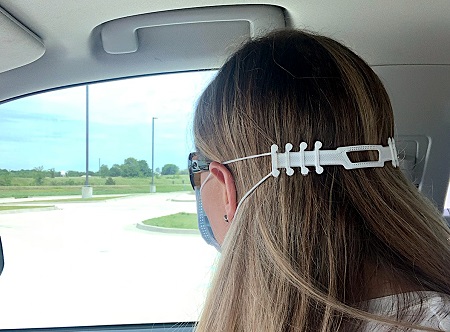 EMCC Engineering Technology, Drafting & Design instructor Ray Hollis said he is able to make 100 of the comfort straps at a time during a single run on the 300 Series Workbench Pro 3D printer he uses in his class to teach students about design and tolerances and provide them real-world experience in the field of additive manufacturing, or 3D printing.
It takes about 10 hours to complete a run of 100 comfort straps on the machine, which creates three dimensional objects by adding layer after layer of heated material on top of each other from the bottom up.
The printer finishes the job at night and when Hollis comes in the next morning he starts another run.
"I am going to try a run of 30 or 40 during the day and start another run before I leave to increase the number I can make in a day," Hollis said. "That is what I am playing with now is to see how I can set up my production runs to optimize the time I am here."
The 300 series printer uses a wide variety of filaments, such as plastic, wood fiber, thermoplastic elastomers and carbon fiber to create 3D objects. It takes less than 1 pound of material to produce 100 of the comfort straps, which are made from PLA, a thermoplastic polyester, Hollis said.
Materials for the project were donated to EMCC, which was able to produce the comfort straps at no cost.
PACCAR, which has its own 3D printer, is also making the comfort straps.
"They have a large number of employees and this was a way we could help them fill their needs," Hollis said.
EMCC did not come up with the design for the comfort straps. Someone else made the design available for public use as a way to help others during the pandemic. EMCC and PACCAR worked to together to tweak the design, rounding off corners and reducing the thickness of the final product.
EMCC President Dr. Scott Alsobrooks said donating the comfort straps to area industries is a way EMCC can fulfill its mission of supporting communities within the college's district.
"Mississippians help each other out during difficult times," Alsobrooks said. "That is one of the many things that make this place we all call home special. As members of this community, we want to do our part and are pleased this opportunity arose to help the residents and industry partners we serve."