INSTRUCTORS ADAPT TEACHING METHODS FOR ONLINE CLASSES
News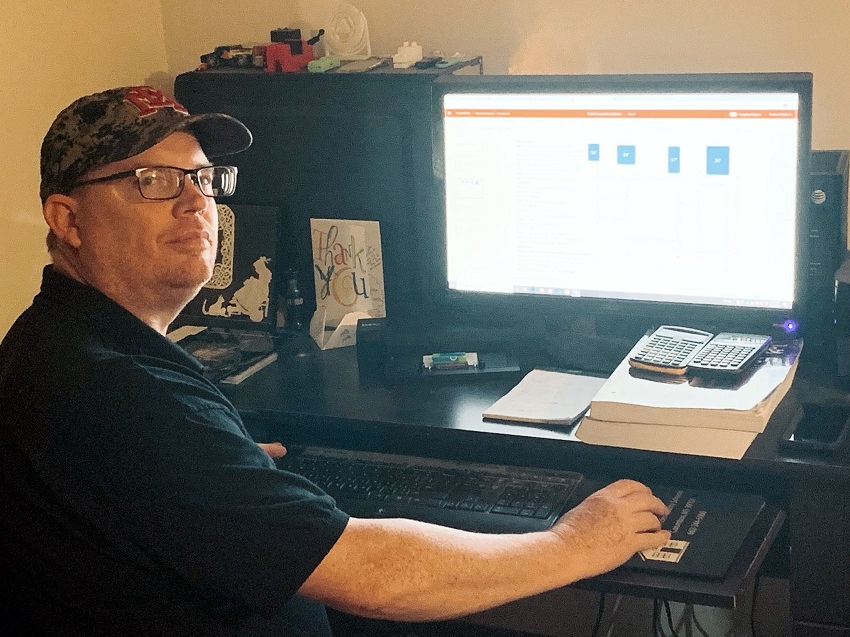 April 2, 2020
Like other colleges and universities in the state, East Mississippi Community College, under guidance of the Southern Association of Colleges and Schools Commission on Colleges and the Mississippi Community College Board, transitioned campus classes to online on March 23 to comply with social distancing guidelines necessitated by the coronavirus.
Prior to spring break only 22 percent of students at EMCC were fully enrolled in online courses. That number has now swelled to nearly 100 percent, EMCC President Dr. Scott Alsobrooks said.
"Shifting to an online format was a tremendous undertaking that was accomplished because of the tireless dedication of our faculty and staff," Alsobrooks said. "This is a testament to the commitment of our faculty, as well as the flexibility of our students. I am also very proud of the additional services we have been able to offer our students during this challenging situation."
Among other things, EMCC has loaned laptop computers to students who do not have one and designated parking areas at the Lion Hills Center and on the Golden Triangle and Scooba campuses where students can park and access the internet over the college's wifi.
Students and teachers communicate through Canvas, an online learning management system that allows instructors to post class assignments, lessons and discussion boards that can be accessed by students.
Many instructors are using Zoom, an online video conferencing platform, to conduct class. Zoom sessions can be recorded and posted to Canvas for those students who were unable to take part. Other instructors are videotaping lectures and posting them on Canvas.
"Our instructors are coming up with creative ways to ensure that our students succeed and are getting the instruction they need," EMCC Interim Vice President of Instruction Dr. James Rush said. "They have worked extremely hard to make the transition to online instruction successful."
Jairus Johnson, the division chair for mathematics and science on the Scooba campus, has been using virtual labs for his microbiology course.
One virtual lab, for example covers gram staining, a medical test that can differentiate between gram positive or gram negative bacteria. Through the virtual lab, students can work through the techniques they learned until they achieve the desired results.
"It is kind of like a flight simulator where you are not actually flying a plane but you learn the things you need to successfully fly the plane," said Johnson, who is also teaching Principles of Biology I and II online.
Johnson said while his students in microbiology say they would prefer their labs and instruction took place in person, all of his students are doing well since the transition to online instruction.
"They are completing their assignments and we have been corresponding through emails," he said. "They have been pretty successful."
Trina Dendy, a Business Office Technology instructor on EMCC's Golden Triangle campus, said most of her students were accustomed to taking online classes. She is spending more time now communicating with students since she is no longer "right there showing them how to do it."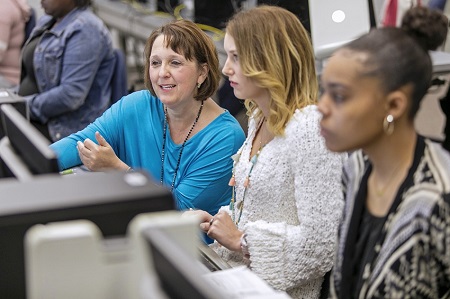 "That is where you can use Zoom to explain how to do something," Dendy said.
She also posts instructional videos to YouTube and shares the links with her students.
Carlton Hollis, who teaches Engineering Technology Drafting & Design at EMCC's Communiversity, said he has had to change the way he teaches his classes given that some of his students' computers are not compatible with the software he uses in class.
Among other things, he is creating in-depth PowerPoint presentations with a voiceover that provides step-by-step instructions for students.
"They can watch and do everything in my program now over a smart phone, a tablet or a computer," Hollis said.
He is also giving students multiple options to complete assignments. For example, students who don't have access to design software can hand-draw a schematic sketch, take a picture of it with a cellphone and submit it.
"I have gotten a lot of positive feedback from my students," Hollis said. "They said the PowerPoints really make the assignments easy to understand. That is something I am going to incorporate into my teaching from now on."
Macy McGairty is enrolled in EMCC's Paramedic program on the Golden Triangle campus.
"I think the college is doing a good job communicating with everybody and my teacher and I keep in touch through Zoom," McGairty said.
Online instruction will continue until the Centers for Disease Control and Prevention, the Mississippi State Department of Health and government officials indicate students can return to class.