NURSING STUDENTS VISIT CHOCTAW COUNTY HIGH SCHOOL
News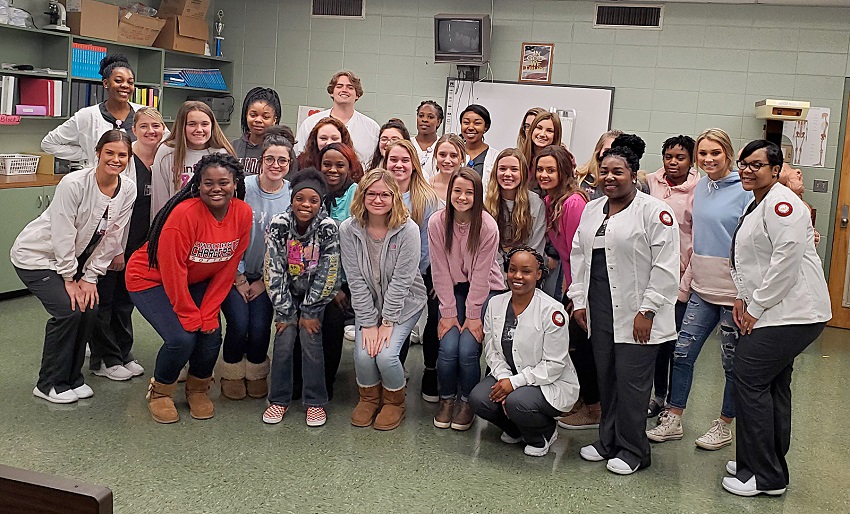 January 29, 2020
Sophomores in EMCC's Associate Degree Nursing visited with Allied Health students at Choctaw County High School Monday, Jan. 27. The nursing students answered questions about admission procedure and graduation requirements. They also gave a "day-in-the-life" presentation, in which they spoke about what is required of nursing students.
The students were accompanied by EMCC Associate Degree Nursing instructor Dr. Karen Taylor.
"Our students have benefited so much from this visit from Dr. Karen Taylor and the EMCC nursing program students," Choctaw County High School Allied Health Instructor Shirlianne Stirewalt said. "There is nothing better for our secondary students to hear real world insight from student mentors who are knee-deep in the course. The nursing students stressed the importance of study skills and dedication to the learning process and profession. It was such a great day."
Taylor said interaction with the community is a vital part of recruitment not only for the college, but for the nursing profession.
"EMCC's Division of Nursing and Allied Health is always seeking opportunities to engage with the community," Taylor said. "Speaking to small groups of students and taking time to answer their questions about the nursing profession is rewarding for our students. We are able to highlight the excellence of our programs and encourage our local students to consider EMCC for their educational goals."