EMCC ALUMNA SITS ON NATIONAL PANEL HOSTED BY STUDENT ADVOCACY COALITION
News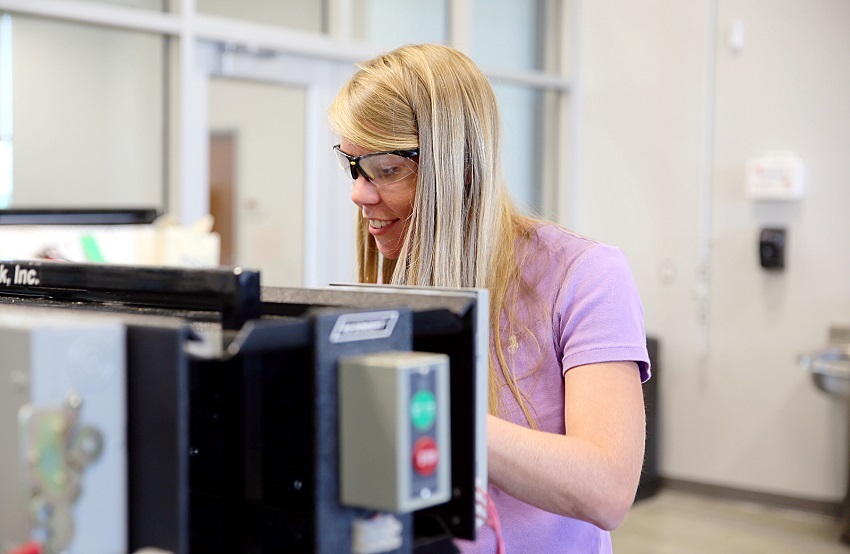 July 22, 2020
Recent East Mississippi Community College graduate Camille Cooper was one of five students nationwide who participated in a webinar titled "Today's Students Speak Up: The Student Perspective on College This Fall."
National Public Radio (NPR) education reporter Elissa Nadwordny moderated the July 20 webinar hosted by Today's Students Coalition, which is comprised of policy, advocacy and membership organizations who joined forces to push for policy changes that will better serve today's students, according to the organization's website.
Among other things, topics of discussion during the webinar included a nationwide higher-education shift from in-class instruction to online courses during the spring term as a result of the novel coronavirus and possible impacts the pandemic will have on the upcoming fall term.
Nadwordny said the purpose of the webinar was to gain insight from students "on this kind of crazy, historical moment higher ed is living through right now."
"Colleges are announcing changes," Nadwordny said. "Things are moving for students. They are trying to figure out their lives and how to do classes at the same time."
Cooper, 28, who graduated in May with an Associate of Applied Science degree in Electro Mechanical Technology from The Communiversity at EMCC, was the only student on the panel who sought a two-year degree in a career technical field. The other four students are enrolled at four-year universities and are working on their bachelor's or graduate degrees.
Cooper said during the webinar she had no electrical or mechanical background when she enrolled in the program at The Communversity. Cooper, a single mother of a young daughter, knew she wanted to enroll in a program of study she could complete fairly quickly so she could land a job with benefits that would pay well enough to support her family of two.
Given the industrial base in the Golden Triangle and the demand for skilled workers, Cooper said she knew she would not have a problem finding work if she completed one of the technical programs at The Communiversity, a 145,638-square-foot facility dedicated to training students for careers in advanced manufacturing.
After graduation, Cooper was hired to work in the electrical department at Columbus Light & Water.
"One of my goals has always been to lead by example and let other females know, 'Hey you can go back to school and do this,'" Cooper said. "'You can make a good living for your family.'"
One of the questions posed to the panel of students was how they handled the transition from in-class to online classes. Cooper said she was fortunate in that she was able to finish her hands-on lab work prior to the shift to remote learning.
"I never enjoyed sitting down and listening to a lecture," Cooper said. "It's not for me… I think it is so important you get that hands-on instruction."
EMCC will offer in-class instruction during the fall term that begins Aug. 17, as well as virtual classes for those who prefer remote learning.
Cat Huang, a rising senior at Cornell University in Ithaca, New York, was among the students who sat on the panel. She said studying at home was an adjustment.
"My sister was taking classes for her community college at the same time," Huang said. "We share a room so finding space in the house where we could both do classes at the same time and not get in each other's way was kind of difficult," Huang said.
Nadwordny asked the students what policy changes they would like to see enacted at the federal level to help students.
Huang, who is vice president of the student government association at Cornell, said students need more financial support.
"We have been hearing from a lot of students who cannot pay their rent and they signed up for a lease for the next year," Huang said. "It is really important to recognize that students, 40 percent of us, lost jobs across the country."
Patrick Miller, a U.S. Air Force veteran working on his master's degree in Public Administration at the University of Nebraska at Omaha, said he would like to see more support for graduate students who don't qualify for Pell Grants.
Marc Younker, a rising junior at Rutgers University — New Brunswick in New Jersey, said studying at home resulted in a lack of social interaction among students.
"A large part that keeps our mental health intact is access to our friends and access to other people to spend our time with," Younker said.