EMCC ADULT EDUCATION LAUNCH PAD EXPANDS REACH
News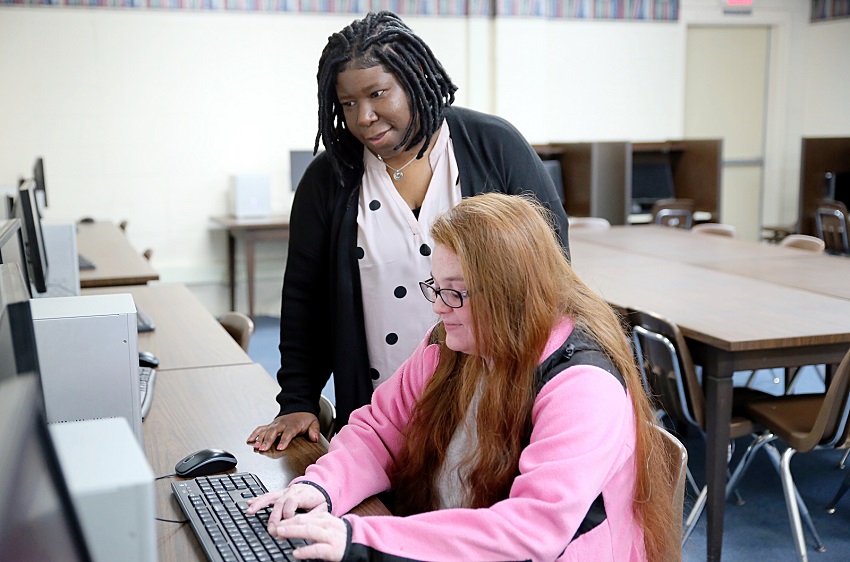 January 16, 2020
East Mississippi Community College's Adult Education Launch Pad East has been serving roughly 20 people a day since the facility on Military Road in Columbus opened last October.
"We are steadily enrolling new people and have received a good response from the community," lead instructor Tshurah Dismuke said.
The facility, located in the old Greater Columbus Learning Center building, is one of two EMCC Adult Education Launch Pad satellite locations that began offering services last year. The other is located in the J.L. King Center in Starkville.
"Being able to offer adult education classes out of this location is much more convenient for residents here and they are excited about that," Starkville Launch Pad instructor Angel Christian said.
Both locations provide free services that include high school equivalency diploma preparatory classes, the ACT test and WorkKeys, the National Career Readiness Certification that depicts an individual's skill level to perform on the job.
The Columbus location also provides the Armed Services Vocational Aptitude Battery, an assessment test needed to enter a branch of the U.S. military.
EMCC Adult Education Launch Pad also has locations on the college's Mayhew and Scooba campuses, as well as at the EMCC West Point/Clay County Center and at the EMCC Macon Center.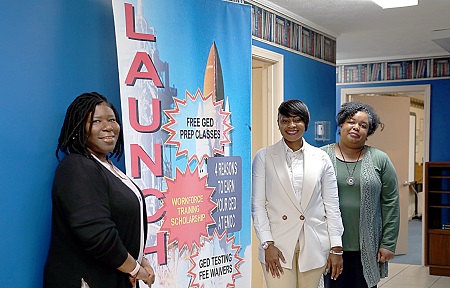 "Transportation can be an issue for some people and providing services in Columbus and Starkville helps remove that barrier for residents in those communities," EMCC Workforce Community Outreach Program Coordinator Sha'Carla Petty said.
Columbus resident Destiny Monroe is taking classes at Launch Pad East and said she appreciates the convenience of being able to take the classes close to her home. Monroe, who is 23, dropped out of high school in the second semester of her 10th-grade year at the age of 16.
"I have always wanted to go back and get my GED," Monroe said. "I feel like if I can finish that, I can put that behind me and move on to something else."
A staff of three at the Columbus facility includes Dismuke, instructor Miranda Wells and clerical support worker Edie Latham. The building boasts three classrooms and a computer lab, as well restrooms and student lockers.
The J.L. King Center has been offering adult education classes and community outreach for at least 25 years, Christian said. The level of service has improved since EMCC partnered with the center to offer services there, she said.
"Now we have the structure and resources we need," Christian said. "There are state requirements we are now able to meet and we have goals for our program and for our students."
Efforts are under way at both the Columbus and Starkville facilities to spread the word about the free services available to residents. Dismuke has been speaking with officials at the Columbus Housing Authority to get some residents there enrolled in classes.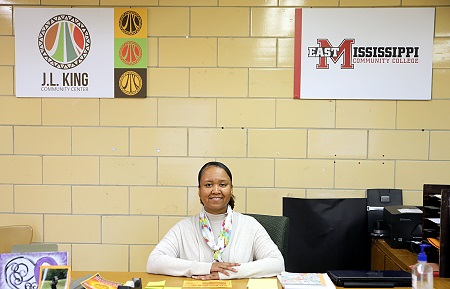 Christian plans on hosting an open house at the Starkville location sometime soon.
Princess Johnson has volunteered in various roles at the J.L. King Center off and on since 2000. Among other things, she helps tutor adult education students.
"I am really invested in these students," Johnson said. "I guess one of the reasons is that people have given up on so many of them. You would be amazed at how smart some of the people who come in here are. A lot of them just need encouragement."
Launch Pad East in Columbus is located at 612 Military Road and is open Monday through Friday from 8 a.m. to 4:30 p.m. For more information, call 662.370.1448 or email Dismuke at tdismuke@eastms.edu.
The Adult Education Launch Pad in Starkville provides services Monday through Thursday from 8 a.m. to 2 p.m. and is located at 700 N. Long St., at the entrance to the J.L. King Senior Memorial Park. For more information, call the Launch Pad's main office in Mayhew at 662.243.1985 or email Christian at achristian@eastms.edu.