EMCC'S WEST, CHANCELLOR CHOSEN AS HEADWAE RECIPIENTS
News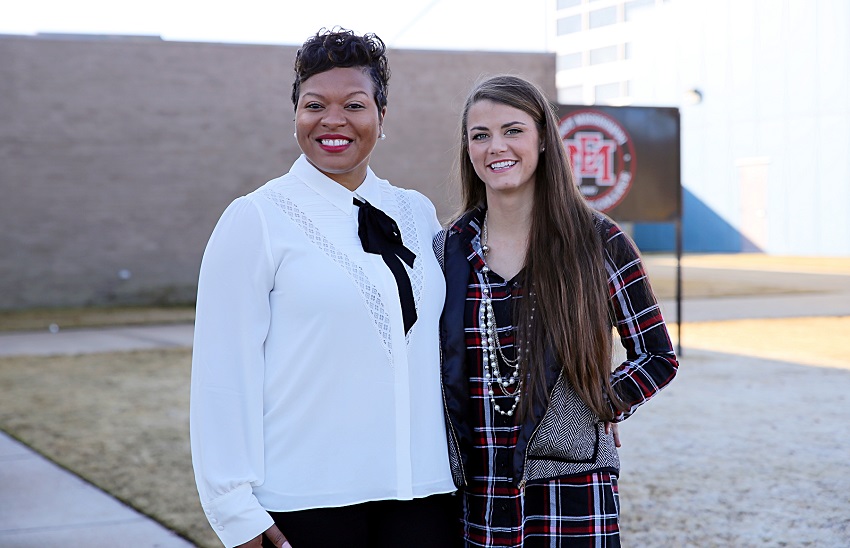 January 13, 2020
East Mississippi Community College Associate Degree Nursing instructor Eljenette West and student Amber Chancellor have been named the college's 2020 HEADWAE (Higher Education Appreciation Day, Working for Academic Excellence) award recipients.
West and Chancellor will be honored in February during the 33rd Annual HEADWAE luncheon in Jackson.
Each year, a student and instructor from each community college and university in the state are recognized for their outstanding work. Honorees are invited to tour the state capitol where they are welcomed by legislators and treated to a luncheon in which they are recognized and presented with awards.
West first began working at EMCC in March of 2017 in the Workforce and Community Services division as a Certified Nursing Assistant instructor. In August of that year, she accepted a position as a Practical Nursing instructor. She has taught Associate Degree Nursing since August of 2018.
"Eljenette is an outstanding instructor," EMCC Division of Nursing and Allied Health Director Dr. Tonsha Emerson said. "She is knowledgeable, dedicated and relates well to the students and faculty."
A native of North Augusta, S.C., West earned a Bachelor of Science in Nursing degree from Charleston Southern University in 2004 and later earned a Master of Science degree in Nursing Education at Samford University Birmingham, Ala.
She moved to Columbus in 2006.
Prior to teaching, West worked in various medical setting as, among other things, a critical care nurse, emergency room nurse, a staff development specialist and director of nursing for a long-term rehabilitation facility. She got her first brush with teaching while working as a nurse at Baptist Memorial Hospital-Golden Triangle in Columbus.
A nursing instructor at Bevill State Community College asked West if she would serve as a preceptor for nursing students at the college, which she agreed to do.
"I realized I could give the knowledge I had gained to these nursing students and I loved it," West said.
She still serves as a clinical adjunct instructor for Bevill State during summers and works once a month in the intensive care unit and emergency room at North Mississippi Medical Center.
West is married to Johnathan West, a funeral service practitioner who owns Carter's Funeral Services, which has locations in Columbus and Macon, as well as Serenity Funeral Home in Huntsville, Ala. The couple has a son, Jeston, 9, and a daughter, Jordyn, 8.
Eljenette West said getting into teaching was among the best decisions she ever made.
"I absolutely love being in the classroom," she said.
Chancellor is a December 2019 graduate of EMCC's Associate Degree Nursing program who is now working as a nurse in the Labor and Delivery unit for OCH Regional Medical Center in Starkville.
Chancellor is a Utah native who grew up in the area of Syracuse and Clearfield, which are located north of Salt Lake City, Utah.
She moved to Mississippi seven years ago and enrolled in EMCC's Associate Degree Nursing program in 2017. Chancellor knew she wanted to work in a maternity ward before she started taking classes.
"I kind of had a bad experience during the delivery of my first child," Chancellor said. "I wanted to give other people a better experience than I had. Plus, I love kids and want to help everyone else out."
She has registered at Mississippi University for Women where she plans to enter the Registered Nurse (RN) to Bachelor of Science in Nursing (BSN) program in the fall.
"I do plan on getting my master's degree, but I just don't know what I would do with it yet," Chancellor said. "I haven't worked in the field long enough to decide if I want to be a nurse practitioner, or if I want to teach. I just know I want to get to that level."
She resides in Brooksville with her husband, Trey Chancellor, who owns and operates a cattle farm, and three children: Breclynn, 12; J.W., 5; and Cody Lee, 2.
"I am thrilled that Amber was selected as the student HEADWAE award recipient," said West, who taught Chancellor. "She was a devoted student and will make an excellent nurse."