GTECHS REOPENS WITH VIRTUAL, IN-CLASS OPTIONS FOR STUDENTS
News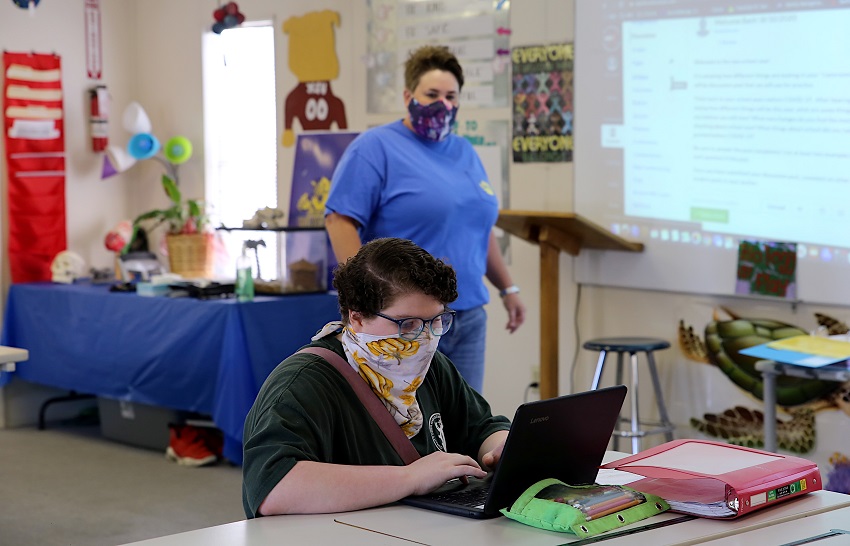 August 12, 2020
More than half of the students enrolled at the Golden Triangle Early College High School on East Mississippi Community College's Golden Triangle campus opted to take virtual online classes for the first semester of the school year that began Monday, Aug. 10.
The remaining 72 students, which represents 43 percent of the student population, are returning for in-class instruction, but classes this semester will look different than they have in the past given precautionary measures taken to mitigate the spread of the novel coronavirus.
GTECHS Principal Jill Savely said she is not surprised at the number of students who will be taking classes virtually this term.
"We have a lot of parents who are concerned about students being in large groups or coming back to school for face-to-face instruction," Savely said. "Some of our students attending school virtually would really rather be back in class if circumstances were different, but that is just not what their families feel is safest for them right now and we want to support that decision."
For those students who opted for in-class instruction, the school has implemented a hybrid A/B schedule in which roughly half the students will be on campus Mondays and Tuesdays, while the remaining half attends class Wednesdays and Thursdays.
Columbus resident Josh Helton is among the students who is taking classes on campus this semester.
"I am really excited about being back in class," Helton said. "I missed going to school and seeing all of my friends and teachers. When we were doing projects online from home it was just me. I like working with my classmates and having a little bit of input from everybody on what we are working on."
The students will complete assignments from home on the days they are not on campus, while synchronous classes taught in real-time will be offered to those students taking virtual classes online.
"Providing students support they need is going to be a big part of making the semester successful," Savely said. "For one thing, our teachers will have office hours Monday through Thursday of each week and by appointment on Fridays when they will meet with students virtually to answer any questions they may have and go over anything they did not understand in the lessons they are working on."
While on campus, students, faculty and staff will be required to wear face masks and practice social distancing guidelines.
"We will have one-way traffic as much as possible," Savely said. "For instance, they will come in one way and exit another, whether they are entering or exiting the building or moving from one classroom or another. We are trying to avoid areas where the students could be potentially bottlenecked."
Hand sanitizer stations have been set up inside classrooms and classes will be sanitized at least once, and sometimes twice, a period, Savely said. Students will be divided into small groups for lunch and will be spread out in the GTECHS dining area located inside EMCC's cafeteria.
Like most schools in the nation, GTECHS transitioned to online instruction in the spring in response to the novel coronavirus.
"That was hard," Savely said. "It wasn't like we knew we were going away for a long time and we had a chance to deal with that," Savely said.
Students enrolled at GTECHS also take courses at EMCC. Twenty-eight of the 44 students who graduated from GTECHS last May also received a one-year technical certificate or associate's degree from EMCC that month.
EMCC classes begin Monday, Aug. 17, but given rising COVID-19 cases in the state and updated guidance from Gov. Tate Reeves, many courses will meet virtually until Tuesday, Sept. 8. Some classes requiring hands-on instruction will be conducted face-to-face following recommended CDC guidelines.
EMCC is offering a variety of online, virtual, hybrid and in-person classes this semester.
"A lot of our students have requested online classes at EMCC as well," Savely said.
Teresa Scruggs, who teaches science at GTECHS, is glad there is an option for in-class instruction this term.
"I really thought I was an introvert, but I am ready to be back around students and back around my colleagues and back to work," Scruggs said prior to the first day of class.